Glinka: Chamber Music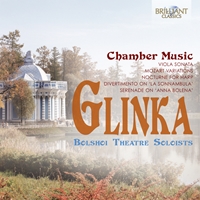 Composer
Michael Glinka
Artist
Bolshoi Theatre Soloists
Alexander Lazarev conductor
Format
1 CD
Cat. number
94641
EAN code
5028421946412
Release
April 2013
About this release
The first Russian composer to gain real national recognition within his own country, and often regarded as 'the father of Russian music', Mikhail Glinka is best known for his rousing operas A Life for the Tsar and Ruslan and Ludmila. Growing up amid a family of landed gentry, however – a setting in which domestic music-making was a much-respected occupation – much of his early work was of a very different nature, namely chamber music intended for performance in more modest settings. It is this lesser-known and equally compelling part of the composer's output that is explored here.

Nevertheless, the pieces in this collection span a considerable stretch of Glinka's life. They range from the Variations on a Theme by Mozart, written when the composer was just eighteen and already demonstrating the skill with which he would repeatedly and creatively re-work the musical motifs of others' works; via the Viola Sonata, an unfinished and yet unintentionally rich contribution to the scant repertory of a beautiful instrument, later completed by violist Vadim Borisovsky; to the Serenade on Themes from Donizetti's Anna Bolena, an intriguing and unusual arrangement for a selection of deep-timbred instruments that nonetheless succeeds in bringing out the individual melodic voice of each one.

This varied selection is performed by an accomplished and acclaimed ensemble, the Bolshoi Theatre Soloists, each of whom leads their specific section of the Bolshoi Theatre Orchestra. They are conducted by Alexander Lazarev, who has been their principal conductor for 25 years. The Bolshoi Theatre Soloists have toured throughout Europe and the USA.

Other information:
- Recording made in 1993 at the Moscow Conservatory/
- An attractive programme of rarely recorded chamber music by Michael Glinka, the "Father of Russian music".
In the first half of the 19th century Glinka gave a distinctive national character and flavour to Russian music, mainly in his vocal and operatic works. These chamber music works however smell of chic 19th century salons, written in brilliant "divertimento"-style, for a variety of instruments: violin, harp, bassoon, piano, cello, double bass: high class entertainment.
- Beautifully performed by Russian instrumental soloists from the elite Bolshoi Theatre Orchestra.
- Booklet contains extensive liner notes and artist biographies.
Track list
Disk 1
Divertimento On Themes From Bellini's La Sonnambula

Variations On A Theme By Mozart for Harp

Nocturne In E-Flat Major for Harp

Viola Sonata: I. Allegro moderato

Viola Sonata: II. Larghetto ma non troppo

Serenade On Themes From Donizetti's Anna Bolena