Haydn: Complete Concertos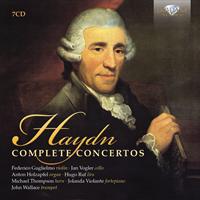 Composer
Franz Joseph Haydn
Artist
Various Artists, such as:
Jolanda Violante fortepiano, Jan Vogler cello, Susanne Scholz violin
John Wallace trumpet, Michael Thompson horn, Hugo Ruf lira, Anton Holzapfel organ
L'Arte dell'Arco, Virtuosi Saxoniae, Philharmonia Orchestra, Ensemble Dolce Risonanza
Ludwig Güttler, Federico Guglielmo, Florian Wieniger, Christopher Warren-Green direction
Format
7 CD
Cat. number
94866
EAN code
5028421948669
Release
April 2014
About this release
Although Haydn is deservedly recognised as one of the most important composers of the Classical period, his concertos are, on the whole, relatively neglected compared to those of Mozart and Beethoven. This comprehensive collection brings together his complete concertos, from some of his best-loved works, such as the Cello Concertos and Trumpet Concerto, to fascinating pieces that are comparative rarities, such as the Lira Concertos and the Flötenuhr Suites that Haydn wrote for musical clocks. All the works collected here are uplifting and engaging, and showcase the wit and geniality that are hallmarks of Haydn's music.

The concertos for string instruments are veritable showpieces that bring Haydn's idiomatic command of the violin and cello to the fore. The Cello Concertos, for example, demand a high level of virtuosity of the cellist, using techniques such as double-stopping and high-register passagework to exploit the cello's potential to the full while creating music of astonishing beauty, elegance and verve. The keyboard concertos are not as challenging, but nonetheless highly enjoyable. The Horn Concertos have a driving energy that is reminiscent of the early symphonies Haydn was also composing at the time, while the ever-popular Trumpet Concerto was one of the first works to be composed for the five-keyed instrument that the virtuoso Anton Weidinger had invented and features brilliantly expressive melodic and obbligato writing that would have been impossible on earlier instruments. This set also features Haydn's Lira Concertos performed on the instrument for which they were originally written (as opposed to the flutes, oboes and recorders on which they are often heard today): an intriguing development of the hurdy-gurdy with sympathetic strings and organ pipes.

Other information:
- The only set available in the market: the complete concertos for diverse instruments by Joseph Haydn, on 7 CD's.
- Haydn's early concertos still breath the atmosphere of the Divertimento: entertaining, sparkling and moderately small scale. His later concertos however are mature works featuring a demanding solo part against a symphonic background; this is Haydn the Symphonist, creator of 104 symphonies, the golden classical standard.
- Performances in true Haydn spirit, full of wit and instrumental virtuosity, by period instrument groups L'Arte dell'Arco, with violinist Federico Guglielmo and Jolande Violante playing the fortepiano. Other excellent soloists are cellist Jan Vogler and trumpetist John Wallace.
- Also included are the seldom heard Lira Concertos, a now obsolete instrument, related to the organ.
- Booklet includes liner notes on the concertos.
Track list
Disk 1
Piano Concerto in D Major, Hob. XVIII:11: I. Vivace

Piano Concerto in D Major, Hob. XVIII:11: II. Un poco adagio

Piano Concerto in D Major, Hob. XVIII:11: III. Rondo all'Ungarese. Allegro assai

Piano Concerto in G Major, Hob. XVIII:4: I. Allegro

Piano Concerto in G Major, Hob. XVIII:4: II. Adagio

Piano Concerto in G Major, Hob. XVIII:4: III. Rondo. Presto

Piano Concerto in F Major, Hob. XVIII:3: I. Allegro

Piano Concerto in F Major, Hob. XVIII:3: II. Largo cantabile

Piano Concerto in F Major, Hob. XVIII:3: III. Presto
Disk 2
Violin Concerto in C Major, Hob. VIIa:1: I. Allegro moderato

Violin Concerto in C Major, Hob. VIIa:1: II. Adagio

Violin Concerto in C Major, Hob. VIIa:1: III. Presto

Violin Concerto in G Major, Hob. VIIa:4: I. Allegro moderato

Violin Concerto in G Major, Hob. VIIa:4: II. Adagio

Violin Concerto in G Major, Hob. VIIa:4: III. Allegro

Violin Concerto in A Major, Hob. VIIa:3: I. Moderato

Violin Concerto in A Major, Hob. VIIa:3: II. Adagio

Violin Concerto in A Major, Hob. VIIa:3: III. Allegro
Disk 3
Cello Concerto in C Major, Hob. VIIb:1: I. Moderato

Cello Concerto in C Major, Hob. VIIb:1: II. Adagio

Cello Concerto in C Major, Hob. VIIb:1: III. Finale. Allegro molto

Cello Concerto in D Major, Hob. VIIb:4: I. Allegro

Cello Concerto in D Major, Hob. VIIb:4: II. Adagio

Cello Concerto in D Major, Hob. VIIb:4: III. Allegro

Cello Concerto in D Major, Hob. VIIb:2: I. Allegro moderato

Cello Concerto in D Major, Hob. VIIb:2: II. Adagio

Cello Concerto in D Major, Hob. VIIb:2: III. Allegro
Disk 4
Trumpet Concerto in E-Flat Major, Hob. VIIe:1: I. Allegro

Trumpet Concerto in E-Flat Major, Hob. VIIe:1: II. Andante

Trumpet Concerto in E-Flat Major, Hob. VIIe:1: III. Allegro

Horn Concerto No. 1 in D Major, Hob. VIId:3: I. Allegro

Horn Concerto No. 1 in D Major, Hob. VIId:3: II. Adagio

Horn Concerto No. 1 in D Major, Hob. VIId:3: III. Allegro

Horn Concerto No. 2 in D Major, Hob. VIId:4: I. Allegro moderato

Horn Concerto No. 2 in D Major, Hob. VIId:4: II. Adagio

Horn Concerto No. 2 in D Major, Hob. VIId:4: III. Allegro

Divertimento a tre in E-Flat Major, Hob. IV:5
Disk 5
Organ Concerto in C Major, Hob. XVIII:1: I. Moderato

Organ Concerto in C Major, Hob. XVIII:1: II. Largo

Organ Concerto in C Major, Hob. XVIII:1: III. Allegro molto

Organ Concerto in D Major, Hob. XVIII:2: I. Allegro moderato

Organ Concerto in D Major, Hob. XVIII:2: II. Adagio molto

Organ Concerto in D Major, Hob. XVIII:2: III. Allegro

Flötenuhr 1789: I. Andante, Hob. XIX:11

Flötenuhr 1789: II. Fuga, Hob. XIX:16 (Allegro assai)

Organ Concerto in C Major, Hob. XVIII:5: I. Allegro moderato

Organ Concerto in C Major, Hob. XVIII:5: II. Andante

Organ Concerto in C Major, Hob. XVIII:5: III. Allegro
Disk 6
Concerto for Violin and Organ in F Major, Hob. XVIII:6: I. Allegro moderato

Concerto for Violin and Organ in F Major, Hob. XVIII:6: II. Largo

Concerto for Violin and Organ in F Major, Hob. XVIII:6: III. Finale. Presto

Organ Concerto in C Major, Hob. XVIII:8: I. Moderato

Organ Concerto in C Major, Hob. XVIII:8: II. Adagio

Organ Concerto in C Major, Hob. XVIII:8: III. Finale. Allegro

Organ Concerto in C Major, Hob. XVIII:10: I. Moderato

Organ Concerto in C Major, Hob. XVIII:10: II. Adagio

Organ Concerto in C Major, Hob. XVIII:10: III. Allegro

Flötenuhr 1792, Hob. XIX:17, 10, 18, 19, 20, 8, 21, 7, 22, 23, 9, 24

Organ Concerto in F Major, Hob. XVIII:7: I. Moderato

Organ Concerto in F Major, Hob. XVIII:7: II. Adagio

Organ Concerto in F Major, Hob. XVIII:7: III. Allegro
Disk 7
Lira Concerto in C Major, Hob. VIIh:1: I. Allegro con spirito

Lira Concerto in C Major, Hob. VIIh:1: II. Andante

Lira Concerto in C Major, Hob. VIIh:1: III. Finale, Allegro

Lira Concerto in F Major, Hob. VIIh:5: I. Allegro

Lira Concerto in F Major, Hob. VIIh:5: II. Andante

Lira Concerto in F Major, Hob. VIIh:5: III. Finale

Lira Concerto in G Major, Hob. VIIh:3: I. Allegro con spirito

Lira Concerto in G Major, Hob. VIIh:3: II. Romanze

Lira Concerto in G Major, Hob. VIIh:3: III. Finale

Lira Concerto in F Major, Hob. VIIh:4: I. Allegro

Lira Concerto in F Major, Hob. VIIh:4: II. Andante

Lira Concerto in F Major, Hob. VIIh:4: III. Finale. Presto

Lira Concerto in G Major, Hob. VIIh:2: I. Vivace assai

Lira Concerto in G Major, Hob. VIIh:2: II. Adagio ma non troppo

Lira Concerto in G Major, Hob. VIIh:2: III. Allegro con brio