Hindemith: Complete Chamber Music for Clarinet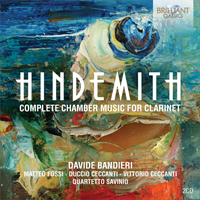 | | |
| --- | --- |
| Composer | Paul Hindemith |
| Artist | Davide Bandieri clarinet |
| Format | 2 CD |
| Cat. number | 95295 |
| EAN code | 5028421952956 |
| Release | June 2017 |
About this release
For this release, clarinettist Davide Bandieri is joined by a superlative group of musicians, all determined to shine a light on some of Hindemith's most sensitively scored chamber music. As a keen amateur clarinettist himself, Hindemith composed for the instrument throughout his life. This repertoire therefore takes us on a journey right from his early works in the 1920s – when the composer was influenced by the ailing conservative composer Arnold Mendelssohn – to the mid 1950s, when his music had been strongly shaped by Schoenberg's ideas about tonality. Characteristically for Hindemith, much of his clarinet repertoire is Hausmusik – written for a domestic setting rather than public performance. A sense of intimacy can therefore be heard alongside the composer's typical wit. The Musikalisches Blumengärtlein is one of Hindemith's many parody pieces, with tongue-in-cheek comic effects in its unusual instrumentation and original movement names like the punning 'Canon (for shooting)'.

Throughout his life, Hindemith was determined not to let his music become part of the 'routine' of professional musicians. He was careful to keep his compositions light, and to compose for all sorts of instruments and genres, leaving us with a fascinating legacy. The musicians on this album are all experienced interpreters of chamber music; several, including Davide Bandieri, have long played with the prestigious Lausanne Chamber Orchestra. The Quartetto Savinio, who join Bandieri for the Quintet Op.30, have been described as the 'one worthy heir to the Quartetto Italiano' (L'Unità).

The pieces on this double-CD are evidence of Paul Hindemith's love for the clarinet, an instrument of which he was a keen amateur player and for which he wrote a considerable amount of music.
The Clarinet Sonata, Quartet and Quintet were intended for the concert hall, while the other pieces were written for amateurs to be played in more private settings, Hindemith's mission being to create approachable music for as many people as possible.
In all these works Hindemith's particular style shines through: from the strict neo-classicism, the "Neue Sachlichkeit" to vigorous expressionism, all sharing his joy of invention and creation.
Played by Italian master clarinettist Davide Bandieri, who played solo clarinet in the Lucerne Festival Orchestra and Mahler Chamber Orchestra conducted by Claudio Abbado. For this recording he secured the collaboration of such eminent instrumentalists as pianist Matteo Fossi, violinist Duccio Ceccanti and cellist Vittorio Ceccanti.

Recorded in Perugia, Italy, in May, June and October 2016.
Contains liner notes and biographies of the artists.
Track list
Disk 1
Clarinet Quartet: I. Mäßig bewegt

Clarinet Quartet: II. Sehr langsam

Clarinet Quartet: III. Mäßig bewegt

Clarinet Sonata in B-Flat Major: I. Mäßig bewegt

Clarinet Sonata in B-Flat Major: II. Lebhaft

Clarinet Sonata in B-Flat Major: III. Sehr langsam

Clarinet Sonata in B-Flat Major: IV. Kleines Rondo. Gemächlich
Disk 2
Musikalisches Blumengärtlein und Leÿptziger Allerleÿ: I. —

Musikalisches Blumengärtlein und Leÿptziger Allerleÿ: II. Prière d'une vierge dans la tonart mixolydique

Musikalisches Blumengärtlein und Leÿptziger Allerleÿ: III. —

Musikalisches Blumengärtlein und Leÿptziger Allerleÿ: IV. Kanon

Musikalisches Blumengärtlein und Leÿptziger Allerleÿ: V. Broken Melody

Musikalisches Blumengärtlein und Leÿptziger Allerleÿ: VI. Marsch der Löwenreichswehr

Musikalisches Blumengärtlein und Leÿptziger Allerleÿ: VII. Lied

Musikalisches Blumengärtlein und Leÿptziger Allerleÿ: VIII. Die Gebetsmühle im Schwarzwald, Charakterstück

Musikalisches Blumengärtlein und Leÿptziger Allerleÿ: IX. Ein Tänzlein

Plöner Musiktag, Abendkonzert: III. Zwei Duette for Violin and Clarinet, Mäßig bewegt, Lebhaft

Plöner Musiktag, Abendkonzert: IV. Variationen for Clarinet and Strings

Ludus minor: I. Fuga prima ex C

Ludus minor: II. Interludium. Leicht bewegt

Ludus minor: III. Fuga secunda ex G

Ludus minor: IV. Interludium

Ludus minor: V. Fuga tertia ex F

Clarinet Quintet, Op. 30: I. Sehr lebhaft —II. Ruhig

Clarinet Quintet, Op. 30: III. Schneller Ländler

Clarinet Quintet, Op. 30: IV. Arioso. Sehr ruhig

Clarinet Quintet, Op. 30: V. Sehr lebhaft, wie im ersten Satz