Horn Concertos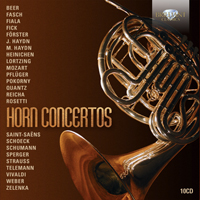 | | |
| --- | --- |
| Artist | various artists |
| Format | 10 CD |
| Cat. number | 95412 |
| EAN code | 5028421954127 |
| Release | March 2017 |
About this release
An instrument in evolution, today's French horn bears little resemblance to the horns of the past. Even before it was first used in classical music, the horn was frequently found in religious ceremonies as a useful way of calling people to prayer, and of course played a vital role on the hunting field. Since then, the instrument has undergone vast transformation, the most important being the addition of valves, allowing players access to all notes rather than just the natural ones. Its first recorded usage comes around the end of the 16th century, when Cavalli's opera Le nozze di Teti e di Peleo calls for a 'chiamata alla caccia'. However, it did not appear as a solo concerto instrument until years later; one of the first examples is an anonymous Sonata da caccia, included on this release, with the horn playing hunt-like motives in a concertante relationship alongside strings and continuo.

The Baroque period saw a flurry of composers adding horn concertos to their repertoire, often in a group with other instruments. Telemann wrote several concertos and overtures that feature the horn. His Italian contemporary Vivaldi wrote two concertos for two horns, the second of which features here. Other lesser-known composers are also represented: the horn player Peter Damm has discovered and now champions neglected pieces for the horn repertoire, including concertos by Peter Johann Fick and Christoph Förster, who were both active in the first half of the 18th century. Their German contemporaries include Johann Friedrich Fasch, Johann David Heinichen and Johann Joachim Quantz, all of whom wrote a great quantity of horn music. Jan Dismas Zelenka, a Bohemian composer active in the same period, would later be championed by Smetana. His Caprice in F for two horns includes some playful writing between the two solo instruments.

Another Bohemian composer, Franz Anton Rösler – who would later Italianise his name to Francesco Antonio Rosetti – composed several horn concertos, and CD9 is given over entirely to these. He inspired none other than Mozart (found on CD6), possibly the most famous composer of horn concertos, whose highly idiomatic writing for the instrument has never been surpassed. Mozart's contemporary Haydn also finds a place, with his Concerto No.1 featured alongside a spurious Concerto No.2 generally attributed to the composer. Michael Haydn's Horn Concerto has received more attention recently, and is certainly no pale imitation of that of his older brother, beginning as it does with an unusual slow movement.

In the Romantic period, Carl Maria von Weber was the first to imbue the horn concerto with the spirit of the period, in his Concertino in E minor. He was followed by Schumann, who composed his technically demanding Konzertstück a few months after the Adagio and Allegro Op.70. Richard Strauss did not shy away from challenging repertoire; both of his horn concertos ask much of their soloist. Lesser-known Othmar Schoeck and Hans Georg Pflüger, both active in the 20th century, make up the last CD of this set, demonstrating why the renewed attention they currently command is very deserving.

This set features some of the biggest names of the horn world: Peter Damm is present not only as a performer but also as arranger. Australian hornist Andrew Joy is a very highly regarded performer; among others, he plays Pflüger's concerto, which he himself premiered in 1986. The young player Felix Klieser is an extraordinary musician; having been born without arms, he plays with his toes, on this CD of music by Haydn and Mozart described as 'remarkable' by Gramophone magazine. Czech brothers Zdeněk and Bedřich Tyslar are well known in their homeland for championing neglected Czech music; characteristically eastern European, they play on modern double valve horns, allowing for a superbly focused sound.

This 10CD box is unique in featuring not only the best of horn repertoire but also those unjustly neglected pieces that deserve to be rediscovered. Amateurs and aficionados alike will be highly satisfied with this set.

An extensive collection of horn concertos from several centuries. This set includes horn concertos by Telemann, Förster, Haydn, Beer, Vivaldi, Quantz, Zelenka, Heinichen, Fick, Reicha, Sperger, Von Weber, Saint-Saëns, Schumann, Lortzing, Fasch, Mozart, Fiala, Pokorny, Rosetti, R. Strauss, Schoeck, Pflüger: a true "Cornucopia"!
The horn as a musical instrument has developed considerably since its first use many centuries ago, when man blew on animal horns as signal or ritual. The many technical improvements led to the use of the horn as a versatile solo instrument in the baroque: its festive and jubilant character could be set off against a smooth and dolce cantabile.
Excellent performances by a.o. Peter Damm, Felix Klieser, Herman Jeurissen.
The booklet contains new liner notes, written by Philip Borg-Wheeler specially for this release.
Listening
Track list
Disk 1
Georg Philipp Telemann: Horn Concerto in D Major, TW V51:D8: I. Vivace

Georg Philipp Telemann: Horn Concerto in D Major, TW V51:D8: II. Largo

Georg Philipp Telemann: Horn Concerto in D Major, TW V51:D8: III. Allegro

Christoph Förster: Horn Concerto in E-Flat Major: I. Con discrezione

Christoph Förster: Horn Concerto in E-Flat Major: II. Adagio

Christoph Förster: Horn Concerto in E-Flat Major: III. Allegro

Anonymous: Sonata da caccia in C Major

Franz Joseph Haydn: Horn Concerto No. 1 in D Major, Hob. VIId:3: I. Allegro

Franz Joseph Haydn: Horn Concerto No. 1 in D Major, Hob. VIId:3: II. Adagio

Franz Joseph Haydn: Horn Concerto No. 1 in D Major, Hob. VIId:3: III. Allegro

Johann Beer: Horn Concerto in B-Flat Major: I. Allegro moderato

Johann Beer: Horn Concerto in B-Flat Major: II. Aria

Johann Beer: Horn Concerto in B-Flat Major: III. Menuett

Johann Beer: Horn Concerto in B-Flat Major: IV. Siciliano

Johann Beer: Horn Concerto in B-Flat Major: V. Bourrée

Johann Beer: Horn Concerto in B-Flat Major: VI. Giga
Disk 2
Antonio Vivaldi: Concerto No. 2 in F Major, RV 539: I. Allegro

Antonio Vivaldi: Concerto No. 2 in F Major, RV 539: II. Larghetto

Antonio Vivaldi: Concerto No. 2 in F Major, RV 539: III. Allegro

Peter Johann Fick: Horn Concerto in E-Flat Major: I. Allegro moderato

Peter Johann Fick: Horn Concerto in E-Flat Major: II. Larghetto

Peter Johann Fick: Horn Concerto in E-Flat Major: III. Allegro ma non troppo

Joseph Reicha: Concerto concertant in E-Flat Major, Op. 3: I. Allegro

Joseph Reicha: Concerto concertant in E-Flat Major, Op. 3: II. Romance. Cantabile

Joseph Reicha: Concerto concertant in E-Flat Major, Op. 3: III. Rondeau. Allegretto

Johannes Sperger: Concerto in E-Flat Major: I. Allegro maestoso

Johannes Sperger: Concerto in E-Flat Major: II. Romanze. Adagio

Johannes Sperger: Concerto in E-Flat Major: III. Rondo. Allegro moderato
Disk 3
Carl Maria Von Weber: Concertino in E Minor, Op. 45

Albert Lortzing: Konzertstück in E Major

Camille Saint-Saëns: Morceau de concert in F Minor, Op. 94

Robert Schumann: Konzertstück in F Major, Op. 86: I. Lebhaft

Robert Schumann: Konzertstück in F Major, Op. 86: II. Romanze

Robert Schumann: Konzertstück in F Major, Op. 86: III. Sehr lebhaft
Disk 4
Johann Joachim Quantz: Concerto in E-Flat Major: I. Allegro

Johann Joachim Quantz: Concerto in E-Flat Major: II. Siciliano. Larghetto

Johann Joachim Quantz: Concerto in E-Flat Major: III. Allegro

Jan Dismas Zelenka: Caprice in F Major: I. Staccato e forte – Allegro

Jan Dismas Zelenka: Caprice in F Major: II. Allemande

Jan Dismas Zelenka: Caprice in F Major: III. Allegro

Jan Dismas Zelenka: Caprice in F Major: IV. Menuett – Trio I – Trio II

Johann David Heinichen: Concerto for 2 Horns in F Major, S.231: I. Vivace

Johann David Heinichen: Concerto for 2 Horns in F Major, S.231: II. Arioso

Johann David Heinichen: Concerto for 2 Horns in F Major, S.231: III. Allegro

Georg Philipp Telemann: Concerto for 2 Horns in D Major, TWV 52:D2: I. Allegro

Georg Philipp Telemann: Concerto for 2 Horns in D Major, TWV 52:D2: II. Adagio – Allegro

Georg Philipp Telemann: Concerto for 2 Horns in D Major, TWV 52:D2: III. Largo

Georg Philipp Telemann: Concerto for 2 Horns in D Major, TWV 52:D2: IV Allegro

Johann Friedrich Fasch: Concerto in D Major, FaWV L:D18: I. Allegro

Johann Friedrich Fasch: Concerto in D Major, FaWV L:D18: II. Andante

Johann Friedrich Fasch: Concerto in D Major, FaWV L:D18: III. Allegro
Disk 5
Franz Joseph Haydn: Horn Concerto No. 1 in D Major, Hob. VIID:3: I. Allegro

Franz Joseph Haydn: Horn Concerto No. 1 in D Major, Hob. VIID:3: II. Adagio

Franz Joseph Haydn: Horn Concerto No. 1 in D Major, Hob. VIID:3: III. Allegro

Franz Joseph Haydn: Horn Concerto No. 2 in D Major, Hob. VIID:4: I. Allegro moderato

Franz Joseph Haydn: Horn Concerto No. 2 in D Major, Hob. VIID:4: II. Adagio

Franz Joseph Haydn: Horn Concerto No. 2 in D Major, Hob. VIID:4: III. Allegro

Michael Haydn: Horn Concerto in D Major, MH 53: I. Larghetto

Michael Haydn: Horn Concerto in D Major, MH 53: II. Allegro non troppo

Michael Haydn: Horn Concerto in D Major, MH 53: III. Menuett

Wolfgang Amadeus Mozart: Horn Concerto in E-Flat Major, K. 370b/371: I. Allegro

Wolfgang Amadeus Mozart: Horn Concerto in E-Flat Major, K. 370b/371: II. Rondo. Allegro
Disk 6
Wolfgang Amadeus Mozart: Horn Concerto No. 2 in E-Flat Major, K. 417: I. Allegro

Wolfgang Amadeus Mozart: Horn Concerto No. 2 in E-Flat Major, K. 417: II. Andante

Wolfgang Amadeus Mozart: Horn Concerto No. 2 in E-Flat Major, K. 417: III. Rondo. Allegro

Wolfgang Amadeus Mozart: Horn Concerto No. 3 in E-Flat Major, K. 447: I. Allegro

Wolfgang Amadeus Mozart: Horn Concerto No. 3 in E-Flat Major, K. 447: II. Romance. Larghetto

Wolfgang Amadeus Mozart: Horn Concerto No. 3 in E-Flat Major, K. 447: III. Allegro

Wolfgang Amadeus Mozart: Horn Concerto in E Major, K. 494a: I. Allegro

Wolfgang Amadeus Mozart: Horn Concerto No. 1 in D Major, K. 412: I. Allegro

Wolfgang Amadeus Mozart: Horn Concerto No. 1 in D Major, K. 412: II. Rondo. Allegro

Wolfgang Amadeus Mozart: Horn Concerto in E-Flat Major, K 370b/371: I. Allegro

Wolfgang Amadeus Mozart: Horn Concerto in E-Flat Major, K 370b/371: II. Rondo. Allegro

Wolfgang Amadeus Mozart: Horn Concerto No. 4 in E-Flat Major, K. 495: I. Allegro

Wolfgang Amadeus Mozart: Horn Concerto No. 4 in E-Flat Major, K. 495: II. Romance. Andante

Wolfgang Amadeus Mozart: Horn Concerto No. 4 in E-Flat Major, K. 495: III. Rondo. Allegro

Wolfgang Amadeus Mozart: Horn Concerto No. 1 in D Major, K. 412: I. Allegro
Disk 7
Georg Philipp Telemann: Horn Concerto in D Major, TWV 51:D8: I. Vivace

Georg Philipp Telemann: Horn Concerto in D Major, TWV 51:D8: II. Largo

Georg Philipp Telemann: Horn Concerto in D Major, TWV 51:D8: III. Allegro

Georg Philipp Telemann: Concerto for 2 Horns in E-Flat Major, TWV 52:Es1: I. Maestoso

Georg Philipp Telemann: Concerto for 2 Horns in E-Flat Major, TWV 52:Es1: II. Allegro

Georg Philipp Telemann: Concerto for 2 Horns in E-Flat Major, TWV 52:Es1: III. Grave

Georg Philipp Telemann: Concerto for 2 Horns in E-Flat Major, TWV 52:Es1: IV. Vivace

Georg Philipp Telemann: Ouverture-Suite in F Major, TWV 55:F11 "Alster-Ouvertüre": I. Ouverture

Georg Philipp Telemann: Ouverture-Suite in F Major, TWV 55:F11 "Alster-Ouvertüre": II. Die canonierende Pallas

Georg Philipp Telemann: Ouverture-Suite in F Major, TWV 55:F11 "Alster-Ouvertüre": III. Das Älster Echo

Georg Philipp Telemann: Ouverture-Suite in F Major, TWV 55:F11 "Alster-Ouvertüre": IV. Die Hamburgischen Glockenspiele

Georg Philipp Telemann: Ouverture-Suite in F Major, TWV 55:F11 "Alster-Ouvertüre": V. Der Schwanen Gesang

Georg Philipp Telemann: Ouverture-Suite in F Major, TWV 55:F11 "Alster-Ouvertüre": VI. Der Älster Schäffer Dorff Music

Georg Philipp Telemann: Ouverture-Suite in F Major, TWV 55:F11 "Alster-Ouvertüre": VII. Die concertierenden Frösche und Krähen

Georg Philipp Telemann: Ouverture-Suite in F Major, TWV 55:F11 "Alster-Ouvertüre": VIII. Der ruhende Pan

Georg Philipp Telemann: Ouverture-Suite in F Major, TWV 55:F11 "Alster-Ouvertüre": IX. Der Schäffer und Nymphen eilfertiger Abzug

Georg Philipp Telemann: Ouverture-Suite in F Major, TWV 55:F4: I. Ouverture

Georg Philipp Telemann: Ouverture-Suite in F Major, TWV 55:F4: II. Pastorelle en rondeau

Georg Philipp Telemann: Ouverture-Suite in F Major, TWV 55:F4: III. Sarabande

Georg Philipp Telemann: Ouverture-Suite in F Major, TWV 55:F4: IV. Menuet

Georg Philipp Telemann: Ouverture-Suite in F Major, TWV 55:F4: V. Bourrée

Georg Philipp Telemann: Ouverture-Suite in E-Flat Major, TWV 55:Es1: I. Ouverture

Georg Philipp Telemann: Ouverture-Suite in E-Flat Major, TWV 55:Es1: II. La douceur

Georg Philipp Telemann: Ouverture-Suite in E-Flat Major, TWV 55:Es1: III. Menuet I alternativement Menuet II

Georg Philipp Telemann: Ouverture-Suite in E-Flat Major, TWV 55:Es1: IV. Les coureurs

Georg Philipp Telemann: Ouverture-Suite in E-Flat Major, TWV 55:Es1: V. Air

Georg Philipp Telemann: Ouverture-Suite in E-Flat Major, TWV 55:Es1: VI. Les gladiateurs

Georg Philipp Telemann: Ouverture-Suite in E-Flat Major, TWV 55:Es1: VII. Les querelleurs
Disk 8
Josef Fiala: Concerto in E-Flat Major: I. Allegro assai

Josef Fiala: Concerto in E-Flat Major: II. Adagio

Josef Fiala: Concerto in E-Flat Major: III. Rondo andante

Frantisek Xaver Pokorny: Concerto for 2 Horns in F Major: I. Allegro

Frantisek Xaver Pokorny: Concerto for 2 Horns in F Major: II. Larghetto poco andante

Frantisek Xaver Pokorny: Concerto for 2 Horns in F Major: III. Finale. Presto assai

Antonio Rosetti: Concerto for 2 horns in F Major, M.C61: I. Allegro

Antonio Rosetti: Concerto for 2 horns in F Major, M.C61: II. Romance. Andante

Antonio Rosetti: Concerto for 2 horns in F Major, M.C61: III. Rondeau. Allegretto

Antonio Rosetti: Concerto for 2 Horns in E-Flat Major, M.C57: I. Allegro

Antonio Rosetti: Concerto for 2 Horns in E-Flat Major, M.C57: II. Andante

Antonio Rosetti: Concerto for 2 Horns in E-Flat Major, M.C57: III. Allegro. Tempo di menuetto
Disk 9
Antonio Rosetti: Horn Concerto in E-Flat Major, M.C49: I. Allegro moderato

Antonio Rosetti: Horn Concerto in E-Flat Major, M.C49: II. Romanze. Adagio ma non tanto

Antonio Rosetti: Horn Concerto in E-Flat Major, M.C49: III. Rondo. Allegretto ma non tanto

Antonio Rosetti: Horn Concerto in D Minor, M.C38: I. Allegro molto

Antonio Rosetti: Horn Concerto in D Minor, M.C38: II. Adagio

Antonio Rosetti: Horn Concerto in D Minor, M.C38: III. Rondo

Antonio Rosetti: Horn Concerto in E Major, M.C51: I. Allegro moderato

Antonio Rosetti: Horn Concerto in E Major, M.C51: II. Adagio

Antonio Rosetti: Horn Concerto in E Major, M.C51: III. Rondo a la chasse

Antonio Rosetti: Horn Concerto in F Major, M.C53: I. Allegro vivace

Antonio Rosetti: Horn Concerto in F Major, M.C53: II. Romanza. Adagio non tanto

Antonio Rosetti: Horn Concerto in F Major, M.C53: III. Rondo. Allegretto
Disk 10
Richard Strauss: Horn Concerto No. 2 in E-Flat Major, TrV 283: I. Allegro

Richard Strauss: Horn Concerto No. 2 in E-Flat Major, TrV 283: II. Andante con moto

Richard Strauss: Horn Concerto No. 2 in E-Flat Major, TrV 283: III. Rondo. Allegro molto

Othmar Schoeck: Horn Concerto, Op. 65: I. Lebhaft, energisch bewegt

Othmar Schoeck: Horn Concerto, Op. 65: II. Ruhig fließend

Othmar Schoeck: Horn Concerto, Op. 65: III. Rondo. Äußerst schnell und leicht

Hans Georg Pflüger: Horn Concerto: I. Maestoso – Furioso

Hans Georg Pflüger: Horn Concerto: II. Grave

Richard Strauss: Horn Concerto No. 1 in E-Flat Major, TrV 117: I. Allegro

Richard Strauss: Horn Concerto No. 1 in E-Flat Major, TrV 117: II. Andante

Richard Strauss: Horn Concerto No. 1 in E-Flat Major, TrV 117: III. Allegro – Rondo. Allegro