J.S. Bach: Violin Sonatas & Partitas, Cello Suites transcribed for harpsichord by Gustav Leonhardt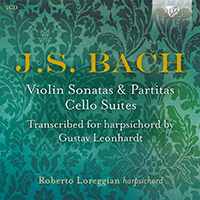 Download booklet
| | |
| --- | --- |
| Composer | Johann Sebastian Bach |
| Artist | Roberto Loreggian harpsichord |
| Format | 3 CD |
| Cat. number | 95757 |
| EAN code | 5028421957579 |
| Release | December 2018 |
About this release
Four hours of 'new' harpsichord music by Bach.

During the late 1970s, the Dutch harpsichordist Gustav Leonhardt (1928-2012) transcribed and arranged the works by Bach for solo violin and solo cello for harpsichord. He played them in his own recitals and recorded some of them for a German label. Only in 2018 did these arrangements become more widely available for keyboard players thanks to a new Bärenreiter edition prepared by Siebe Henstra at the invitation of Leonhardt's widow Marie and daughter Saskia. With typical understatement, Leonhardt declared that 'I think Bach would have forgiven me for the fact that I have set myself to making arrangements of his works. Whether or not he would have forgiven the way I have done it, remains of course a moot point.'

The Cello Suites, the Sonatas and Partitas for solo violin and a pair of slow dances (originally for flute and for lute) now receive their first recordings not made by Leonhardt himself, and at the hands of an early-music keyboard player who has enriched the Brilliant Classics catalogue with acclaimed recordings of Telemann, Frescobaldi, Bach and much more.

Leonhardt's transcription of the great Chaconne from the D minor Partita is as rich and thrilling as to be anticipated from one of the sovereign Bach interpreters of our age (or any other), discreetly opening out Bach's implied harmonies without adding superfluous anachronisms. In some ways more enlightening and impressive are his elaborations of the Cello Suites' plainer textures. Much more than a curio, this significant new album demands the attention of all Bach devotees.

First complete recording of the Sonatas, Partitas and Suites by Bach in the harpsichord transcription by Gustav Leonhardt.
The transcription of these works, which were originally written for a solo string instrument (violin, cello) requires the hand of a master: Gustav Leonhardt certainly proves his deep insight of both Bach's sound world and the possibilities of the harpsichord in these transcriptions, which feature complex counterpoint and harmonies.
Bach himself transcribed many of his own works and those of others for different instruments. The close study of these works gave Leonhardt the courage and vision to write his own, commenting in his typical modest way: "I think that Bach would have forgiven me the fact that I have set myself to making arrangements of his works. Whether or not he would have forgiven the way I have done it is a moot point..".
Italian harpsichordist Roberto Loreggian has a substantial discography to his name, including works by Frescobaldi, Gabrieli, Vivaldi, Galuppi, Handel and others.
Listening
Track list
Disk 1
Johann Sebastian Bach: Sonata in D Minor, BWV 1001: I. Adagio

Johann Sebastian Bach: Sonata in D Minor, BWV 1001: II. Fuga allegro

Johann Sebastian Bach: Sonata in D Minor, BWV 1001: III. Siciliana

Johann Sebastian Bach: Sonata in D Minor, BWV 1001: IV. Presto

Johann Sebastian Bach: Partita in E Minor, BWV 1002: I. Allemanda

Johann Sebastian Bach: Partita in E Minor, BWV 1002: II. Double

Johann Sebastian Bach: Partita in E Minor, BWV 1002: III. Corrente

Johann Sebastian Bach: Partita in E Minor, BWV 1002: IV. Double. Presto

Johann Sebastian Bach: Partita in E Minor, BWV 1002: V. Sarabande

Johann Sebastian Bach: Partita in E Minor, BWV 1002: VI. Double

Johann Sebastian Bach: Partita in E Minor, BWV 1002: VII. Tempo di borea

Johann Sebastian Bach: Partita in E Minor, BWV 1002: VIII. Double

Johann Sebastian Bach: Partita in G Minor, BWV 1004: I. Allemanda

Johann Sebastian Bach: Partita in G Minor, BWV 1004: II. Corrente

Johann Sebastian Bach: Partita in G Minor, BWV 1004: III. Sarabanda

Johann Sebastian Bach: Partita in G Minor, BWV 1004: IV. Giga

Johann Sebastian Bach: Partita in G Minor, BWV 1004: V. Ciaccona
Disk 2
Johann Sebastian Bach: Sonata in G Major, BWV 1005: I. Adagio, BWV 968

Johann Sebastian Bach: Sonata in G Major, BWV 1005: II. Fuga

Johann Sebastian Bach: Sonata in G Major, BWV 1005: III. Largo

Johann Sebastian Bach: Sonata in G Major, BWV 1005: IV. Allegro assai

Johann Sebastian Bach: Partita in A Major, BWV 1006: I. Preludio

Johann Sebastian Bach: Partita in A Major, BWV 1006: II. Loure

Johann Sebastian Bach: Partita in A Major, BWV 1006: III. Gavotte en rondeau

Johann Sebastian Bach: Partita in A Major, BWV 1006: IV. Menuet I

Johann Sebastian Bach: Partita in A Major, BWV 1006: V. Menuet II

Johann Sebastian Bach: Partita in A Major, BWV 1006: VI. Bourrée

Johann Sebastian Bach: Partita in A Major, BWV 1006: VII. Gigue

Johann Sebastian Bach: Suite in E-Flat Major, BWV 1010: I. Praeludium

Johann Sebastian Bach: Suite in E-Flat Major, BWV 1010: II. Allemande

Johann Sebastian Bach: Suite in E-Flat Major, BWV 1010: III. Courante

Johann Sebastian Bach: Suite in E-Flat Major, BWV 1010: IV. Sarabande

Johann Sebastian Bach: Suite in E-Flat Major, BWV 1010: V. Bourrée I

Johann Sebastian Bach: Suite in E-Flat Major, BWV 1010: VI. Bourrée II

Johann Sebastian Bach: Suite in E-Flat Major, BWV 1010: VII. Bourée I

Johann Sebastian Bach: Suite in E-Flat Major, BWV 1010: VIII. Gigue
Disk 3
Johann Sebastian Bach: Suite in C Minor, BWV 1011: I. Prelude

Johann Sebastian Bach: Suite in C Minor, BWV 1011: II. Allemande

Johann Sebastian Bach: Suite in C Minor, BWV 1011: III. Courante

Johann Sebastian Bach: Suite in C Minor, BWV 1011: IV. Sarabande

Johann Sebastian Bach: Suite in C Minor, BWV 1011: V. Gavotte I

Johann Sebastian Bach: Suite in C Minor, BWV 1011: VI. Gavotte II en rondeau

Johann Sebastian Bach: Suite in C Minor, BWV 1011: VII. Gavotte I

Johann Sebastian Bach: Suite in C Minor, BWV 1011: VIII. Gigue

Johann Sebastian Bach: Suite in D Major, BWV 1012: I. Prelude

Johann Sebastian Bach: Suite in D Major, BWV 1012: II. Allemande

Johann Sebastian Bach: Suite in D Major, BWV 1012: III. Courante

Johann Sebastian Bach: Suite in D Major, BWV 1012: IV. Sarabande

Johann Sebastian Bach: Suite in D Major, BWV 1012: V. Gavotte I

Johann Sebastian Bach: Suite in D Major, BWV 1012: VI. Gavotte II

Johann Sebastian Bach: Suite in D Major, BWV 1012: VII. Gavotte I

Johann Sebastian Bach: Suite in D Major, BWV 1012: VIII. Gigue

Johann Sebastian Bach: Allemande in A Minor, BWV 1013

Johann Sebastian Bach: Sarabande in C Minor, BWV 997