Le Plaintif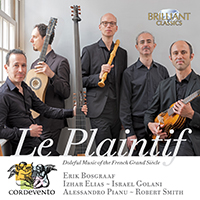 Download booklet
Artist
Cordevento
Erik Bosgraaf recorders
Izhar Elias baroque guitar
Israel Golani theorbo
Alessandro Pianu harpsichord
Robert Smith dessus & basse de viole
Format
1 CD
Cat. number
95694
EAN code
5028421956947
Release
January 2021
About this release
The French grand siècle is most often viewed through the gilt-framed mirrors of Versailles, showing the pomp and splendour, the feasts and formality of Louis XIV's reign. However, the composers of his court took special pains to represent and analyse the human condition in all its moods, not least mourning and sadness. The entire aesthetic imaginary of this era is imbued with the power and charm of tears: the audience – in the words of philosopher Bernard de Fontenelle – wants 'to be moved, agitated, [...] to shed tears. The pleasure one takes in crying is so curious that I cannot help but think about it.' The aesthetic of sorrow and grief was so powerful that not even instrumental music could resist its charm. Marais, Hotteterre and their contemporaries wrote eloquent examples of the plainte and the tombeau as well as courantes and allemandes which conveyed a sad and lamenting mood, through slow tempos, minor modes dissonance and chromaticism.

It is from this eloquent repertoire that Cordevento, expanded for the occasion to a five-person lineup, has assembled an imaginative programme. The lion's share is drawn from two collections of suites en trio by Marin Marais and Antoine Dornel, performed by Erik Bosgraaf (recorder) and Robert Smith (treble viola da gamba) with their colleagues Izhar Elias, Israel Golani and Alessandro Pianu (respectively on baroque guitar, theorbo, harpsichord) providing attentive and generous continuo accompaniment. Erik Bosgraaf also takes the spotlight with a selection of pieces for solo recorder and basso continuo by Hotteterre, Philidor and Montéclair, while his Cordevento co-founders Izhar Elias and Alessandro Pianu contribute solo pieces by Campion and d'Anglebert. Cordevento's previous albums on Brilliant Classics have won international acclaim.

'Erik Bosgraaf's recorder-playing is fluent and lively in fast music, and his five colleagues provide accompaniments that are lean, stylish and precise' (Gramophone, April 2012 – Bach concertos, 94296).

'As usual with Telemann, the music is jovial and good natured, something that Erik Bosgraaf responds to well. His playing is crisp and articulate, with careful delineation of individual notes, however fast the music' (Early Music, 2015 – Telemann concertos, 95248).

'Compelling and stylistically convincing performances of some of Telemann's best works… Erik Bosgraaf, a brilliant and virtuosic player… His colleagues are every inch his equals. This disc has to be ranked among the best in the category of Telemann concertos (Musica dei donum, 2019 – Telemann concertos, 95249)

An intriguing concept album by Cordevento, featuring a selection of intense, sorrowful French instrumental music from the late 17th to early 18th centuries.
The aesthetic of sorrow and grief is so powerful that not even instrumental music can resist its charm. Not only 'specialized' musical forms (such as the plainte and the tombeau), but more common ones (preludes, allemandes, sarabandes and passacailles among others) are capable of expressing a sad and lamenting mood, through a combination of expressive stylistic elements such as slow tempos, minor modes, a widespread use of dissonances and atypical harmonic progressions, a considerable extent of chromaticism, and ample melodic gestures.
Presented here are works by Marais, Hotteterre, Philidor, Montéclair, D'Anglebert and Dornel, played by Cordevento, consisting of Erik Bosgraaf (recorder), Robert Smith (treble viola da gamba), Izhar Elias (Baroque guitar), Israel Golani (theorbo) and Alessandro Pianu (harpsichord).
The previous recordings of Cordevento have met with enthusiastic critical acclaim, and include works by Vivaldi, Telemann, Bach and the concept album La Monarcha.
Listening
Track list
Disk 1
Marin Marais: Prélude in G Minor

Marin Marais: Plainte in G Minor

Jean-Henry d'Anglebert: Prélude in G Minor

Jean-Henry d'Anglebert: Passacaille in G Minor

Jacques-Martin Hotteterre: Rondeau tendre le plaintif

Marin Marais: Sarabande in G Minor

Marin Marais: Plainte in B-Flat Major

Louis-Antoine Dornel: Ouverture in G Minor

Louis-Antoine Dornel: Air en loure in G Minor

Michel Pignolet de Montéclair: Plainte in D Minor

Francois Campion: Tombeau in D Minor

Louis-Antoine Dornel: Prélude in D Minor

Louis-Antoine Dornel: Allemande in D Minor

Louis-Antoine Dornel: Plainte in D Minor

Louis-Antoine Dornel: Passacaille in D Minor

Marin Marais: Sarabande in C Major

Jacques-Martin Hotteterre: Prélude in E Minor

Marin Marais: Sarabande en rondeau in E Minor

Marin Marais: Menuet in E Minor

Pierre Danican Philidor: Suite in E Minor, Op. 1 No. 5: I. Très lentement

Pierre Danican Philidor: Suite in E Minor, Op. 1 No. 5: II. Allemande

Pierre Danican Philidor: Suite in E Minor, Op. 1 No. 5: III. Sarabande

Pierre Danican Philidor: Suite in E Minor, Op. 1 No. 5: IV. Gigue

Louis-Antoine Dornel: Chaconne in E Minor