Menotti: The Medium, The Telephone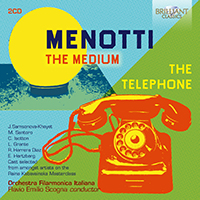 Composer
Gian Carlo Menotti
Artist
Orchestra Filarmonica Italiana
Flavio Scogna conductor
Format
2 CD
Cat. number
95361
EAN code
5028421953618
Release
November 2018
About this release
A major new, native recording of a sparkling operatic double-bill. After Amelia goes to the ball was staged in 1937 at the Metropolitan Opera with acclaim, Gian Carlo Menotti became hot property. Two further radio operas were comparative failures but it was with The Medium that Menotti really hit his stride. A tragedy in two acts for five singers, a dance-mime role and a chamber orchestra of 14 players, Menotti's opera is both dramatically astute in the Puccini tradition and composed with an acute ear for mood and mystery: the score, often quite dissonant, conveys an eerie, morbid atmosphere. According to the composer, 'The Medium is actually a play of ideas. It describes the tragedy of a woman caught between two worlds, a world of reality which she cannot wholly comprehend, and a supernatural world in which she cannot believe.'

Premiered in 1945, The Medium received its first Broadway staging two years later, with a hugely successful a run of 212 performances at the Ethel Barrymore Theatre on Broadway. As a curtain-raiser for these performances (and a striking contrast), Menotti wrote a light one-act comedy in the opera buffa tradition, The Telephone, which he sub-titled L'amour à trois. The opera's central role of Lucy became a huge success for its first interpreter, Marilyn Cotlow, and now the young American soprano Elizabeth Hertzberg steps into her shoes with an assured portrayal.

Made under studio conditions in Modena in 2018, these recordings took place in association with semi-staged performances given by artists on the distinguished Raina Kabaivanska Masterclass programme. According to the Giornale della Musica, Hertzberg was 'excellent' as Lucy, and more critical praise was directed towards the fluent and insightful conducting of Scogna. There are comparatively few modern recordings to rival the classic 1947 recording; an essential acquisition for avid listeners of 20th century music theatre.

Gian-Carlo Menotti (1911-2007) was a child prodigy, writing his first operas at the age of 11 on tales by Hans Christian Andersen. At the age of 17 he and his family went to the USA, where Toscanini obtained a place at Curtis Institute for the young composer. He teamed up with Samuel Barber, who became his musical and life partner.
Menotti's American operas were met with great public success. This new production presents his two short operas, which are often performed together: The Medium and The Telephone, the first highly dramatic, the latter a comic opera. Menotti wrote the libretto for both operas himself.
Menotti's musical language is eclectic, influenced as it is by Puccini, Mussorgsky, Debussy and Stravinsky. The different styles have a fluent eloquence and naturalness, and are highly effective, as is to be expected from a theatre man pur sang.
The performances are by Italian vocal soloists, the Orchestra Filarmonica Italiana is conducted by Flavio Emilio Scogna.
Track list
Disk 1
The Medium: Act I

The Medium: Act II
Disk 2
The Telephone or L'amour à trois