Monteverdi: Il ritorno d'Ulisse in patria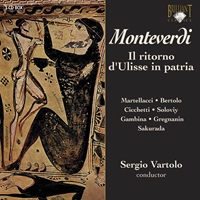 Composer
Claudio Monteverdi
Artist
Sergio Vartolo cembalo, spinet & concert master
with his orchestra and vocal soloists
Format
3 CD
Cat. number
93104
EAN code
5028421931043
Release
April 2006
About this release
This is the first recording of the five act version of Monteverdi's opera Il ritorno d'Ulisse in patria! Since a 5 act libretto and a 3 act score have been handed down, it has taken a large amount of research to arrive at this version. Only this way, however, justice can be done to the composer's treatment of the dramatic content of this work.

Of course Baroque composer Monteverdi is more or less the founder of opera as a genre. It al started with his Orfeo. This production of Ulisse is part of a trilogy of three operas by Monteverdi. The same performers have also recorded Il coronazione di Poppea and Orfeo directed by Sergio Vartolo.

Executed by a pre-eminently all-Italian cast and also Italian directed which greatly enhances the credibility and fluency of the performances.

The vocal cast consists of singers who all have won their spurs in early music performing. With baritone Loris Bertolo as Ulisse, tenor Davide Cicchetti as Iro, Makoto Sakurado as Telemacho and alto Gabriella Martellacci as Penelope.

The booklet contains the entire text in both Italian and English. A very extensive treatise on the backgrounds of the opera by early opera specialist Ellen Rostand is included as well.
Track list
Disk 1
Il ritorno d'Ulisse in patria, Opera in 3 acts, SV 325: Prologo: L'Umana fragilità. / Mortal cosa son io

Il ritorno d'Ulisse in patria, Opera in 3 acts, SV 325: Act 1: Scene 1: Sinfonia: Di misera regina

Il ritorno d'Ulisse in patria, Opera in 3 acts, SV 325: Act 1: Scene 2: Sinfonia: Duri e penosi

Il ritorno d'Ulisse in patria, Opera in 3 acts, SV 325: Act 1: [Scene 3 absent] / Scene 4: Sinfonia / Scene 5: Superbo è l'uom / Scene 6: In questo basso mon

Il ritorno d'Ulisse in patria, Opera in 3 acts, SV 325: Act 1: Scene 7: Dormo ancora o son desto?

Il ritorno d'Ulisse in patria, Opera in 3 acts, SV 325: Act 1: Scene 8: Sinfonia: Cara e lieta gioventù / Scene 9: Tu d'Aretusa al fonte
Disk 2
Il ritorno d'Ulisse in patria, Opera in 3 acts, SV 325: Act 2: Scene 1: Donate un giorno ob Dei

Il ritorno d'Ulisse in patria, Opera in 3 acts, SV 325: Act 2: Scene 2: Come, ob dome mal si salva / Scene 3: Pastor d'armenti può / Scene 4: Ulisse genero

Il ritorno d'Ulisse in patria, Opera in 3 acts, SV 325: Act 2: Scene 5: Sinfonia: Lieto cammino / Scene 6: O gran figlio d'Ulisse / Scene 7: Che veggio oh

Il ritorno d'Ulisse in patria, Opera in 3 acts, SV 325: Act 3: Scene 1: Eurimaco, la donna insomma

Il ritorno d'Ulisse in patria, Opera in 3 acts, SV 325: Act 3: Scene 2: Sono l'altre Regine / [Scene 3 absent] / Scene 4: Apportator d'alte novelle

Il ritorno d'Ulisse in patria, Opera in 3 acts, SV 325: Act 3: Scene 5: Compagni udiste

Il ritorno d'Ulisse in patria, Opera in 3 acts, SV 325: Act 3: Scene 6: Perir non puo'

Il ritorno d'Ulisse in patria, Opera in 3 acts, SV 325: Act 3: Scene 7: Io vidi

Il ritorno d'Ulisse in patria, Opera in 3 acts, SV 325: Act 4: Scene 1: Del mio lungo viaggio
Disk 3
Il ritorno d'Ulisse in patria, Opera in 3 acts, SV 325: Act 4: Scene 2: Sempre villano Eumete

Il ritorno d'Ulisse in patria, Opera in 3 acts, SV 325: Act 4: Scene 3: Generosa Regina

Il ritorno d'Ulisse in patria, Opera in 3 acts, SV 325: Act 4: Scene 4: Ecco l'arco d'Ulisse

Il ritorno d'Ulisse in patria, Opera in 3 acts, SV 325: Act 5: Scene 1: O dolor, o martir

Il ritorno d'Ulisse in patria, Opera in 3 acts, SV 325: Act 5: [Scene 2 eliminated] / Scene 3: E quai nuovi rumori

Il ritorno d'Ulisse in patria, Opera in 3 acts, SV 325: Act 5: Scene 4: Forza d'occulto affetto / Scene 5: E' saggio Eumete

Il ritorno d'Ulisse in patria, Opera in 3 acts, SV 325: Act 5: Scene 6: Fiamma è l'ira

Il ritorno d'Ulisse in patria, Opera in 3 acts, SV 325: Act 5: Scene 7: Gran Giove, alma de' Dei

Il ritorno d'Ulisse in patria, Opera in 3 acts, SV 325: Act 5: Scene 8: Ericlea che vuoi far?

Il ritorno d'Ulisse in patria, Opera in 3 acts, SV 325: Act 5: Scene 9: Ogni vostra ragion / Scene 10: O delle mie fatiche