Monteverdi: L'Incoronazione di Poppea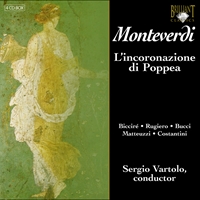 Download booklet
| | |
| --- | --- |
| Composer | Claudio Monteverdi |
| Artist | Sergio Vartolo |
| Format | 4 CD |
| Cat. number | 92752 |
| EAN code | 5028421927527 |
| Release | April 2006 |
About this release
Monteverdi (1567-1643) was the first composer to write a "modern" opera as such with his Orfeo in1607. It included a prologue and epilogue, ballets, choirs and, most importantly, leitmotivs. Over a dozen opera's followed, including Poppea (although the attribution is not at all conclusive).

Written for one of the Venetian opera houses this work is based on 2 stories by authors from Antique Rome. It consists of 3 elaborate acts. The double plot deals with the usual themes of love, hate, rivalry and betrayal and involves both humans, gods and mythical figures. The action is set in and around the court of Emperor Nero .

A brand new recording made in Italy by Renaissance and Baroque specialist Sergio Vartolo. This harpsichordist conducts the Musical Chapel of S. Petronio and a group of specialized singers such as tenor Gian Paolo Fagotto.

Other information:
- The booklet includes complete Italian texts and full English translation. For the understanding reader/listener some of these texts are rather scabrous. Also extensive explanatory notes on history and attribution.
- Something really special and not just for authentic performance and Baroque opera buffs!
Track list
Disk 1
L'incoronazione di Poppea: Prologo

L'incoronazione di Poppea: Atto I, L'incoronazione di Poppea: Scena I

L'incoronazione di Poppea: Atto I, L'incoronazione di Poppea: Scena II

L'incoronazione di Poppea: Atto I, L'incoronazione di Poppea: Scena III

L'incoronazione di Poppea: Atto I, L'incoronazione di Poppea: Scena IV

L'incoronazione di Poppea: Atto I, L'incoronazione di Poppea: Scena V.2
Disk 2
L'incoronazione di Poppea: Atto I, L'incoronazione di Poppea: Scena VI

L'incoronazione di Poppea: Atto I, L'incoronazione di Poppea: Scena VII

L'incoronazione di Poppea: Atto I, L'incoronazione di Poppea: Scena VIII

L'incoronazione di Poppea: Atto I, L'incoronazione di Poppea: Scena IX

L'incoronazione di Poppea: Atto I, L'incoronazione di Poppea: Scena X

L'incoronazione di Poppea: Atto I, L'incoronazione di Poppea: Scena XI

L'incoronazione di Poppea: Atto I, L'incoronazione di Poppea: Scena XII

L'incoronazione di Poppea: Atto I, L'incoronazione di Poppea: Scena XIII
Disk 3
L'incoronazione di Poppea: Atto II

L'incoronazione di Poppea: Scena I

L'incoronazione di Poppea: Scena II

L'incoronazione di Poppea: Scena III

L'incoronazione di Poppea: Scena IV

L'incoronazione di Poppea: Scena V

L'incoronazione di Poppea: Scena VII (la L'incoronazione di Poppea: Scena VI man…)

L'incoronazione di Poppea: Scena VIII

L'incoronazione di Poppea: Scena IX

L'incoronazione di Poppea: Scena X
Disk 4
L'incoronazione di Poppea: Atto II, L'incoronazione di Poppea: Scena XI

L'incoronazione di Poppea: Atto II, L'incoronazione di Poppea: Scena XII

L'incoronazione di Poppea: Atto II, L'incoronazione di Poppea: Scena XIII

L'incoronazione di Poppea: Atto III, L'incoronazione di Poppea: Scena I

L'incoronazione di Poppea: Atto III, L'incoronazione di Poppea: Scena II

L'incoronazione di Poppea: Atto III, L'incoronazione di Poppea: Scena III

L'incoronazione di Poppea: Atto III, L'incoronazione di Poppea: Scena IV

L'incoronazione di Poppea: Atto III, L'incoronazione di Poppea: Scena V

L'incoronazione di Poppea: Atto III, L'incoronazione di Poppea: Scena VI

L'incoronazione di Poppea: Atto III, L'incoronazione di Poppea: Scena VII

L'incoronazione di Poppea: Atto III, L'incoronazione di Poppea: Scena VIII. 2