Mozart: The Great Symphonies Vol. 1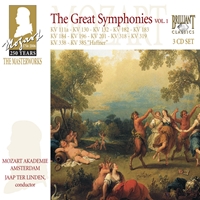 Composer
Wolfgang Amadeus Mozart
Artist
Mozart Akademie Amsterdam
Jaap ter Linden conductor
Format
3 CD
Cat. number
92863
EAN code
5028421928630
Release
April 2006
About this release
This an issue of series consisting of 14 3CD-sets with selected highlights taken from our complete edition intented for those who prefer to buy more selectively.

There are two volumes with symphonies. Newly recorded in 2002 on period instruments by the Mozart Akademie Amsterdam under Jaap ter Linden which were received with great critical acclaim internationally.

This release contains the following works: K. 111a, 130, 132, 182, 183, 184, 196, 201, 318, 219, 228 en 385 "Haffner".
Track list
Disk 1
Symphony in D Major, KV 111a: Allegro assai

Symphony in D Major, KV 111a: Andante grazioso

Symphony in D Major, KV 111a: Presto

Symphony No. 18 in F Major, KV 130: Allegro

Symphony No. 18 in F Major, KV 130: Andantino grazioso

Symphony No. 18 in F Major, KV 130: Menuetto

Symphony No. 18 in F Major, KV 130: Molto allegro

Symphony No. 19 in E-Flat Major, KV 132: Allegro

Symphony No. 19 in E-Flat Major, KV 132: Andante

Symphony No. 19 in E-Flat Major, KV 132: Menuetto

Symphony No. 19 in E-Flat Major, KV 132: Allegro

Symphony No. 25 in G Minor, KV 183: Allegro con brio

Symphony No. 25 in G Minor, KV 183: Andante

Symphony No. 25 in G Minor, KV 183: Menuetto

Symphony No. 25 in G Minor, KV 183: Allegro
Disk 2
Symphony No. 24 in B-Flat Major, KV 182: Allegro spiritoso

Symphony No. 24 in B-Flat Major, KV 182: Andantino grazioso

Symphony No. 24 in B-Flat Major, KV 182: Allegro

Symphony No. 26 in E-Flat Major, KV 184: Molto presto

Symphony No. 26 in E-Flat Major, KV 184: Andante

Symphony No. 26 in E-Flat Major, KV 184: Allegro

Symphony in D Major, KV 196: Allegro molto

Symphony in D Major, KV 196: Andantino grazioso

Symphony in D Major, KV 196: Allegro

Symphony No. 29 in A Major, KV 201: Allegro moderato

Symphony No. 29 in A Major, KV 201: Andante

Symphony No. 29 in A Major, KV 201: Menuetto

Symphony No. 29 in A Major, KV 201: Allegro con spirito

Symphony No. 32 in G Major, KV 318: Allegro spiritoso

Symphony No. 32 in G Major, KV 318: Andante

Symphony No. 32 in G Major, KV 318: Primo tempo
Disk 3
Symphony No. 33 in B-Flat Major, KV 319: Allegro assai

Symphony No. 33 in B-Flat Major, KV 319: Andante moderato

Symphony No. 33 in B-Flat Major, KV 319: Menuetto

Symphony No. 33 in B-Flat Major, KV 319: Allegro assai

Symphony No. 34 in C Major, KV 338: Allegro vivace

Symphony No. 34 in C Major, KV 338: Andante di molto più tosto allegretto

Symphony No. 34 in C Major, KV 338: Allegro vivace

Symphony No. 35 in D Major, KV 385 "Haffner": Allegro con spirito

Symphony No. 35 in D Major, KV 385 "Haffner": Andante

Symphony No. 35 in D Major, KV 385 "Haffner": Menuetto

Symphony No. 35 in D Major, KV 385 "Haffner": Presto