Music for Violin and Viola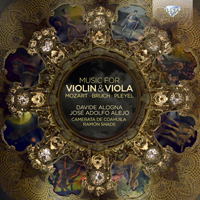 Composer
Max Bruch, Manuel María Ponce, Wolfgang Amadeus Mozart
Artist
Davide Alogna violin
José Adolfo Alejo viola
Camerata de Coahuila ensemble
Ramón Shade conductor
Format
2 CD
Cat. number
95241
EAN code
5028421952413
Release
November 2016
About this release
This rare and exciting recording brings together two instruments seldom heard together, despite the substantial repertoire that exists for the duo. Multi-award-winning violinist Davide Alogna pairs up with prominent violist José Alejo, combining their musical forces to an otherwise neglected repertoire.

The works presented here showcase the technical possibilities of both instruments, whilst displaying a range of expressive possibilities. They comprise the grand orchestral movements of Mozart's quasi-romantic Sinfonia Concertante and Bruch's sweeping Double Concerto, as well as the concise and technically demanding works for duo alone, including Louis Spohr's exhilarating Grand Duo Op.13 and Halvorsen's virtuosic Passacaglia on a theme by Handel.

The modernists receive their fair share of track time too: Martinů's Duo No.1 betrays his love for the English Madrigal, whilst retaining the folky resonances of his other works, and Manuel Ponce – while famous for his compositions for guitar – offers a charming and expressive modern work in his Sonata a Duo.

Having performed at Carnegie Hall and worked with leading ensembles including the Northern Czech Philharmonic, Italian violinist Davide Alogna teams up with award-winning violist José Adolfo Alejo to add interpretive and technical prowess to these intricate works. Conductor Ramón Shade leads the Camerata de Coahuila, providing accompaniment from one of Mexico's finest Orchestras.

This newly recorded 2CD offers an attractive and varied programme of music composed for the combination of violin and viola.
The first CD contains works for violin and viola solo, compositions by Mozart (one of his famous duos), Martinů (Three Madrigals), Spohr (Grand Duo), Ponce (Sonata) and the famous Passacaglia by Handel/Halvorsen.
CD 2 contains concertante works for violin, viola and orchestra: the most famous work written in this genre: Mozart's genius Sinfonia Conertante K364, the Sinfonia Concertante by Ignaz Pleyel and the Concerto for violin, viola and orchestra by romantic Max Bruch.
Played by Davide Alogna and José Adolfo Alejo, accompanied by the Camerata de Coahuila, conducted by Ramón Shade.

Recorded in Mexico City and Torreón, Mexico.
Contains liner notes on the works and composers.
Contains biographies of the artists.
Track list
Disk 1
Duo for Violin and Viola in G Major, K. 423: I. Allegro

Duo for Violin and Viola in G Major, K. 423: II. Adagio

Duo for Violin and Viola in G Major, K. 423: III. Rondeau. Allegro

3 Madrigals, H. 313: Duo No. 1

Duet for Violin and Violo, Op. 13: I. Allegro moderato

Duet for Violin and Violo, Op. 13: II. Adagio

Duet for Violin and Violo, Op. 13: III. Tempo di menuetto

Sonata a Duo: I. Allegro, piuttosto moderato

Sonata a Duo: II. In tempo di sarabanda. Andante espressivo

Sonata a Duo: III. Allegro

Passacaglia for Violin and Viola
Disk 2
Symphonie concertante in B-Flat Major, B. 112: I. Allegro

Symphonie concertante in B-Flat Major, B. 112: II. Rondo. Moderato

Sinfonia concertante in E-Flat Major, K. 364: I. Allegro maestoso

Sinfonia concertante in E-Flat Major, K. 364: II. Andante

Sinfonia concertante in E-Flat Major, K. 364: III. Presto

Double Concerto in E Minor, Op. 88: I. Andante con moto

Double Concerto in E Minor, Op. 88: II. Allegro moderato

Double Concerto in E Minor, Op. 88: III. Allegro molto