Mussorgsky: Sorochintsi Fair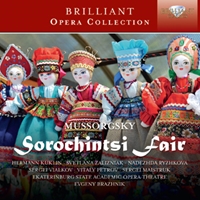 Composer
Modest Petrovich Mussorgsky
Artist
Hermann Kuklin Cherevik
Svetlana Zalizniak Khivrya
Nadezhda Ryzhkova Parasya
Sergei Vialkov Godfather
Vitaly Petrov
Sergei Maistruk Afanasy Ivanovich
Andrei Vylegzhanin Gypsy/Chernobog

Chorus and Orchestra of Ekaterinburg State Academic Opera and Ballet Theatre of Russia
Vera Davydova chorus master
Evgeny Brazhnik conductor
Format
2 CD
Cat. number
94865
EAN code
5028421948652
Release
January 2014
About this release
Known for its fair which was held five times a year under the Russian Empire, the small village of Velyki Sorochintsi – located in Central Ukraine, south east of Kiev – was made famous by Nikolai Gogol's opening story, Sorochintsi Fair, in his folk-tale collection Evenings on a Farm near Dinkanka. In 1874 the great innovator of Russian music, Modest Mussorgsky, set to work on fashioning a comic opera from this material. Composition proved rather haphazard, however, and by the time of Mussorgsky's death only about half of the work was drafted or complete in piano-vocal score form.

What we have here is leading Soviet composer Vissarion Shebalin's finished version, generally considered to be the best of the bunch. In creating original music based on Mussorgsky's sketches and even portions for which there was no drafting at all, Shebalin was able to adopt the figurative style of Mussorgsky's speech so that the score appears absolutely seamless, without any clash of idioms. The work abounds in folk melodies that its original author attempted to fit with the speech patterns of the Ukrainian language as part of his quest for the 'truthfulness in art'. Two portions of the opera have pursued an independent existence in concert halls: the Act 1 introduction and the dynamic Hopak. Also featured is the choral version of what we've come to know as St John's Night on the Bald Mountain, an intermezzo that represents Cherevik's fevered dream of a Black Sabbath celebrated by the Devil and the sinister demon Chernobog.

Recorded in 1996, this release features an all-Russian cast deftly backed by the Ekaterinburg State Academic Opera Orchestra. The performances are all more than up to scratch, and Evgeny Brazhnik – one of Russia's most acclaimed opera conductors – guides the music with ease and panache. A must-have for the Mussorgsky-phile.

Other information:
- Recorded June & July 1996.
- The opera is the most "folkloristic" of Mussorgsky's operas, in the line of the nationalistic movement of the famous "Group of Five" of which Mussorgsky was a prominent member. The only CD issue of this opera available!
- Mussorgsky wrote the Sorochintsi Fair as a comic opera, based on the story that Gogol (who was born in Sorochintsi) wrote about the village and its annual Fair, a fantastic tale full of bizarre personages and events, Russian comedy drenched in vodka.
- All-Russian forces make the performance of this opera irresistible, a real discovery!
- Contains detailed notes on the opera and its history.
Track list
Disk 1
Sorochintsi Fair: Introduction

Sorochintsi Fair, Act 1: The fair scene

Sorochintsi Fair, Act 1: The Gypsy's appearance

Sorochintsi Fair, Act 1: Scene. Cherevik and Godfather

Sorochintsi Fair, Act 1: Scene. Cherevik and Khivrya

Sorochintsi Fair, Act 1: Grits'ko's meditation and finale

Sorochintsi Fair, Act 2: Scene. Cherevik and Khivrya

Sorochintsi Fair, Act 2: Khivrya alone

Sorochintsi Fair, Act 2: Khivrya's song – Scene with the Priest's son

Sorochintsi Fair, Act 2: Guests are coming

Sorochintsi Fair, Act 2: Cherevik's song with guests

Sorochintsi Fair, Act 2: Godfather's tale and finale
Disk 2
Sorochintsi Fair, Act 3: Cherevik and Godfather with lads, then Gypsy, Grits'ko

Sorochintsi Fair, Act 3: Lad's dreaming vision

Sorochintsi Fair, Act 3: Parasya's meditation

Sorochintsi Fair, Act 3: Final hopak