O Magnum Mysterium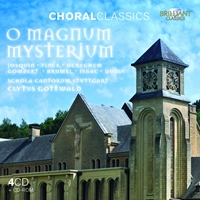 Composer
Antoine Brumel, Guillaume Dufay, Heinrich Finck, Heinrich Isaac, Johannes Ockeghem, Josquin Des Prez, Nicolas Gombert
Artist
Schola Cantorum Stuttgart
Clytus Gottwald conductor
Format
4 CD, CD-ROM
Cat. number
94267
EAN code
5028421942674
Release
October 2011
About this release
Music in 14th century Europe was dominated by the composers working in the Low Countries, or what we now call The Netherlands and Belgium and Northern France. Dufay was born in Cambrai, but went to Italy in the 1420s to work in Bologna, and eventually became a member of the Papal choir before returning to Cambrai. Josquin Desprez was from Flanders, and moved to Milan in 1460, and like Dufay became a member of the Papal choir, before moving to Cambrai. He was one of the first composers to benefit from the printing of music and his reputation traveled far and wide as a result. His music is beautifully crafted, and he attempted to convey in music the inner meaning of the words – one of the earliest instances of a composer exploring the expressive possibilities of text and music. Ockeghem was born in Dendermonde, and he traveled to Spain and throughout Flanders. His music, like Josquin's is superbly crafted, with intricate rhythmic sections, and a seamless flow of counterpoint.

These 4CDs contain major works by these great composers of the early Rennaissance, plus works by several of their contemporaries. A CD-ROM contains extensive notes and texts.

Other information:
- Recordings made in 1973-88.
- CD-ROM with notes and texts.
Track list
Disk 1
Missa 'Ecce ancilla Domini' (1463) for 4 voices: Kyrie

Missa 'Ecce ancilla Domini' (1463) for 4 voices: Gloria

Missa 'Ecce ancilla Domini' (1463) for 4 voices: Credo

Missa 'Ecce ancilla Domini' (1463) for 4 voices: Sanctus

Missa 'Ecce ancilla Domini' (1463) for 4 voices: Agnus Dei

Missa pro defunctis for 2 to 4 voices: Introitus

Missa pro defunctis for 2 to 4 voices: Kyrie

Missa pro defunctis for 2 to 4 voices: Graduale

Missa pro defunctis for 2 to 4 voices: Tractus

Missa pro defunctis for 2 to 4 voices: Offertorium
Disk 2
Missa prolationum for 4 voices: Kyrie

Missa prolationum for 4 voices: Gloria

Missa prolationum for 4 voices: Credo

Missa prolationum for 4 voices: Sanctus

Missa prolationum for 4 voices: Benedictus

Missa prolationum for 4 voices: Agnus Dei

Missa 'Da pacem' for 2 to 4 voices: Kyrie

Missa 'Da pacem' for 2 to 4 voices: Gloria

Missa 'Da pacem' for 2 to 4 voices: Credo

Missa 'Da pacem' for 2 to 4 voices: Sanctus

Missa 'Da pacem' for 2 to 4 voices: Benedictus

Missa 'Da pacem' for 2 to 4 voices: Agnus Dei
Disk 3
Sanctus (from Missa sex vocum, 1512)

Missa cuiusvis toni for 4 voices: Kyrie

Missa cuiusvis toni for 4 voices: Gloria

Missa cuiusvis toni for 4 voices: Credo

Missa cuiusvis toni for 4 voices: Sanctus

Missa cuiusvis toni for 4 voices: Benedictus

Missa cuiusvis toni for 4 voices: Agnus Dei

Missa super 'Malheur me bat' for 4 to 6 voices: Introitus

Missa super 'Malheur me bat' for 4 to 6 voices: Kyrie

Missa super 'Malheur me bat' for 4 to 6 voices: Kyrie

Missa super 'Malheur me bat' for 4 to 6 voices: Gloria

Missa super 'Malheur me bat' for 4 to 6 voices: Credo

Missa super 'Malheur me bat' for 4 to 6 voices: Sanctus

Missa super 'Malheur me bat' for 4 to 6 voices: Agnus Dei
Disk 4
Musae Jovis ter maximi, 6-part motets on the death of Josquin Desprez

Missa 'Et ecce terrae motus' for 12 voices: Kyrie

Missa 'Et ecce terrae motus' for 12 voices: Gloria

Missa 'Et ecce terrae motus' for 12 voices: Credo

Missa 'Et ecce terrae motus' for 12 voices: Sanctus

Benedictus-Osanna

Missa paschalis for 6 voices: Kyrie

Missa paschalis for 6 voices: Gloria

Missa paschalis for 6 voices: Sanctus

Missa paschalis for 6 voices: Benedictus

Missa paschalis for 6 voices: Agnus Dei