Palestrina: Masses / Messen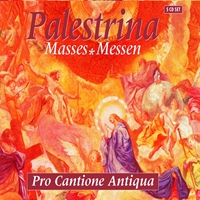 Composer
Giovanni Pierluigi Da Palestrina
Artist
Pro Cantione Antiqua
Mark Brown conductor
Bruno Turner conductor
Format
5 CD
Cat. number
99711
EAN code
5028421997117
Release
April 2006
About this release
Giovanni Pierluigi da Palestrina was a hugely prolific Renaissance composer. He became extremely famous and was in great demand in 16th-century Rome. Among his over 1000 mainly sacred works there are some 104 masses. They are set for four to eight a cappella vocal parts requiring no instrumental accompaniment.

Palestrina's music has a graceful simplicity and warmth. His counterpoint even more so than Bach's became an example to many apprentices. The composer, like many of his contemporaries, used the well-known 'L'Homme armé' tune more than once as a so-called cantus firmus – a basic melody - for his masses.

Performances by male singers of the well-known vocal Pro Cantione Antiqua, specializing in historically informed interpretations of early music, and including singers like Ian Partidge and Michael Chance.
Track list
Disk 1
Missa L'Homme Armé 5vv: Introitus: Ecce advenit dominator Dominus

Missa L'Homme Armé 5vv: Kyrie

Missa L'Homme Armé 5vv: Gloria

Missa L'Homme Armé 5vv: Graduale: Omnes de Saba venient

Missa L'Homme Armé 5vv: Credo

Missa L'Homme Armé 5vv: Offertorium: Reges Tharsis

Missa L'Homme Armé 5vv: Sanctus & Benedictus

Missa L'Homme Armé 5vv: Communio: vidimus stellam

Missa L'Homme Armé 5vv: Agnus Dei

Missa Assumpta Est. Maria: Introitus: Gaudeamus omnes in Domino

Missa Assumpta Est. Maria: Kyrie

Missa Assumpta Est. Maria: Gloria

Missa Assumpta Est. Maria: Graduale: Propter veritatem

Missa Assumpta Est. Maria: Credo

Missa Assumpta Est. Maria: Offertorium: Assumpta est Maria

Missa Assumpta Est. Maria: Sanctus & Benedictus

Missa Assumpta Est. Maria: Communio: Optimum partem

Missa Assumpta Est. Maria: Agnus Dei
Disk 2
Lamentations of Jeremiah the prophet four, 5 & 6 voices: Feria V in Coena Domini: Lectio I

Lamentations of Jeremiah the prophet four, 5 & 6 voices: Feria V in Coena Domini: Lectio II

Lamentations of Jeremiah the prophet four, 5 & 6 voices: Feria V in Coena Domini: Lectio III

Lamentations of Jeremiah the prophet four, 5 & 6 voices: Feria vi in Parasceve: Lectio I

Lamentations of Jeremiah the prophet four, 5 & 6 voices: Feria vi in Parasceve: Lectio II

Lamentations of Jeremiah the prophet four, 5 & 6 voices: Feria vi in Parasceve: Lectio III

Lamentations of Jeremiah the prophet four, 5 & 6 voices: Sabbato Sancto: Lectio I

Lamentations of Jeremiah the prophet four, 5 & 6 voices: Sabbato Sancto: Lectio II

Lamentations of Jeremiah the prophet four, 5 & 6 voices: Sabbato Sancto: Lectio III
Disk 3
Missa Brevis: Introitus: Puer natus est nobis

Missa Brevis: Kyrie

Missa Brevis: Gloria

Missa Brevis: Graduale: viderunt omnes

Missa Brevis: Credo

Missa Brevis: Offertorium: Tui sunt coeli

Missa Brevis: Sanctus

Missa Brevis: Benedictus

Missa Brevis: Communio: viderunt omnes

Missa Brevis: Agnus Dei

Missa Lauda Sion: Introitus: Cibavit eos

Missa Lauda Sion: Kyrie

Missa Lauda Sion: Gloria

Missa Lauda Sion: Graduale: Oculi omnium

Missa Lauda Sion: Credo

Missa Lauda Sion: Offertorium: Sacerdotes Domini

Missa Lauda Sion: Sanctus

Missa Lauda Sion: Benedictus

Missa Lauda Sion: Communio: Quotiescumque manducabitis

Missa Lauda Sion: Agnus Dei

Super Flumina Babylonis

Sicut Cervus
Disk 4
Hymn: Aeterna Christi Munera

Missa Aeterna Christi Munera: Introitus: Mihi autem

Missa Aeterna Christi Munera: Kyrie

Missa Aeterna Christi Munera: Gloria

Missa Aeterna Christi Munera: Graduale: Constitues eos principes

Missa Aeterna Christi Munera: Credo

Missa Aeterna Christi Munera: Offertorium: Mihi autem

Missa Aeterna Christi Munera: Sanctus

Missa Aeterna Christi Munera: Benedictus

Missa Aeterna Christi Munera: Communio: Venite post me

Missa Aeterna Christi Munera: Agnus Dei

Missa L'Homme Armé 4 vv: Introitus: in virtute tua

Missa L'Homme Armé 4 vv: Kyrie

Missa L'Homme Armé 4 vv: Gloria

Missa L'Homme Armé 4 vv: Graduale: Beatus vir

Missa L'Homme Armé 4 vv: Credo

Missa L'Homme Armé 4 vv: Offertorium: Gloria et honore

Missa L'Homme Armé 4 vv: Sanctus

Missa L'Homme Armé 4 vv: Benedictus

Missa L'Homme Armé 4 vv: Communio: Qui vult venire post me

Missa L'Homme Armé 4 vv: Agnus Dei
Disk 5
Missa Papae Marcelli: Introitus: Gaudeamus omnes in Domino

Missa Papae Marcelli: Kyrie

Missa Papae Marcelli: Gloria

Missa Papae Marcelli: Graduale/Alleluia: Propter veritatem

Missa Papae Marcelli: Credo

Missa Papae Marcelli: Offertorium: Assumpta est Maria

Missa Papae Marcelli: Sanctus

Missa Papae Marcelli: Benedictus

Missa Papae Marcelli: Agnus Dei I

Missa Papae Marcelli: Agnus Dei II

Missa Papae Marcelli: Communio: Optimam partem

Stabat Mater