Porpora: Cello Concertos & Sonatas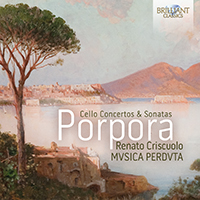 Composer
Nicola Porpora
Artist
Musica Perduta
Renato Criscuolo solo cello
Format
2 CD
Cat. number
95279
EAN code
5028421952796
Release
May 2018
About this release
Nicola Porpora is an ideal subject for the ensemble Musica Perduta, who undertake musicological research in order to bring to light unpublished or unknown musical works by distinguished authors and composers, often performing their premieres in modern times and creating first-ever recordings using original period instruments or faithful copies thereof.

This CD set gathers all of Porpora's manuscript works for solo cello and continuo, including some pieces currently or formerly attributed to the Neapolitan composer based on musicological evidence. Given the popularity of the solo cello among composers of the Neapolitan school and Porpora's own mastery of the instrument, the existence of a substantial body of work in this genre is not surprising.

The new attributions to Porpora have come from recent research conducted at the New York Public Library. One manuscript in the Harrach Collection has revealed the Sonata à violoncello solo & basso del Sig.r Nicolò Porpora in A, which appears alongside two works matching known Porpora compositions from the set of Six sonatas published by Walsh in London. Another manuscript groups two anonymous sonatas (in A and C minor) with a third matching Porpora's known F major Sonata, published by Schott in an edition by Piatti. These three new attributions to Porpora have never before been recorded.

Though the Concerto in A minor – part of the Bologna State Archive's Malvezzi Campeggi collection – has recently been attributed to Porpora's contemporary Nicola Fiorenza, it is included here because Porpora's name does appear on the score and because it has been argued that Porpora wrote the work while in Venice teaching at the Ospedale degli Incurabili.

Porpora's continual quest for new colours spurred solo cellist and Musica Perduta's musical director Renato Criscuolo to assign a range of different continuo forces to the sonatas: cello and harpsichord (Sonatas in F and A), double bass and harpsichord (Sonata in C minor), and a particularly Neapolitan long-necked lute, the colascione, with archlute (other Sonata in A).

This new recording brings together all Nicola Porpora's works for cello and continuo-with or without strings- from well-known works to unpublished pieces by, or at least attributed to, the great Neapolitan master. Most of the unpublished works come from the archives of the New York Public Library which has recently yielded a number of surprises in this field.
It is not surprising, given the great popularity of the cello as solo instrument among composers of the Neapolitan School, that Porpora wrote so notable a number of works for the instrument. He played the cello himself and his cello music reveals his in-depth knowledge of the instrument and the most advanced techniques of the day.
The works recorded here are concertos for cello and strings, sonatas for cello and b.c., a Sinfonia and a sonata for cello solo.
This set marks another triumph of research by Renato Criscuolo and his Ensemble Musica Perduta, playing on period instruments. Criscuolo has already recorded unpublished works by Handel and Pergolesi for Brilliant Classics. He himself wrote the excellent liner notes in the booklet.
Listening
Track list
Disk 1
Nicola Porpora: Sinfonia di violoncello, con VV e basso in C Major: I. Amoroso

Nicola Porpora: Sinfonia di violoncello, con VV e basso in C Major: II. Allegro

Nicola Porpora: Sinfonia di violoncello, con VV e basso in C Major: III. Largo

Nicola Porpora: Sinfonia di violoncello, con VV e basso in C Major: IV. Allegro

Nicola Porpora: Sonata di violoncello e basso in C Minor: I. Largo

Nicola Porpora: Sonata di violoncello e basso in C Minor: II. Allegro ma non presto

Nicola Porpora: Sonata di violoncello e basso in C Minor: III. Piano con gusto cantabile

Nicola Porpora: Sonata di violoncello e basso in C Minor: IV. Allegro ma non presto

Nicola Porpora: Sonata di violoncello solo, con VV e basso del Sig. Nicolò Porpora in G Major: I. Amoroso

Nicola Porpora: Sonata di violoncello solo, con VV e basso del Sig. Nicolò Porpora in G Major: II. Allegro

Nicola Porpora: Sonata di violoncello solo, con VV e basso del Sig. Nicolò Porpora in G Major: III. Largo

Nicola Porpora: Sonata di violoncello solo, con VV e basso del Sig. Nicolò Porpora in G Major: IV. A tempo giusto

Nicola Porpora: Sonata à violoncello solo & basso del Sig.r Nicolò Porpora in A Major: I. Adagio

Nicola Porpora: Sonata à violoncello solo & basso del Sig.r Nicolò Porpora in A Major: II. Allegro

Nicola Porpora: Sonata à violoncello solo & basso del Sig.r Nicolò Porpora in A Major: III. Giga

Nicola Porpora: Concerto con violoncello obbligato e violini in A Minor: I. Largo

Nicola Porpora: Concerto con violoncello obbligato e violini in A Minor: II. Allegro

Nicola Porpora: Concerto con violoncello obbligato e violini in A Minor: III. Adagio

Nicola Porpora: Concerto con violoncello obbligato e violini in A Minor: IV. Allegro
Disk 2
Nicola Porpora: Sonata a violoncello solo in A Major: I. Largo

Nicola Porpora: Sonata a violoncello solo in A Major: II. Allegro

Nicola Porpora: Sonata a violoncello solo in A Major: III. Piano

Nicola Porpora: Sonata a violoncello solo in A Major: IV. Allegro

Nicola Porpora: Sinfonia di violongello con VV e basso del Sig. Nicola Porpora in A-Flat Major: I. Adagio

Nicola Porpora: Sinfonia di violongello con VV e basso del Sig. Nicola Porpora in A-Flat Major: II. Allegro

Nicola Porpora: Sinfonia di violongello con VV e basso del Sig. Nicola Porpora in A-Flat Major: III. Largo

Nicola Porpora: Sinfonia di violongello con VV e basso del Sig. Nicola Porpora in A-Flat Major: IV. Allegro

Nicola Porpora: Sonata di violoncello solo e basso in F Major: I. Largo

Nicola Porpora: Sonata di violoncello solo e basso in F Major: II. Allegro

Nicola Porpora: Sonata di violoncello solo e basso in F Major: III. Adagio

Nicola Porpora: Sonata di violoncello solo e basso in F Major: IV. Allegro ma non presto

Nicola Porpora: Concerto per violoncello, con archi e basso continuo in G Major: I. Adagio

Nicola Porpora: Concerto per violoncello, con archi e basso continuo in G Major: II. Allegro

Nicola Porpora: Concerto per violoncello, con archi e basso continuo in G Major: III. Adagio

Nicola Porpora: Concerto per violoncello, con archi e basso continuo in G Major: IV. Allegro – Presto