R. Strauss, Thuille: Cello Sonatas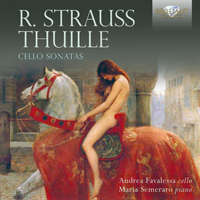 Composer
Ludwig Thuille, Richard Strauss
Artist
Andrea Favalessa cello
Maria Semeraro piano
Format
1 CD
Cat. number
95238
EAN code
5028421952383
Release
February 2017
About this release
The cello sonatas of Richard Strauss and Ludwig Thuille make a natural if little-encountered pairing. They were boyhood friends in Munich, both from educated and highly cultivated families. Thuille was the elder, and for some years guide to Strauss, though even then it was clear both to them and their friends and family who was the more naturally, even prodigiously gifted musician.

On both of these sonatas, Brahms exerts an unmistakable influence, but their composers were at very different points of life when they were composed. Strauss was still a teenager and thanks to his father's prohibition had yet to discover the music of Wagner when he wrote this three-movement Romantic sonata which is so full of yearning melody and unstoppable momentum.

By the time Thuille wrote his Sonata in 1902, almost 20 years later, Brahms had been dead for five years and Strauss had written an opera that tears at the very boundaries of tonality, Elektra: it marked a point beyond which he would never venture, but neither did he ever return to the carefree tone of the Cello Sonata.

Thuille in later life became a professor of composition, and that experience tells in a mellow idiom, more inclined than Strauss to exploit the cello's characteristic vein of melancholic introspection and declamation, especially in the long, central slow movement.

Andrea Favalessa and Maria Semeraro have performed as a duet for several years. Their Brilliant Classics recording of the music for cello and piano by Alfredo Casella (BC94823) was released in 2014 to an enthusiastic reception. The Favalessa – Semeraro duo continues to give concerts in Italy's most prestigious chamber-music venues.

Between Richard Strauss and Ludwig Thuille (born in 1864 and 1861 respectively) existed a strong friendship and mutual respect. Their two youthful cello sonatas share the same idiom: passionate and late-romantic soaring themes, a profound lyricism and a virtuoso writing for both cello and piano.
Performed with an appropriate sense of exaltation and grandeur by cellist Andrea Favalessa and pianist Maria Semeraro, who form a duo for many years, having won several international chamber music competitions.
The duo Favalessa Semeraro already successfully recorded the complete music for cello and piano by Alfredo Casella for Brilliant Classics (BC94823).
Listening
Track list
Disk 1
Richard Strauss: Cello Sonata in F Major, TrV 115: I. Allegro con brio

Richard Strauss: Cello Sonata in F Major, TrV 115: II. Andante ma non troppo

Richard Strauss: Cello Sonata in F Major, TrV 115: III. Finale – Allegro vivo

Richard Strauss: Romanze for Cello and Piano in F Major, TrV 118

Ludwig Thuille: Cello Sonata in D Minor, Op. 22: I. Allegro energico, ma non troppo

Ludwig Thuille: Cello Sonata in D Minor, Op. 22: II. Adagio

Ludwig Thuille: Cello Sonata in D Minor, Op. 22: III. Finale, allegro ma non troppo