Ravel Orchestral Music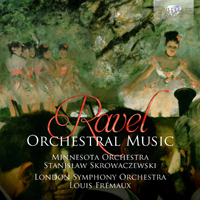 Composer
Maurice Ravel
Artist
Minnesota Orchestra
Stanislav Skrowaczewski conductor
London Symphony Orchestra
Louis Frémaux conductor
Format
2 CD
Cat. number
94933
EAN code
5028421949338
Release
April 2015
About this release
Ravel is considered one of the great masters of orchestration, his compositions noted as much for their sensitive and colourful scoring as for their musicality. This release brings together many of his most celebrated works for orchestra, a number of which were originally written as ballet or piano music.

Daphnis et Chloé, a beautifully lyrical work, was the first ballet Ravel worked on, and he went on to score two enchanting suites from it, both of which have led to the work's primary association with the concert hall rather than with the theatre. He followed this success with Ma Mère l'Oye, or "Mother Goose", a charming ballet based on collections of children's fairytales, included in full on this release. Arguably his most famous work is Boléro, which, along with Rapsodie espagnole, was inspired by his part-Basque heritage. Thanks to its powerful evocations of Spain, with a compelling triplet rhythm inspired by Mediterranean folk dances, Boléro gained huge popularity both in Europe and America, though its exotic colours and relentless drive led one audience member to label Ravel "mad".

Continuing the Spanish theme is the Pavane pour uneinfantedéfunte, a piece originally conceived for the piano and later orchestrated by the composer. Less frantic than the Rapsodie Espagnole – which is characterised by fandango-like rhythms and wild, fierce themes – the Pavane harks back to the customs of the 17th-century Spanish court. The Valses nobles et sentimentales were Ravel's first attempt at the waltz form, and a tribute to Schubert's work of the same name. He later followed this with La Valse, a far more melancholy and despondent work said to have been influenced by the aftermath of the First World War.

The works are split between the world-class London Symphony Orchestra, which performs Boléro, La Valse and Daphnis et Chloé with its characteristic flair, and the Minnesota Orchestra, whose initial release of this music was described as "glittering" and "stylish" by Gramophone magazine. This repertoire portrays Ravel at his most scintillating and offers a perfect introduction to the captivating music of this French composer.

This generously filled 2CD set offers the near-complete orchestral works by Maurice Ravel.
Ravel's oeuvre is small but of an exceptionally high quality, crafted by a perfectionist. His orchestral works are set in extraordinary colours and timbres, the orchestration betrays the hand (and ear) of a genius.
Most of Ravel's orchestral works belong to the standard concert repertoire, ideal vehicles showing the quality of the performing orchestra and conductor: the world famous Boléro, the two Daphnis and Chloe suites, the delirious La Valse, the atmospheric Rapsodie Espagnole and the fairylike Ma mere l'Oye.
Excellent performances by the Minnesota Orchestra conducted by Stanislav Skrowaczewski (a golden standard) and the London Symphony Orchestra conducted by French music specialist Louis Frémaux.

Other information:
Contains notes about the composer and music.
Track list
Disk 1
Boléro, M. 81: Tempo di bolero. Moderato assai

La Valse, M. 72: Mouvement de valse viénoise

Daphnis et Chloé Suite No. 2, M. 57b: I. Lever du jour, II. Pantomime, III. Danse générale

Rapsodie espagnole. M. 54: I. Prélude à la nuit. Très modéré, II. Malagueña. Assez vif, III. Habanera. Assez lent et d'un rythme las, IV. Feria. Assez animé
Disk 2
Pavane pour une infante défunte in G Major, M. 19

Valses nobles et sentimentales, M. 61: I. Modéré – très franc, II. Assez lent – avec une expression intense, III. Modéré, IV. Assez animé, V. Presque lent – dans un sentiment intime, VI. Assez vif, VII. Moins vif, VIII. Epilogue. Lent

Ma mère l'Oye (compete ballet version), M. 62: I. Prélude. Très lent, II. Premier tableau. Danse du rouet et scène, III. Deuxième tableau. Pavane de la belle au bois dormant, IV. Interlude, V. Troisième tableau. Les entretiens de la belle et de la bête, VI. Interlude, VII. Quatrième tableau. Petit poucet, VIII. Interlude, IX. Cinquième tableau. Laideronnette, impératrice des pagodes, X. Interlude, XI. Sixième Tableau. Le jardin féerique

Daphnis et Chloé Suite No. 1, M. 57a: I. Nocturne, II. Interlude, III. Danse guerrière