Recorder Quartet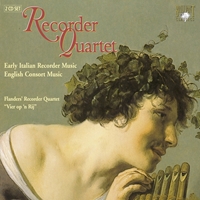 Composer
Various Composers
Artist
Flanders' Recorder Quartet "Vier op 'n Rij"
Viola da Gamba Consort
with
Guy Penson harpsichord
Guy De Mey tenor
Marion Verbruggen recorder
Format
2 CD
Cat. number
92504
EAN code
5028421925042
Release
April 2006
About this release
Over the past three or four decades early music has changed from elitist and hardly known to being widely performed and appreciated. With the growing popularity of early music the recorder has emancipated from that rather ill-reputed "instrument to introduce children to music" to a serious musical instrument in its own right. Several highly successful recorder ensembles and soloists are proof of this change. One of these ensembles is the Flanders' Recorder Quartet "Vier op 'n Rij" (Four in a row).

The first CD contains music by well-known Italian Renaissance composers like Giovanni Gabrieli and Frescobaldi. This often has an almost organ-like sound. In several pieces the quartet is joined by a sonorous viola da gamba quartet and a harpsichord. The English so-called consort music for small instrumental ensemble on the second CD predates the Italian repertoire. Most of the recorded pieces have their roots in existing melodies and songs. Music by well-known composers such as William Byrd en John Dowland is combined with pieces by amongst others Christopher Tye and John Ward.

Recorder player Marion Verbruggen occasionally plays a fifth part. Th release offers detailed and polished performances in an intimate atmosphere of varied and attractive repertoire.
Track list
Disk 1
Giovanni Battista RICCIO (†1620) Sonata a 4

Dario CASTELLO (†1629) Sonata 15

Gianbattista GRILLO (ca. 1622)* Canzona Il a 8

Giovanni GABRIELI (1557-1613) Canzon seconda

Girolamo FRESCOBALDI (1583-1643) Capriccio (di obligo di cantare)

Giovanni PICCHI (†1625)* Canzon 19 a 8

Girolamo FRESCOBALDI (1583-1643)° Capriccio (sopra la bassa fiamenga)

Costanzo PORTA (1528/29-1601)* Girometta a 8

Dario CASTELLO (†1629) Sonata 16

Giovanni Maria TRABACI (ca. 1575-1647) Canzona franzesa settima cromatica

Gioseffe GUAMI (ca. 1540-1611)* Canzon 25 a 8

Giovanni Pierluigi Da PALESTRINA (1525/26-1594) Ricercar del terzo tuono

Giovanni GABRIELI (1557-1613)* Canzone Il a 8

Tarquinio MERULA (1594/95-1665) Canzona La Merula

Giovanni GABRIELI (1557-1613)Canzon prima "La Spiritata"
Disk 2
William Byrd (1543-1623) The leaves be greene

Christopher Tye (ca. 1505-1572) In Nomine Reporte

In Nomine Crye

In Nomine Re la re

Henry Stonings (16th cent.) Browning my dere

William Byrd (1543-1623) In Nomine I

In Nomine IV

Clement Woodstock (ca. 1575) Browning my dere

John Dowland (1563?-1626) Lacrimae Antiquae

Sir Henry Umpton's Funerall

The Earle of Essex Galiard

Semper Dowland semper dolens

The King of Denmarks Galiard

John Baldwin (bef. 1560-1615) A Browninge of 3 voc.

Proporcions to the mimum

Cookow as I me walked

Christopher Tye (ca. 1505-1572?) Sit fast

Elway Bevin (ca. 1554-1638) Browning

John Ward (1571-1638) Fantasia

Richard Deering (ca. 1580-1630) Fantasia

John Okeover (aft. 1590-ca. 1663) Fantasia

Thomas Simpson (1582-aft. 1630) Canzon