Renaissance Choral Masterworks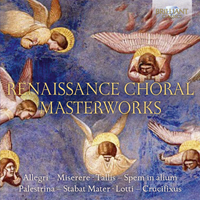 Composer
Claudio Merulo, Claudio Monteverdi, Thomas Tallis
Artist
Chamber Choir of Europe
Nicol Matt conductor
Choir of King's College Cambridge
Stephen Cleobury director
Choir of Clare College Cambridge
Timothy Brown conductor
Format
2 CD
Cat. number
95662
EAN code
5028421956626
Release
February 2018
About this release
The Renaissance era of the 16th and 17th centuries encompasses some of the most magnificent choral music ever written, at a time when composers were attached to royal chapels and cathedrals, and dedicated their art to the service of God, to creating musical masterworks that would complement and reflect the glory of the architecture which contained them.

This album contains some of the most enduring masterpieces from that era. It opens with the haunting strains of the Miserere which Allegri wrote for the Lenten liturgies of St Peter's Basilica in Rome: the austere, haunting harmonies quickly became so renowned that the basilica moved to protect the work's uniqueness by withholding the score and allowing performances only by its own choir.

There follows the Renaissance blockbuster Spem in alium, which Thomas Tallis created in 40 separate parts, to rival the grand but more static conception of an Italian contemporary. The courts of Spain and the Netherlands are also represented, with the lamenting O vos omnes by Victoria and Absalon fili mii by Josquin. The performances are compiled from albums by some of the world's most renowned choirs for this repertoire, mostly based in the English centre of choral excellence, the chapels of Cambridge.

However, the music is largely Italian in origin, as one might expect: the melancholy strains of Palestrina's Stabat mater and Lotti's magical, eight-part Crucifixus are answered by more joyful and exuberant pieces by Monteverdi and Gabrieli, conceived for the Basilica of St Mark's in Venice. This is a unique collection on record, enhanced by a lively introduction in the booklet to each work and composer on the album.

A generous collection of all time favourite choral masterworks from the Renaissance: Miserere (Allegri), Stabat Mater (Palestrina), Spem in Alium (Tallis), Crucifixus (Lotti), Ave Verum (Byrd) and other works by Cavalli, Desprez, da Victoria, Monteverdi, Vivanco, Gabrieli, Striggio, Willaert and Merulo.
Excellent performances by world famous choirs like the King's College Choir, Clare College Choir, St. John's College Choir, Chapelle de Roi and the Chamber Choir of Europe. More than 2 hours of heavenly sounds of eternal masterworks!
Booklet contains newly written liner notes.
Track list
Disk 1
Miserere

Spem in alium nunquam habui à 40

Stabat Mater

Salve regina

Magnificat octavi toni

Crucifixus

Ave verum corpus in G Minor

Absalon fili mi

O vos omnes

O vos omnes

Laudate pueri

Ave maris stella
Disk 2
Ahi senza te

Ninfe leggiadre e belle

Dolce nemica mia

O bene mio fa famm'uno favour

Alma cortes' e bella, Ch.85

Cor mio

Deh dolce anima

T'amo mia vita

Kyrie eleison

Fuggi pur se sai

In nobil sangue vita humile e queta, Ch.180

Alla battaglia

Amor dove mi guidi

A le guancie de rose

Gloria in excelsis deo a 16

Sanctus

Credo from the Mass "benedicam dominum"

Hodie Christus natus est

Agnus dei

Omnes gentes plaudite manibus, Ch.52