Rimsky-Korsakov: Cantatas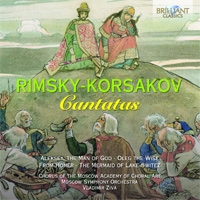 Composer
Nikolai Andreyevich Rimsky-Korsakov
Artist
Chorus of the Moscow Academy of Choral Art
Victor Popov conductor
Moscow Symphony Orchestra
Vladimir Ziva conductor
Format
1 CD
Cat. number
94495
EAN code
5028421944951
Release
February 2013
About this release
As was tradition in his family, Nicolai Rimsky-Korsakov trained to be a naval cadet. He continued to compose throughout his years in service and was appointed Professor of Composition and Orchestration at the St Petersburg Conservatory, despite having an extremely limited knowledge of music theory. He is now remembered as one of the most influential Russian Nationalist composers of all time, and was an integral member of 'The Five'.

This release brings together the great composer's cantatas. The Poem about Aleksey, the Man of God Op.20 originally appeared as a chorale in his opera The Maid of Pskov, and Rimsky-Korsakov later created a separate work from it. The Song of Oleg the Wise Op.58 is written in a marital style, as befits the subject matter of the ruler and warrior Oleg; Switezianka Op.44, a cantata for two soloists, is of a similar style. Also on the disc is From Homer Op.60, a tantalising glimpse of what might have been if Rimsky-Korsakov had continued to write his opera based on Homer's Odyssey; the work is made up of the intended orchestral introduction and opening chorus of the opera. It depicts the storm that washes Odysseus onto the shores of Phaecia, and shows the composer's talent for writing for female voices, including a trio (soprano, mezzo-soprano, contralto) and a female chorus.

The cantatas feature the Chorus of the Moscow Academy of Choral Art and the Moscow Symphony Orchestra, as well as a host of accomplished soloists.

Other information:
- Recorded in 2001, the only CD available with these works.
- Magnificent choral works, from an unexpected source: Nikolai Rimsky-Korsakov, composer of grand scale, lushly orchestrated symphonic works and colourful legend-based operas.
- The texts are based mainly on Russian topics: fairy-tales, Russian heroes, but also a lengthy episode from Homer's Odysseus.
- Contains extensive liner notes on the composer and works.
Track list
Disk 1
Poem about Aleksey, the Man of God, Op. 20

Song of Oleg the Wise, Op. 58

From Homer, Op. 60

Switezianka, Op. 44 (The Mermaid of Lake Switez)