Rimsky-Korsakov: Kashchey the Immortal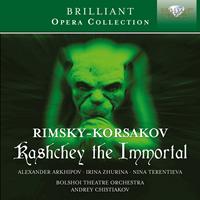 Download booklet
Composer
Nikolai Andreyevich Rimsky-Korsakov
Artist
Alexander Arkhipov Kashchey the Immortal
Irina Zhurina The Princess
Nina Terentieva Kashcheyevna
Yurlov Academic Choir
Bolshoi Theatre Orchestra
Andrey Chistiakov ocnductor
Format
1 CD
Cat. number
94657
EAN code
5028421946573
Release
April 2013
About this release
By 1901 Nikolai Rimsky-Korsakov had already been a professor at the St Petersburg Conservatory for thirty years and had achieved considerable renown as a composer. Having written eleven operas of varying subject matter, his interest in folklore led him to Yevgeny Petrovsky's libretto – based on the tales of the evil genie Kashchey – which would become the topic of his next stage work.

The opera's story – in which the malevolent Kashchey holds Princess Tsarevna captive – has been perceived as having an allegorical meaning, with Kashchey representing a tyrannical power and the eventual triumph over him a warning of political upheaval. Indeed, one memorable performance of the work took place in St Petersburg in the aftermath of Bloody Sunday (1905), with proceeds intended for families of the victims of the tragic event, and cries of 'Down with autocracy!' after the performance led police to evacuate the hall. The opera is written on a small scale, with just five characters, and the realm of the supernatural is emphasised through artificial modes. Further musical characterisation can also be found in the chromaticism and altered harmonies given to Kashchey, and the heroic lyricism of Prince Ivan Korolovitch.

This recording features five acclaimed soloists who have all enjoyed successful careers in their native Russia. They are accompanied by the Bolshoi Theatre Orchestra and led by the late Andrey Chistiakov, the Orchestra's conductor for twelve years.

Other information:
Recording made in December 1991.
Another treasure of Russian Romantic Opera: Kastchei the Immortal, the only single CD issue available.
The story of the opera is based on centuries old legends, glorifying the triumph over evil and tyrannical powers. Rimsky, the genius of orchestration, vividly paints the evil in dark and chromatic colours, achieving stark contrasts in characterisation. Superb performance by Russian star soloists of the Bolshoi, veteran Andrey Chistiakov conducts the Bolshoi Theatre Orchestra.
Liner notes and synopsis provided in the booklet, libretto available on the www.brilliantclassics.com.
Track list
Disk 1
Nikolai Andreyevich Rimsky-Korsakov: Kashchey the Immortal: First Tableau: Dni byez prosveta (Princess/Kashchey)

Nikolai Andreyevich Rimsky-Korsakov: Kashchey the Immortal: First Tableau: Ya vizhu dyevu krasoti chudyesnoi (Princess/Kashchey/Storm Knight)

Nikolai Andreyevich Rimsky-Korsakov: Kashchey the Immortal: First Tableau: Arioso: Tyomni yeyo ochki (Princess/Kashchey)

Nikolai Andreyevich Rimsky-Korsakov: Kashchey the Immortal: First Tableau: Chorus of the Tempête de Neige - Interlude: Vy, gusli samogudi (Kashchey/Princess/Chorus)

Nikolai Andreyevich Rimsky-Korsakov: Kashchey the Immortal: Second Tableau: Arioso and song: Nastala noch' zatikhnul vyeterok (Kashcheyvna)

Nikolai Andreyevich Rimsky-Korsakov: Kashchey the Immortal: Second Tableau: Scene and arietta: Glukhaya noch', dorogi dalshe nyet (Korolevitch/Kashcheyvna)

Nikolai Andreyevich Rimsky-Korsakov: Kashchey the Immortal: Second Tableau: Duet: Pit'yo prokhladnaya vernyot vsyo sili (Kashcheyvna/Korolevitch)

Nikolai Andreyevich Rimsky-Korsakov: Kashchey the Immortal: Second Tableau: Zasnul…tvoi chas nastal (Kashcheyvna/Storm Knight/Korolevitch)

Nikolai Andreyevich Rimsky-Korsakov: Kashchey the Immortal: Third Tableau: Berceuse of the Princess: Bayu, bai, Kashchyei syedoi! (Princess/Storm Knight)

Nikolai Andreyevich Rimsky-Korsakov: Kashchey the Immortal: Third Tableau: Duet: Myeryeshchitsa? (Korolevitch/Princess/Storm Knight)

Nikolai Andreyevich Rimsky-Korsakov: Kashchey the Immortal: Third Tableau: Prosti, lyubimi korolyevich moi! (Princess/Korolevitch/Kashchey/Kashcheyvna)

Nikolai Andreyevich Rimsky-Korsakov: Kashchey the Immortal: Third Tableau: Final chorus: Konyets zlomu tsartsvu! (Storm Knight/Princess/Korolevitch/Chorus)