Romantic Music for Oboe, Bassoon and Organ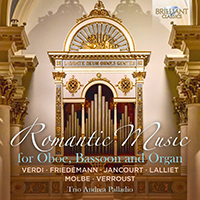 | | |
| --- | --- |
| Composer | Carl Friedemann, Giuseppe Verdi |
| Artist | Trio Andrea Palladio |
| Format | 1 CD |
| Cat. number | 95788 |
| EAN code | 5028421957883 |
| Release | October 2018 |
About this release
Arrangements and original works for an unusual combination, celebrating the virtuosity of the Romantic-era bassoon.

Musicians' desire to improve the agility and power of their instruments has always tended to go hand in hand with technological development: we may think of Bach and his organ and Beethoven and his piano as well as performer-composers such as Paganini and, in our own time, Jörg Widmann. Through the course of the 19th century the organ was also evolving, transcending the image of an exclusively liturgical instrument and gaining ground – and indeed range of tone-colours – in concertante roles.

Another 19th-century case in point was Eugène Jancourt, the bassoon virtuoso and composer, who brought about important changes in his instrument in order to extend its expressive potential. A longstanding performer and teacher at the Paris Conservatoire, he wrote a Concertino which transfers well to this combination of bassoon and organ, as does a Verdian rarity, discovered as recently as 2001, the youthful Capriccio.

A contemporary of Jancourt's was the French oboist, composer and conductor Théodore Lalliet, who played solo oboe in the orchestra of the Paris Opera. His Op.22 Terzetto was conceived as a piano trio, but the fluid instrumental dialogue gains an attractive mellifluousness in this combination of oboe, bassoon and organ. Ehestandsgeplauder (Wedding Chatter) by Carl Friedemann and Amourette faunienne by Heinrich Molbe are lighter occasional pieces. Verdi's Capriccio is complemented here by the inclusion of the Fantasie et Variations for oboe on themes of Il Corsaro. Its composer, Stanislas Verroust, studied music in Paris, where he then made a name for himself as an oboist and violinist as well as composing for the oboe and devoting time to teaching.

This combination of repertoire is unrivalled in the catalogue. The recording was made in 2017 at the cathedral in Vicenza, which hosts an organ built by Giovanni Battista De Lorenzi in 1878, replete with the technical innovations that enable rapid execution of the quicksilver shifts in volume and tone-colour demanded by this music.

An adventurous and original program with music written for the unusual combination of oboe, bassoon and organ in the 19-th century. Both solo instruments, the oboe and bassoon, excel in 19-th century virtuosity, while the organ functions as a quasi-orchestral accompaniment, providing colorful and powerful counterpoint. The CD contains a "first recording" of Verdi's Capriccio for bassoon and organ, the other composers are Théodore Lalliet, Heinrich Molbe, Carl Friedemann, Stanislas Verroust and Eugène Jancourt, names fallen into oblivion but certainly composers of highly attractive and entertaining music!
The Trio Palladio recorded this CD in the Duomo of Malo Vicenza, playing the Giovanni Lorenzi organ of 1878, the specification of which are included in the well documented booklet.
The booklet contains extensive liner notes on the origin of both works.
Track list
Disk 1
Terzetto, Op. 22: I. Introduzione

Terzetto, Op. 22: II. Andante maestoso

Terzetto, Op. 22: III. Rondò

Amourette faunienne in D Minor, Op. 73: I. Allegretto sostenuto

Capriccio per fagotto e organo

Ehestandsgeplauder, Musikalischer Scherz in C Major, Op. 54

Fantaisie et Variations sur "Il corsaro", Op. 54

Concertino Op. 40: I. Allegro moderato, andante con moto, allegretto mazurka, moderato