Russian Piano Concertos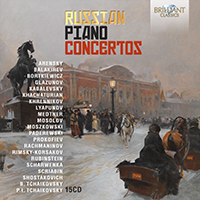 | | |
| --- | --- |
| Artist | Various artists |
| Format | 15 CD |
| Cat. number | 95520 |
| EAN code | 5028421955209 |
| Release | March 2018 |
About this release
This fascinating survey of the Russian (and Polish!) piano concerto in 15 CDs includes the masterworks of Pyotr Ilyich Tchaikovsky and Rachmaninov – beloved examples at the pinnacle of both Russian music and the piano concerto genre – along with more- and lesser-known yet all eminently worthy works by composers from both Imperial and Soviet Russia and those by Paderewski, Scharwenka and Moszkowski, who were born in what today is Poland.

Though the piano concerto is now inextricably linked in modern minds to the Russian repertoire, the area's isolation meant that it would take some time for the genre to take hold there, but that it would grow into a unique, characteristic and varied expression. The accompanying essay by David Moncur leads interested readers logically along the timeline of the genre's development in the east of Europe, exploring the generational and stylistic interconnections between fellow-composers and musician colleagues who were teachers, mentors, supporters and dedicatees.

There is a special quality to Russian Piano Concertos: apart from their jaw-dropping virtuosity and orchestral brilliance they share that common Slavonic flavor, an undefinable mixture of melancholy and passion, whether smouldering or blazing.
This set contains the famous concertos by Tchaikovsky, Rachmaninoff, Shostakovich and Prokofiev, but also lesser known composers: Anton Rubinstein, Medtner, Glazunov, Kabalevsky, Scriabin, Khatchaturian, Arensky, Balakirev, Lyapunov, Bortkiewicz and Khrennikov. Adding extra spice to the set are the concertos by Scharwenka and Moszkowski, Polish by birth but Slavic in spirit.
Excellent performances by Michael Ponti, Boris Giltburg, Yevgeny Kissin, Stefan Doniga and others.
Newly written liner notes are included in the booklet.
Listening
Track list
Disk 1
Sergei Lyapunov: Piano Concerto No. 1 in E-Flat Major, Op. 4

Sergei Lyapunov: Piano Concerto No. 2 in E Major, Op. 38

Sergei Lyapunov: Rhapsody on Ukrainian Themes in F-Sharp Minor, Op. 28
Disk 2
Anton Rubinstein: Piano Concerto No. 4 in D Minor, Op. 70: I. Moderato assai

Anton Rubinstein: Piano Concerto No. 4 in D Minor, Op. 70: II. Andante

Anton Rubinstein: Piano Concerto No. 4 in D Minor, Op. 70: III. Allegro

Anton Rubinstein: Konzertstück in A-Flat Major, Op. 113
Disk 3
Nikolai Medtner: Piano Concerto No. 3 in E Minor, Op. 60: I. Con moto, largamente

Nikolai Medtner: Piano Concerto No. 3 in E Minor, Op. 60: II. Interludium. Allegro molto sostenuto, misterioso – III. Finale. Allegro molto

Mili Balakirev: Piano Concerto No. 2 in E-Flat Major: I. Allegro non troppo

Mili Balakirev: Piano Concerto No. 2 in E-Flat Major: II. Adagio – III. Allegro risoluto

Sergei Lyapunov: Rhapsody on Ukrainian Themes in F-Sharp Minor, Op. 28
Disk 4
Dmitri Borisovich Kabalevsky: Piano Concerto No. 1 in A Minor, Op. 9: I. Moderato quasi andantino

Dmitri Borisovich Kabalevsky: Piano Concerto No. 1 in A Minor, Op. 9: II. Moderato - Allegro assai

Dmitri Borisovich Kabalevsky: Piano Concerto No. 1 in A Minor, Op. 9: III. Vivace marcato

Dmitri Borisovich Kabalevsky: Piano Concerto No. 2 in G Minor, Op. 23: I. Allegro moderato

Dmitri Borisovich Kabalevsky: Piano Concerto No. 2 in G Minor, Op. 23: II. Andantino semplice

Dmitri Borisovich Kabalevsky: Piano Concerto No. 2 in G Minor, Op. 23: III. Allegro molto

Alexander Glazunov: Piano Concerto No.2 in B Major, Op. 100
Disk 5
Dmitri Borisovich Kabalevsky: Piano Concerto No. 3 in D Major, Op. 50: I. Allegro molto

Dmitri Borisovich Kabalevsky: Piano Concerto No. 3 in D Major, Op. 50: II. Andante con moto

Dmitri Borisovich Kabalevsky: Piano Concerto No. 3 in D Major, Op. 50: III. Presto

Nikolai Andreyevich Rimsky-Korsakov: Piano Concerto in C-Sharp Minor, Op. 30

Alexander Glazunov: Piano Concerto No. 1 in F Minor, Op. 92: I. Allegro moderato

Alexander Glazunov: Piano Concerto No. 1 in F Minor, Op. 92: II. Theme with Variations
Disk 6
Aram Ilyich Khachaturian: Piano Concerto in D-Flat Major: I. Allegro ma non troppo e maestoso

Aram Ilyich Khachaturian: Piano Concerto in D-Flat Major: II. Andante con anima

Aram Ilyich Khachaturian: Piano Concerto in D-Flat Major: III. Allegro brilliante

Aram Ilyich Khachaturian: Concert Rhapsody in D-Flat Major
Disk 7
Moritz Moszkowski: Piano Concerto in E Major, Op. 59: I. Moderato

Moritz Moszkowski: Piano Concerto in E Major, Op. 59: II. Andante

Moritz Moszkowski: Piano Concerto in E Major, Op. 59: III. Scherzo. Vivace

Moritz Moszkowski: Piano Concerto in E Major, Op. 59: IV. Allegro deciso

Xaver Scharwenka: Piano Concerto in C Minor, Op. 56: I. Allegro

Xaver Scharwenka: Piano Concerto in C Minor, Op. 56: II. Adagio

Xaver Scharwenka: Piano Concerto in C Minor, Op. 56: III. Allegro non troppo
Disk 8
Anton Arensky: Piano Concerto in F Minor, Op. 2: I. Allegro maestoso

Anton Arensky: Piano Concerto in F Minor, Op. 2: II. Andante con moto

Anton Arensky: Piano Concerto in F Minor, Op. 2: III. Finale. Allegro molto

Ignacy Paderewski: Piano Concerto in A Minor, Op. 17: I. Allegro

Ignacy Paderewski: Piano Concerto in A Minor, Op. 17: II. Romanza. Andante

Ignacy Paderewski: Piano Concerto in A Minor, Op. 17: III. Finale. Allegro molto vivace
Disk 9
Alexander Scriabin: Piano Concerto in F-Sharp Minor, Op. 20: I. Allegro

Alexander Scriabin: Piano Concerto in F-Sharp Minor, Op. 20: II. Andante

Alexander Scriabin: Piano Concerto in F-Sharp Minor, Op. 20: III. Allegro moderato

Tikhon Nikolayevich Khrennikov: Piano Concerto No. 2, Op. 21: I. Introduction. Moderato

Tikhon Nikolayevich Khrennikov: Piano Concerto No. 2, Op. 21: II. Sonata. Allegro con fuoco

Tikhon Nikolayevich Khrennikov: Piano Concerto No. 2, Op. 21: III. Rondo. Giocoso – Andantino
Disk 10
Piotr Ilyich Tchaikovsky: Piano Concerto No. 1 in B-Flat Minor, Op. 23: I. Allegro non troppo e molto maestoso – Allegro con spirit

Piotr Ilyich Tchaikovsky: Piano Concerto No. 1 in B-Flat Minor, Op. 23: II. Andante semplice – Prestissimo

Piotr Ilyich Tchaikovsky: Piano Concerto No. 1 in B-Flat Minor, Op. 23: III. Allegro con fuoco

Piotr Ilyich Tchaikovsky: Piano Concerto No. 2 in G Major, Op. 44: I. Allegro brilliante

Piotr Ilyich Tchaikovsky: Piano Concerto No. 2 in G Major, Op. 44: II. Andante non troppo

Piotr Ilyich Tchaikovsky: Piano Concerto No. 2 in G Major, Op. 44: III. Allegro con fuoco
Disk 11
Sergei Rachmaninoff: Piano Concerto No. 2 in C Minor, Op. 18: I. Moderato

Sergei Rachmaninoff: Piano Concerto No. 2 in C Minor, Op. 18: II. Adagio sostenuto

Sergei Rachmaninoff: Piano Concerto No. 2 in C Minor, Op. 18: III. Allegro scherzando

Sergei Rachmaninoff: Piano Concerto No. 3 in D Minor, Op. 30: I. Allegro ma non tanto

Sergei Rachmaninoff: Piano Concerto No. 3 in D Minor, Op. 30: II. Intermezzo

Sergei Rachmaninoff: Piano Concerto No. 3 in D Minor, Op. 30: III. Finale. Alla breve
Disk 12
Sergei Prokofiev: Piano Concerto No. 3 in C Major, Op. 26: I. Andante – Allegro

Sergei Prokofiev: Piano Concerto No. 3 in C Major, Op. 26: II. Tema con variazioni

Sergei Prokofiev: Piano Concerto No. 3 in C Major, Op. 26: III. Allegro ma non troppo

Sergei Prokofiev: Piano Concerto No. 4 in B-Flat Major, Op. 53: I. Vivace

Sergei Prokofiev: Piano Concerto No. 4 in B-Flat Major, Op. 53: II. Andante

Sergei Prokofiev: Piano Concerto No. 4 in B-Flat Major, Op. 53: III. Moderato

Sergei Prokofiev: Piano Concerto No. 4 in B-Flat Major, Op. 53: IV. Vivace

Sergei Prokofiev: Piano Concerto No. 1 in D-Flat Major, Op. 10
Disk 13
Dmitri Shostakovich: Piano Concerto No. 1 in C Minor, Op. 35: I. Allegro moderato

Dmitri Shostakovich: Piano Concerto No. 1 in C Minor, Op. 35: II. Lento

Dmitri Shostakovich: Piano Concerto No. 1 in C Minor, Op. 35: III. Moderato

Dmitri Shostakovich: Piano Concerto No. 1 in C Minor, Op. 35: IV. Allegro con brio

Dmitri Shostakovich: Piano Concerto No. 2 in F Major, Op. 102: I. Allegro

Dmitri Shostakovich: Piano Concerto No. 2 in F Major, Op. 102: II. Andante

Dmitri Shostakovich: Piano Concerto No. 2 in F Major, Op. 102: III. Allegro
Disk 14
Boris Tchaikovsky: Concerto for Piano and Orchestra: I. —

Boris Tchaikovsky: Concerto for Piano and Orchestra: II. —

Boris Tchaikovsky: Concerto for Piano and Orchestra: III. —

Boris Tchaikovsky: Concerto for Piano and Orchestra: IV. —

Boris Tchaikovsky: Concerto for Piano and Orchestra: V. —

Alexander Mosolov: Piano Concerto No. 1, Op. 14: I. Andante lugubre

Alexander Mosolov: Piano Concerto No. 1, Op. 14: II. Tema con concertini. Lento sostenuto

Alexander Mosolov: Piano Concerto No. 1, Op. 14: III. Allegro – Molto marcato
Disk 15
Sergei Bortkiewicz: Piano Concerto No. 2, Op. 28: I. Allegro dramatico

Sergei Bortkiewicz: Piano Concerto No. 2, Op. 28: II. Allegretto

Sergei Bortkiewicz: Piano Concerto No. 2, Op. 28: III. Allegro dramatico

Sergei Bortkiewicz: Piano Concerto No. 2, Op. 28: IV. Allegro vivo

Sergei Bortkiewicz: Piano Concerto No. 3 in C Minor, Op. 32: I. Grave

Sergei Bortkiewicz: Piano Concerto No. 3 in C Minor, Op. 32: II. Cadenza

Sergei Bortkiewicz: Piano Concerto No. 3 in C Minor, Op. 32: III. Andante

Sergei Bortkiewicz: Piano Concerto No. 3 in C Minor, Op. 32: IV. Lento – Maestoso – Solenne

Sergei Bortkiewicz: Piano Concerto No. 3 in C Minor, Op. 32: V. Moderato