Schoeck: Complete Violin Sonatas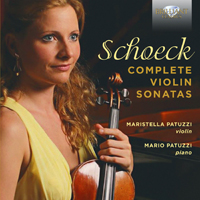 Composer
Othmar Schoeck
Artist
Maristella Patuzzi violin
Mario Patuzzi piano
Format
1 CD
Cat. number
95292
EAN code
5028421952925
Release
February 2016
About this release
Here are Swiss radio recordings of native performers, a father-daughter duo, of lyrical, high-flown chamber music by one of the country's foremost composers, now less known than his contemporary Arthur Honegger but hardly less gifted. Schoeck's crafting of a melody in a rich, post-Romantic vein may now seem more conservative than Honegger's tart neoclassicism, but this trio of violin sonatas demonstrates the lasting appeal of such a gift, even as his language inevitably evolved through the 40 years and more of composition which they span.

Placed last on the disc, the D major sonata was composed first but revised late in life, without compromising its playful, carefree charm. The First Sonata is Schoeck's first major composition, written in 1909 and dating from his mid-twenties after he had completed studies with Max Reger at the Leipzig Conservatoire. This was the institution which more than any other of the era was the finishing school for composers who would go on to plough original furrows in their own lands, informed by but running parallel to the determined innovations of Stravinsky and the Second Viennese School, principal among them Busoni, Delius, Albeníz and Janáček.

The Second Sonata Op.46 dates from 1931 and is nominally cast in E major but inevitably moves away from a consistent tonal centre according to the temper of its times; he had by then written the opera Penthesilea (1923-5) which experiments with an atonality influenced by Berg's Wozzeck. The dusty reception given to the opera persuaded Schoeck to retreat from such innovation, and the sonata is written in an austerely neoclassical style, with a more detached and restrained language. With its almost lunar abstractness and the frenzy of the writing – in which the two instruments seem almost continuously to go each their own way – the Scherzo is probably the sonata's most successful movement.

Maristella Patuzzi's latest album of Piazzolla's music was released on Decca to wide acclaim. Her previous albums for Brilliant Classics include music by Bloch (BC95015), also partnered by her father, and the Violin Concerto of Manuel de Sica (BC94905).

Othmar Schoeck (1886-1957) is one of the most important composers of 20th century Switzerland. Of the same generation as Berg, Bartók, Szymanowsky, Stravinsky and Webern he adopted such stylistic elements as presented by his contemporaries, while maintaining his own personal voice of lyricism and late romantic Weltschmerz.
The three (complete) violin sonatas which are recorded here span his entire lifetime, and reflect the musical developments of the century: from tonally extended chromatism in Reger style to expressionistic austerity.
Played with obvious love and dedication by Lugano-born violinist Maristella Patuzzi and her father Mario Patuzzi.
Liner notes in English and Italian.
Track list
Disk 1
Sonata in D Major, Op. 16: I. Nicht zu langsam – Etwas bewegter – Schneller – Tempo I – Etwas bewegter – Viel ruhiger – Ziemlich bewegt

Sonata in D Major, Op. 16: II. Ruhig – Etwas rascher – Tempo I – Etwas rascher – Tempo I – Etwas rascher

Sonata in D Major, Op. 16: III. Allegro con spirito – Ruhiger – Tempo I – Presto – Prestissimo

Sonata in E Major, Op. 46: I. Tranquillo – Andante con moto – Etwas breiter – Noch breiter

Sonata in E Major, Op. 46: II. Scherzo. Rasch und leicht – Trio

Sonata in E Major, Op. 46: III. Breit – Sehr breit (rubato) – Kräftig bewegt – Breiter – Molto allegro – Presto

Sonata in D Major, WoO22: I. Anmutig bewegt – Breiter, poco rubato – Tempo I

Sonata in D Major, WoO22: II. Thema mit Variationen. Ruhig fließend, Var. I., Var. II., Var. III., Var. IV.

Sonata in D Major, WoO22: III. Schnelle Viertel – Wenig breiter, cantabile – Tempo I – Viel breiter – Tempo I – Breiter – Noch breiter – Tempo I