Schubert: Complete Masses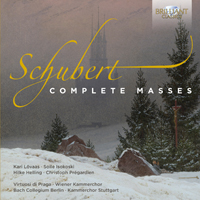 Composer
Franz Schubert
Artist
Kari Lövaas soprano
Hilke Helling alto
Soile Isokoski soprano
Christoph Prégardien tenor
Virtuosi di Praga
Wiener Kammerchor
Bach Collegium Berlin
Kammerchor Stuttgart
Format
4 CD
Cat. number
95127
EAN code
5028421951270
Release
November 2015
About this release
There's so much Schubert, it's easy to underestimate the large sections of it that are hardly listened to for reasons of changing taste or convenience. The two late Masses are masterpieces to rank alongside the three great songcycles and piano sonatas, the two piano trios and C major Symphony; accordingly they retain a place at the edge of the concert repertory. The case of the other four is more complex: of more practical dimensions for liturgical use, they are nonetheless devotional works organised more by Schubert's musical inspiration than any doctrinal considerations, to which he never paid more than lip-service in his own turbulent life.

Nonetheless, the most cursory attention given to the opening Kyrie of his First Mass, written for the church in Lichtental associated with the family, should demonstrate that the work was not undertaken casually or lightly. However, the especially radiant soprano solo may (as so often with Schubert) have a personal inspiration: in this case the affection and desire the 17-year-old composer was beginning to feel for the soprano Therese Grob. One of Schubert's more reliable friends recalled a conversation, years later, in which the composer had confessed of Grob that 'I loved someone very dearly and she loved me too…. For three years she hoped I would marry her; but I could not find a position which would have provided for us both.'

The Third Mass, D.324 in E flat, is hardly less expansive, though now less often encountered than the pleasantly undemanding turn of the Second in G, D.167 with its tender Agnus Dei. The performances in this box set are a useful compendium of Schubert performing styles from the Czech Republic, Austria and Germany, culminating in a superbly detailed account of the E flat Mass D950, directed by Frieder Bernius, among the greatest living choral conductors in the German tradition.

Although Schubert was not a traditionally religious person he found in the latin Liturgic text a consolation and an expression of his own personal emotions, both jubilant and despondent. Therefore his Masses are the reflection of his own beliefs and doubts, his deep feelings about life and death.
This set contains the complete 6 Latin Masses and the "Deutsche Messe". Performers include the excellent Virtuosi di Praga and the Prague Chamber Orchestra, soloists Soile Isokoski, Kari Lövaas, Christoph Prégardien, Kammerchor Stuttgart, conductors Hans Gillesberger and Frieder Bernius.
Booklet contains extensive liner notes.
Track list
Disk 1
Messe No. 1 in F Major, D. 105: I. Kyrie

Messe No. 1 in F Major, D. 105: II. Gloria

Messe No. 1 in F Major, D. 105: III. Credo

Messe No. 1 in F Major, D. 105: IV. Sanctus

Messe No. 1 in F Major, D. 105: V. Benedictus

Messe No. 1 in F Major, D. 105: VI. Agnus dei

Salva Regina in A Major, D. 676

Magnificat in C Major,D. 486
Disk 2
Messe No. 2 in G Major, D. 167: I. Kyrie

Messe No. 2 in G Major, D. 167: II. Gloria

Messe No. 2 in G Major, D. 167: III. Credo

Messe No. 2 in G Major, D. 167: IV. Sanctus

Messe No. 2 in G Major, D. 167: V. Benedictus

Messe No. 2 in G Major, D. 167: VI. Agnus dei

Messe No. 4 in C Major, D. 452: I. Kyrie

Messe No. 4 in C Major, D. 452: II. Gloria

Messe No. 4 in C Major, D. 452: III. Credo

Messe No. 4 in C Major, D. 452: IV. Sanctus

Messe No. 4 in C Major, D. 452: V. Benedictus

Messe No. 4 in C Major, D. 452: VI. Agnus dei

Messe No. 3 in B-Flat Major, D. 324: I. Kyrie

Messe No. 3 in B-Flat Major, D. 324: II. Gloria

Messe No. 3 in B-Flat Major, D. 324: III. Credo

Messe No. 3 in B-Flat Major, D. 324: IV. Sanctus

Messe No. 3 in B-Flat Major, D. 324: V. Benedictus

Messe No. 3 in B-Flat Major, D. 324: VI. Agnus dei
Disk 3
Mass No. 5 in A-Flat Major, D. 678: I. Kyrie

Mass No. 5 in A-Flat Major, D. 678: II. Gloria

Mass No. 5 in A-Flat Major, D. 678: III. Credo

Mass No. 5 in A-Flat Major, D. 678: IV. Sanctus

Mass No. 5 in A-Flat Major, D. 678: V. Benedictus

Mass No. 5 in A-Flat Major, D. 678: VI. Agnus dei

Deutsche Messe, D. 872: I. Zum Eingang

Deutsche Messe, D. 872: II. Zum Gloria

Deutsche Messe, D. 872: III. Zum Evangelium und Credo

Deutsche Messe, D. 872: IV. Zum Offertorium

Deutsche Messe, D. 872: V. Zum Sanctus

Deutsche Messe, D. 872: VI. Nach der Wandlung

Deutsche Messe, D. 872: VII. Anhang. Das Gebet des Herrn

Deutsche Messe, D. 872: VIII. Zum Agnes

Deutsche Messe, D. 872: IX. Schlussgesang
Disk 4
Mass No. 6 in E-Flat Major, D. 950: I. Kyrie. Kyrie eleison

Mass No. 6 in E-Flat Major, D. 950: II. Gloria. Gloria

Mass No. 6 in E-Flat Major, D. 950: II. Gloria. Domine deus

Mass No. 6 in E-Flat Major, D. 950: II. Gloria. Quoniam tu solis

Mass No. 6 in E-Flat Major, D. 950: II. Gloria. Cum santo spiritu

Mass No. 6 in E-Flat Major, D. 950: III. Credo. Credo

Mass No. 6 in E-Flat Major, D. 950: III. Credo. Et incarnatus est

Mass No. 6 in E-Flat Major, D. 950: III. Credo. Et resurrexit

Mass No. 6 in E-Flat Major, D. 950: III. Credo. Et vitam venture

Mass No. 6 in E-Flat Major, D. 950: IV. Sanctus. Sanctus

Mass No. 6 in E-Flat Major, D. 950: IV. Sanctus. Osanna in excelsis

Mass No. 6 in E-Flat Major, D. 950: V. Benedictus. Benedictus

Mass No. 6 in E-Flat Major, D. 950: V. Benedictus. Osanna in excelsis

Mass No. 6 in E-Flat Major, D. 950: VI. Agnus dei. Agnus dei