Schubert: Symphonies No. 3-5-8 "Unfinished"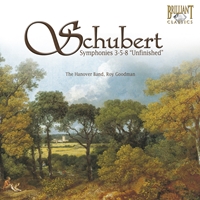 Composer
Franz Schubert
Artist
The Hanover band
Roy Goodman conductor
Format
1 CD
Cat. number
93303
EAN code
5028421933030
Release
April 2006
About this release
This release contains a selection of Schubert's symphonic oeuvre: Symphonies No. 3, No. 5 and the "Unfinished". Great performances by the Hanover Band, lead by Roy Goodman.
Track list
Disk 1
Symphony No. 8 in B Minor, D759 Unfinished: Allegro Moderato

Symphony No. 8 in B Minor, D759 Unfinished: Andante con moto

Symphony No. 5 in B flat Major, D485:Allegro

Symphony No. 5 in B flat Major, D485:Andante con moto

Symphony No. 5 in B flat Major, D485:Menuetto & trio: allegro molto

Symphony No. 5 in B flat Major, D485:Allegro vivace

Symphony No. 3 in D Major, D200:Adagio maestoso-allegro con brio

Symphony No. 3 in D Major, D200:Allegretto

Symphony No. 3 in D Major, D200:Menuetto & trio: vivace

Symphony No. 3 in D Major, D200:Presto vivace