Schubert: The Last Years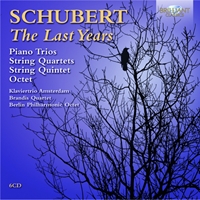 Composer
Franz Schubert
Artist
Klaviertrio Amsterdam
Brandis Quartet
Berlin Philharmonic Octet
Format
6 CD
Cat. number
94424
EAN code
5028421944241
Release
December 2012
About this release
Spanning 6 CDs and featuring many a consummate performance, this release celebrates the genius of Schubert through detailing all of his late chamber music.

The compilation begins with the two piano trios, works of immense virtuosity whose fluent melodies betray the composer's affinity for song. Moving on to the quartets, we encounter expressive depth, melancholy and drama; while the Quartettsatz movement in C minor displays all the hallmarks of Schubert's late style – including dark lyricism and shifting chromaticism – D810 'Der Tod und das Mädchen' takes the idea of tragedy to a whole new level, its second movement's melody lifted directly from the identically titled song. The String Quintet follows, a work written just two months before Schubert's death and which replaces the conventional second viola part with that of a cello. Last, but by no means least, the Octet; composed in 1826, this piece was conceived in a response to a commission by the renowned clarinettist Ferdinand Troyer.

It's astonishing to think that Schubert was not taken seriously as a composer of chamber music during his own lifetime. Brimming with melodic invention and documenting a composer who was at the height of his all-too-brief career, these works are superlatively performed by the Amsterdam Trio, Brandis Quartet and Berlin Philharmonic Octet.

Other information:
- Recorded 1995–2009.
- In his last years (though he was only in his late twenties…) Schubert achieved a unique musical form in which structure and content fuse into an inseparable unity. His later works present a soul in anguish, darkness and light alternate, terror and happiness go hand in hand. The three late string quartets (counting among the best and most famous quartets ever written), the two piano trios, the string quintet of heavenly proportions and the octet all reveal grand musical structures, laden with a depth of feeling which belies the comparative youth of the composer.
- Excellent performances from the Klaviertrio Amsterdam (Spanish classical magazine Scherzo: "The best recording available"), the German Brandis Quartet and the famous Berlin Philharmonic Octet.
- Contains liner notes on the composer and the music.
Track list
Disk 1
Piano Trio No. 1 in B-Flat, D. 898: I. Allegro moderato

Piano Trio No. 1 in B-Flat, D. 898: II. Andante, un poco mosso

Piano Trio No. 1 in B-Flat, D. 898: III. Scherzo – Trio – Allegro

Piano Trio No. 1 in B-Flat, D. 898: Piano Trio No. 1 in B-Flat, D. 898: IV. Rondo – Allegro vivace – Presto

Notturno in E-Flat, D. 897
Disk 2
Piano Trio No. 2 in E-Flat, D. 929: I. Allegro

Piano Trio No. 2 in E-Flat, D. 929: II. Andante con moto

Piano Trio No. 2 in E-Flat, D. 929: III. Scherzando: Allegro moderato

Piano Trio No. 2 in E-Flat, D. 929: IV. Allegro moderato
Disk 3
String Quartet in A Minor, D. 804 'Rosamunde': I. Allegro ma non troppo

String Quartet in A Minor, D. 804 'Rosamunde': II. Andante

String Quartet in A Minor, D. 804 'Rosamunde': III. Menuetto: Allegro

String Quartet in A Minor, D. 804 'Rosamunde': IV. Allegro moderato

String Quartet in D Minor, D. 810 'Der Tod und das Mädchen': I. Allegro

String Quartet in D Minor, D. 810 'Der Tod und das Mädchen': II. Andante con moto

String Quartet in D Minor, D. 810 'Der Tod und das Mädchen': III. Scherzo: Allegro molto

String Quartet in D Minor, D. 810 'Der Tod und das Mädchen': IV. Presto
Disk 4
Quartettsatz in C Minor, D. 703

String Quartet in G, D. 887: I. Allegro molto moderato

String Quartet in G, D. 887: II. Andante un poco moto

String Quartet in G, D. 887: III. Scherzo: Allegro vivace

String Quartet in G, D. 887: IV. Allegro assai
Disk 5
String Quintet in C D. 956* for two violins, viola and two cellos: I. Allegro non troppo

String Quintet in C D. 956* for two violins, viola and two cellos: II. Adagio

String Quintet in C D. 956* for two violins, viola and two cellos: III. Scherzo: Presto

String Quintet in C D. 956* for two violins, viola and two cellos: IV. Allegretto
Disk 6
Octet in F, D. 803, Op.posth. 166 for clarinet, horn, bassoon, string quartet and double bass: I. Adagio – Allegro

Octet in F, D. 803, Op.posth. 166 for clarinet, horn, bassoon, string quartet and double bass: II. Adagio

Octet in F, D. 803, Op.posth. 166 for clarinet, horn, bassoon, string quartet and double bass: III. Allegro vivace – Trio

Octet in F, D. 803, Op.posth. 166 for clarinet, horn, bassoon, string quartet and double bass: IV. Andante con variazioni

Octet in F, D. 803, Op.posth. 166 for clarinet, horn, bassoon, string quartet and double bass: V. Menuetto: Allegretto

Octet in F, D. 803, Op.posth. 166 for clarinet, horn, bassoon, string quartet and double bass: VI. Andante molto – Allegro