Schubert: The Song Collection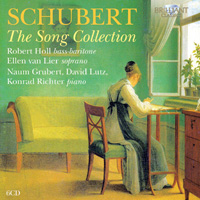 Download booklet
Composer
Franz Schubert
Artist
Robert Holl bass-baritone
Ellen van Lier soprano
Naum Grubert piano
David Lutz piano
Konrad Richter piano
Format
6 CD
Cat. number
95111
EAN code
5028421951119
Release
February 2015
About this release
Schubert's song cycle Winterreise is recognised as being one of his greatest works, darker and more complex than Die
schöne Müllerin. Wilhelm Müller's poetry, recounting the tale of a lovesick wanderer, has admittedly never been acclaimed as more than somewhat banal; moving, at best, but hardly reaching the literary heights of Goethe. However, it takes on new heights when matched with Schubert's music, elevated to a whole new art form. Indeed, it is notably more mature than Die schöne Müllerin; Schubert's predilection for through‐composition rather than a strophic structure and his masterful use of majorminor colouring reveals his confidence in his writing, as he moves decisively away from older forms based on Beethoven and Mozart, foreshadowing the Wagnerian era. Schubert's last works before his tragically early death at the age of 31 – Lieder on poetry by Heine and Rellstab – were gathered together by his publisher with the addition of 'Die Taubenpost' to create Schwanengesang. The composer's 'Swan Song' is therefore not so much a coherent song cycle in the style of Winterreise, but still contains some of the composer's most original music, borne of Schubert's encounter with Heinrich Heine's poetry, which deals primarily with the theme of love's torment. This release also includes various other Lieder chosen from the 600 Schubert composed throughout his life. Inspired by his close friendships with poets of the day, Schubert set several songs to words by Johann Mayrhofer and Franz von Schober. Although similar themes of love and loss tend to appear frequently, Schubert manages to make one love song quite unlike another, exemplifying fully why he deserves his reputation as master of Lieder writing. This release brings together old recordings by stalwart Schubert interpreters Robert Holl and Ellen van Lier, accompanied by Konrad Richter, David Lutz and Naum Grubert (a "mature, thoughtful Schubertian", Gramophone).
Robert Holl is one of the foremost bass baritones of today. He has collaborated with the greatest conductors like Bernard Haitink, Eugen Jochum, Nikolaus Harnoncourt, Claudio Abbado, and is equally active in opera as in Lieder. Particularly his Schubert interpretations "stand alone in its musical truthfulness and depth of insight" (BBC Music Magazine about his Hyperion recording of Schwanengesang).
This set brings together Robert Holl's many Schubert recordings, including a moving account of Winterreise (with pianist Naum Grubert), Schwanengesang and a wide variety of songs, many of which are seldom recorded, like the substantial dramas "Der Tod Oscar", "Die Bürgschaft", "Ritter Toggenburg" and "Die Erwartung".
Booklet contains extensive liner notes, the sung texts are available on www.brilliantclassics.com.
An impressive tribute to one of the greatest Schubert singers of today!

Other information:
Recorded in Austria and The Netherlands in 1977, 1980, 1994, 1996 and 2001.
Track list
Disk 1
Winterreise D. 911: No. 1 Gute Nacht "Fremd bin ich eingezogen"

Winterreise D. 911: No. 2 Die Wetterfahne "Der Wind spielt mit der Wetterfahne"

Winterreise D. 911: No. 3 Gefrorne Tränen "Gefrorne Tropfen fallen"

Winterreise D. 911: No. 4 Erstarrung "Ich such' im Schnee vergebens"

Winterreise D. 911: No. 5 Der Lindenbaum "Am Brunnen vor dem Tore"

Winterreise D. 911: No. 6 Wasserflut "Manche Trän' aus meinen Augen"

Winterreise D. 911: No. 7 Auf dem Flusse "Der du so lustig rauschtest"

Winterreise D. 911: No. 8 Rückblick "Es brennt mir unter beiden Sohlen"

Winterreise D. 911: No. 9 Irrlicht "In die tiefsten Felsengründe"

Winterreise D. 911: No. 10 Rast "Nun merk' ich erst"

Winterreise D. 911: No. 11 Frühlingstraum "Ich träumte von bunten Blumen"

Winterreise D. 911: No. 12 Einsamkeit "Wie eine trübe Wolke"

Winterreise D. 911: No. 13 Die Post "Von der Straße her ein Posthorn klingt"

Winterreise D. 911: No. 14 Der greise Kopf "Der Reif hat einen weißen Schein"

Winterreise D. 911: No. 15 Die Krähe "Eine Krähe war mit mir"

Winterreise D. 911: No. 16 Letzte Hoffnung "Hie und da ist an den Bäumen"

Winterreise D. 911: No. 17 Im Dorfe "Es bellen die Hunde"

Winterreise D. 911: No. 18 Der stürmische Morgen "Wie hat der Sturm zerrissen"

Winterreise D. 911: No. 19 Täuschung "Ein Licht tanzt freundlich"

Winterreise D. 911: No. 20 Der Wegweiser "Was vermeid' ich denn die Wege"

Winterreise D. 911: No. 21 Das Wirtshaus "Auf einen Totenacker"

Winterreise D. 911: No. 22 Mut "Fliegt der Schnee mir ins Gesicht"

Winterreise D. 911: No. 23 Die Nebensonnen "Drei Sonnen sah ich"

Winterreise D. 911: No. 24 Der Leiermann 'Drüben hinterm Dorfe' 4'01
Disk 2
Schwanengesang D. 957: No. 1 Liebesbotschaft "Rauschendes Bächlein, so silbern"

Schwanengesang D. 957: No. 2 Kriegers Ahnung "In tiefer Ruh liegt um mich her"

Schwanengesang D. 957: No. 3 Frühlingssehnsucht "Säuselnde Lüfte wehend so mild"

Schwanengesang D. 957: No. 4 Ständchen "Leise flehen meine Lieder"

Schwanengesang D. 957: No. 7 Abschied "Ade! du muntre, du fröhliche Stadt"

Herbst D. 945: "Es rauschen die Winde"

Schwanengesang D. 957: No. 5 Aufenthalt "Rauschender Strom, brausender Wald"

Schwanengesang D. 957: No. 6 In der Ferne "Wehe dem Fliehenden"

Am Fenster D. 878: "Ihr lieben Mauern hold und traut"

Der Wanderer an den Mond D. 870: "Ich auf der Erd', am Himmel du"

Das Zügenglöcklein D. 871: "Kling' die Nacht durch, klinge"

Schwanengesang D. 957: No. 14 Die Taubenpost "Ich hab' eine Brieftaub'

Schwanengesang D. 957: No. 10 Das Fischermädchen "Du schönes Fischermädchen"

Schwanengesang D. 957: No. 12 Am Meer "Das Meer erglänzte weit hinaus"

Schwanengesang D. 957: No. 11 Die Stadt "Am fernen Horizonte"

Schwanengesang D. 957: No. 13 Der Doppelgänger "Still ist die Nacht"

Schwanengesang D. 957: No. 9 Ihr Bild "Ich stand in dunklen Träumen"

Schwanengesang D. 957: No. 8 Der Atlas "Ich unglücksel'ger Atlas!"
Disk 3
Memnon D. 541: "Den Tag hindurch nur einmal"

Trost D. 671: "Hörnerklänge rufen klagend"

Am Strome D. 539: "Ist mir's doch, als sei mein Leben"

Nach einem Gewitter D. 561: "Auf den Blumen"

Liane D. 298: "Hast du Lianen nicht gesehen?"

Am See D. 124: "Sitz' ich im Gras"

Rückweg D. 476: "Zum Donaustrom, zur Kaiserstadt"

Fahrt zum Hades D. 526: "Der Nachen dröhnt"

Freiwilliges Versinken D. 700: "Wohin? O Helios!"

Fragment aus dem Aeschylus D. 450: "So wird der Mann, der sonder Zwang"

Orest auf Tauris D. 548: "Ist dies Tauris"

Der entsühnte Orest D. 699: "Zu meinen Füssen brichst du dich"

Abendröte D. 690: "Tiefer sinket schon die Sonne"

Die Berge D. 634: "Sieht uns der Blick gehoben"

Die Vögel D. 691: : Wie lieblich und fröhlich"

Der Knabe D. 692: "Wenn ich nur ein Vöglein wäre"

Der Fluss D. 693: "Wie rein Gesang sich windet"

Die Rose D. 745: "Es lockte schöne Wärme"

Der Schmetterling D. 633: "Wie soll ich nicht tanzen"

Der Wanderer D. 649: "Wie deutlich des Mondes Licht"

Das Mädchen D. 652: "Wie so innig, möcht ich sagen"

Die Sterne D. 684: "Du staunest, o Mensch"
Disk 4
Pilgerweise D. 789: "Ich bin ein Waller auf der Erde"

Todesmusik D. 758: "In des Todes Feierstunde"

Hymne I D. 659: "Wenige wissen das Geheimnis"

Nachthymne D. 687: "Hinüber wall' ich"

Der Tod Oskars D. 375: "Warum öffnest du wieder"

Harfenspieler I D. 478: No.1 "Wer sich der Einsamkeit ergibt"

Harfenspieler III D. 480: No.2 "Wer nie sein Brot mit Tränen aß"

Harfenspieler II D. 479: No.3 "An die Türen will ich schleichen"
Disk 5
Im Freien D. 880: "Draussen in der weiten Nacht"

An mein Herz D. 860: "O Herz, sei endlich stille"

Der Blumenbrief D. 622: "Euch Blümlein will ich senden"

An den Mond in einer Herbstnacht D. 614: "Freundlich ist dein Antlitz"

Die Mutter Erde D. 788: "Des Lebens Tag ist schwer"

Auflösung D. 807: "Verbirg dich, Sonne"

Einsamkeit D. 620: "Gib mir die Fülle der Einsamkeit!"

Der zürnenden Diana D. 707b: "Ja, spanne nur den Bogen"

Licht und Liebe (Nachtgesang) D. 352: "Liebe ist ein süßes Licht"
Disk 6
Der Alpenjäger D. 588: "Willst du nicht das Lämmlein hüten"

Der Flüchtling D. 402: "Frisch atmet des Morgens lebendiger Hauch"

Ritter Toggenburg D. 397: "Ritter, treue Schwesterliebe"

Die Bürgschaft D. 246: "Zu Dionys, dem Tyrannen"

Die Erwartung D. 159: "Hör' ich das Pförtchen"

Dithyrambe D. 801: "Nimmer, das glaubt mir"

4 Gesänge aus Wilhelm Meister D. 877: No.1 Mignon und der Harfner "Nur wer die Sehnsucht kennt"