Sgambati: Piano Quintets and String Quartets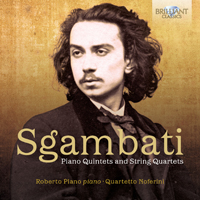 Composer
Giovanni Sgambati
Artist
Roberto Plano piano
Quartetto Noferini
Format
2 CD
Cat. number
94813
EAN code
5028421948133
Release
July 2015
About this release
Giovanni Sgambati (1841-1914) was one of the few 19th- century Italian musicians who worked outside the native operatic tradition of Donizetti and Verdi. As a conductor, composer, teacher and pianist, he promoted symphonic and chamber music alongside his younger and now more renowned colleague Giuseppe Martucci. Records of Sgambati's music have largely confined themselves to his orchestral and piano works (as well as his magnum opus, a Requiem Mass), but transfers of a dusty 78 show him having enormous fun with the Scherzo of Dvořák's Piano Quintet.

This set redresses the balance and reveals Sgambati as a chamber musician no less accomplished in composition than performance, within the German tradition that he worked hard to introduce to Italian concert societies: Mendelssohn and Schumann are keynote influences here. The first string quartet and piano quintets are early works, dating from 1864 and 1866
respectively; the latter written in the fairly unusual key of F minor (think Tchaikovsky's Fourth Symphony) for which Sgambati appears to have had a special fondness, given the many piano pieces he also composed in that key.

The second string quartet (1882) and piano quintet (1876) are more chromatically developed to embrace some of Wagner's idiom (Sgambati also wrote a concert overture on the subject of Rienzi); and when Wagner heard Sgambati give a performance of the quintet at the Royal Court of Savoy he was sufficiently impressed to suggest to his publisher Schott that they also publish Sgambati's work. This proved to be a turning point in Sgambati's career, as well as the beginning of a friendship between the two composers.

Roberto Plano's previous disc for Brilliant Classics, of the piano music of Smetana (BC94788), won warm critical appreciation;

Giovanni Sgambati (1841-1914) was an important composer of 19th- century Italy. A pupil and disciple of Franz Liszt he was one of the most brilliant pianists of his day. However, he was a composer, a conductor, a teacher and a patron as well, composing symphonies and chamber music in a country where opera was predominant.
Sgambati's musical language is romantic pur sang. Rooted in the German tradition of Mendelssohn and Schumann he was further influenced by his great mentor Franz Liszt and by Wagner (as so many in that age).
This 2CD set contains two string quartets and the two piano quintets, impressive works of substantial length, richly textured and full of instrumental virtuosity.
Excellent performances by Italian forces, the great pianist Alberto Plano (a Van Cliburn Competition winner) and the Quartetto Noferini.
Track list
Disk 1
String Quartet No. 1 in D Minor: I. Allegro moderato

String Quartet No. 1 in D Minor: II. Allegro

String Quartet No. 1 in D Minor: III. Romanza (Andante)

String Quartet No. 1 in D Minor: IV. Allegro assai e appassionato

Piano Quintet No. 2 in B-Flat Major, Op. 5: I. Andante – Vivace

Piano Quintet No. 2 in B-Flat Major, Op. 5: II. Barcarola (Allegretto con moto)

Piano Quintet No. 2 in B-Flat Major, Op. 5: III. Andante

Piano Quintet No. 2 in B-Flat Major, Op. 5: IV. Allegro vivace
Disk 2
String Quartet No. 2 in C- Sharp Minor, Op. 17: I. Adagio – Vivace ma non troppo

String Quartet No. 2 in C- Sharp Minor, Op. 17: II. Prestissimo

String Quartet No. 2 in C- Sharp Minor, Op. 17: III. Andante sostenuto

String Quartet No. 2 in C- Sharp Minor, Op. 17: IV. Allegro

Piano Quintet No. 1 in F Minor, Op. 4: I. Adagio – Allegro ma non troppo

Piano Quintet No. 1 in F Minor, Op. 4: II. Vivacissimo

Piano Quintet No. 1 in F Minor, Op. 4: III. Andante sostenuto

Piano Quintet No. 1 in F Minor, Op. 4: IV. Allegro moderato