Shostakovich: Michelangelo Suite - Romances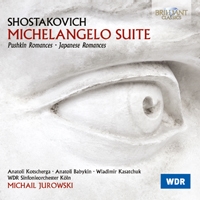 Composer
Dmitri Shostakovich
Artist
Anatoli Kotscherga bass
Anatoli Babykin bass
Wladimir Kasatchuk tenor
Kölner Rundfunk Sinfonieorchester
Michael Jurowsky conductor
Format
1 CD
Cat. number
94649
EAN code
5028421946498
Release
February 2014
About this release
By the time Shostakovich came to write his final and, in the event, longest song cycle in the 1974, he was mortally ill from the heart disease that would kill him the following year. His thought and music, from which death had never been far, had turned ineluctably to the transience and shortcomings of the human condition, expressed with most bitter eloquence in the song-cycle-style Fourteenth Symphony which through settings of Lorca and Rilke even hints at the welcome release of suicide. Infirmity had reduced his movement to a bare minimum, and so the last two symphonies, the late quartets and this song cycle are written with a great and imposed economy of means, in which large forces may still be employed but with a post-modernist, pointillist economy.

The poems that the composer selected from the recently published Russian translations of the poet by Avram Efros deal with the big issues: 'Truth', 'Love', 'Separation', 'Anger', 'Creativity', 'Death' and finally 'Immortality', in which threads of instrumental melody muse semi-abstractedly on the bass voice of the poet as he declaims what it is like to hope, and then to lose hope, all the more powerful for its expressive neutrality. Along with Peter Maxwell Davies's Black Pentecost, and ad ora incerta by Simon Bainbridge, the cycle is one of the great 'answers' to Das Lied von der Erde, in which Mahler's reflections on friendship and loneliness are answered with unsparing clarity, and the hindsight of the worldwide horrors that have come between them.

Other information:
- Recordings made in 1994 and 1995.
- This disc present 3 song cycles by Shostakovich which span the composer's entire life: from the Romances on Japanese Poets, breathing an air of romantic nostalgia, to the middle-period Pushkin Suite, arriving at the most important and substantial cycle, the Michelangelo Verses. These grim, austere and ascetic settings are a premonition of his own death a year later, an impressive and moving musical testament of a tormented genius.
- Eloquent and idiomatic performances by two Russian soloists, and the excellent Kölner Rundfunk-Sinfonie-Orchester conducted by Michael Jurowski, "an impressive Shostakovich conductor"(Gramophone).
- Booklet contains liner notes and full sung texts.
Track list
Disk 1
Suite on Verses by Michelangelo Buonarrotti, Op. 145a: I. Truth

Suite on Verses by Michelangelo Buonarrotti, Op. 145a: II. Morning

Suite on Verses by Michelangelo Buonarrotti, Op. 145a: III. Love

Suite on Verses by Michelangelo Buonarrotti, Op. 145a: IV. Separation

Suite on Verses by Michelangelo Buonarrotti, Op. 145a: V. Anger

Suite on Verses by Michelangelo Buonarrotti, Op. 145a: VI. Dante

Suite on Verses by Michelangelo Buonarrotti, Op. 145a: VII. Creativity

Suite on Verses by Michelangelo Buonarrotti, Op. 145a: VIII. Night

Suite on Verses by Michelangelo Buonarrotti, Op. 145a: IX. Death

Suite on Verses by Michelangelo Buonarrotti, Op. 145a: X. Immortality

Three Romances, Op. 46a: No. 1, Reincarnation

Three Romances, Op. 46a: No. 2, A Jealous Maiden

Three Romances, Op. 46a: No. 3, Premonition

Six Romances, Op. 21: No. 1, Love

Six Romances, Op. 21: No. 2, Before the Suicide

Six Romances, Op. 21: No. 3, An Immodest Glance

Six Romances, Op. 21: No. 4, The First and Last Time

Six Romances, Op. 21: No. 5, Love without Hope

Six Romances, Op. 21: No. 6, Death