Soler: Six Concertos for Two Organs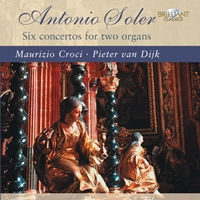 Composer
Antonio Soler
Artist
Pieter van Dijk organ
Maurizio Croci organ
Format
1 CD
Cat. number
93763
EAN code
5028421937632
Release
August 2008
About this release
Soler (1729-83) was born in Olot, Catalunia, and became a monk at Escurial where he was organist and composer. A keyboard soloist of prodigious skills, he composed many sonatas for harpsichord (although not one has survived in his hand), organ works, a Requiem, piano quintets and concertos for 2 keyboards, and incidental music to plays by Calderon and other 17th century Spanish playwrights.

This release presents six concertos for two organs. Great performances by Pieter van Dijk and Maurizio Croci.

Other information:
- The booklet contains organ registry information.
Track list
Disk 1
1° Concierto in C Major: I. Andante

1° Concierto in C Major: II. Minué

2° Concierto in A Minor: I. Andante –

2° Concierto in A Minor: I. Allegro

2° Concierto in A Minor: Tempo de Minué

3° Concierto in G Major: I. Andantino

3° Concierto in G Major: II. Minué

4° Concierto in F Major: I. Afectuoso – Andante non largo

4° Concierto in F Major: II.Minué

5° Concierto in A Major: I. Cantabile

5° Concierto in A Major: II.Minué

6° Concierto in D Major: I. Allegro – Andante – Allegro – Andante

6° Concierto in D Major: II.Minué