Tallis: Lamentations of Jeremiah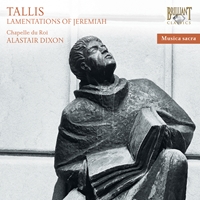 Composer
Thomas Tallis
Artist
Chapelle du Roi
Alastair Dixon conductor
Format
1 CD
Cat. number
93955
EAN code
5028421939551
Release
July 2009
About this release
Thomas Tallis served four monarchs in his post at the Chapel Royal, and was held in great esteem by his masters and colleagues. 'Tallis is dead, and music dies', said William Byrd, his most distinguished pupil. Tallis was a great survivor of the dangerous shifting sands of religious and court politics in England at the turn of the 16th century and his music displays remarkable craftsmanship. The intensity of expression, and the sheer unrivalled beauty and drama of his work enables it to reach out through the centuries and move the presentday listener. He is one the greatest English composers, and ranks among the 16th century's most significant composers.

This recording brings together his two fine settings of the Lamentations of Jeremiah, and English adaptations of several of his best known Latin motets, including 'Sing and glorify heaven's high majesty' which is better known as Spem in alium – the huge 40-part motet that has become his most famous work. Adapting Latin texts to English became an important task during the 1550s, and the process became known as 'contrafactum'. Contrafacta survive in the output of many of Tallis's contemporaries, especially John Taverner.

Other information:
- Recorded in 2002.
- "Chapelle du Roi's present recording … is of historic as well as musical interest … the choir has ordered its dynamics with skill" (Gramophone, June 1987).
- Booklet notes and sung texts included.
Track list
Disk 1
Lamentations of Jeremiah I

Lamentations of Jeremiah II

Wipe away my sins

Forgive me, Lord, my sin

Blessed are those that be undefiled

Arise, O Lord, and hear

With all our hearts

I call and cry to thee

O sacred and holy banquet

When Jesus went into Simon the Pharisee's house

Blessed be thyname

O praise the Lord II

Sing and glorify heaven's high majesty