Tartini: 4-parts Sonatas and Sinfonias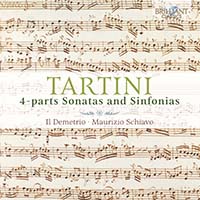 Download booklet
Composer
Giuseppe Tartini
Artist
Il Demetrio
Maurizio Schiavo violin
Format
1 CD
Cat. number
95398
EAN code
5028421953984
Release
February 2019
About this release
Dynamic and colourful performances of stylish but little-known Baroque repertoire from an exciting Italian period-instrument ensemble.

'This is an important release,' remarked MusicWeb International of the sacred music by Tarquinio Merula (BC95270) which is one of several Brilliant Classics releases by the Ensemble Il Demetrio to receive international attention and critical praise. The Italian website CDClassico.com echoed this verdict: 'This is not the usual Christmas compilation (though it would fulfil that function very well). Instead it is an important record, dedicated to a monumental figure of 17th century music… The wide range of expressive possibilities in these works is fully
explored, developed well beyond a simple reading… Hats off to Maurizio Schiavo and the excellent vocal soloists who joined him in this fine production.'

On their latest album, Schiavo and his ensemble dedicate their energies to the 18th-century virtuoso and composer, born on the coast of what is now Slovenia, who became a reference point for violin-playing in Venice, in Padua and then across Europe. The four-part sonatas and sinfonias for strings gathered here may not have been 'chamber music' in the pure sense of the term as we understand it today, but these highly attractive works certainly played a seminal role in the development of the genre before it was crystallised by Haydn and Boccherini in the form of the string quartet.

Some of the sonatas are recorded with basso continuo in the Baroque style, some without; all of them have a lively, galant style, abounding in the kind of elaborate violin figurations that made Tartini famous with his 'Devil's Trill' Sonata. There are close-knit dialogues and intricate imitations as well as gravely beautiful slow movements; anyone who wishes to join the dots between Bach and Haydn will delight in the scholarly and stylish work of Il Demetrio.

Giuseppe Tartini (Pirano d'Istria 1692 - Padua 1770) was a virtuoso violinist, composer, theoretician and teacher, a spider in the international cultural web in a time when Italy was the centre of the musical world, his violin school, the "School of Nations", attracted musicians from all over Europe.
Tartini's 4 part Sonatas & Sinfonias are modeled in 3 movements, fast-slow-fast, and bear witness of the incredible skill of Tartini's string playing, they are highly melodious works of great beauty and charm. The quartets for 4 parts are not strictly String Quartets in the classical sense as they include a basso continuo, suggesting a concertante or symphonic performance practice. The present recording also explores the option of playing without continuo (harpsichord), thus creating a true classical string quartet.
The Italian group Il Demetrio is dedicated to explore hidden treasures from the Baroque, having discovered and performed works by Myslivecek, Rolla, Cagnoni and others. They collaborated with famous soloists like Giovanni Sollima and Avi Avital.
The extensive liner notes are written by a musicologist.
Listening
Track list
Disk 1
Giuseppe Tartini: Violin Sonata in C Major, B.B4: I. Vivace

Giuseppe Tartini: Violin Sonata in C Major, B.B4: II. Andante ma lento assai

Giuseppe Tartini: Violin Sonata in C Major, B.B4: III. Allegretto

Giuseppe Tartini: Violin Sonata in G Major: I. Presto

Giuseppe Tartini: Violin Sonata in G Major: II. Andante

Giuseppe Tartini: Violin Sonata in G Major: III. Allegro assai

Giuseppe Tartini: Violin Sonata in D Major: I. Allegro assai

Giuseppe Tartini: Violin Sonata in D Major: II. Larghetto

Giuseppe Tartini: Violin Sonata in D Major: III. Allegro

Giuseppe Tartini: Violin Sonata in A Major: I. Allegro assai

Giuseppe Tartini: Violin Sonata in A Major: II. Andante assai

Giuseppe Tartini: Violin Sonata in A Major: III. Menuett. Allegro assai

Giuseppe Tartini: Violin Sonata in D Major: I. Allegro assai

Giuseppe Tartini: Violin Sonata in D Major: II. Andante

Giuseppe Tartini: Violin Sonata in D Major: III. Presto