The Best Of Rachmaninoff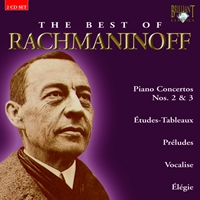 Composer
Sergei Rachmaninoff
Artist
Nikolai Lugansky piano
Hélène Grimauden piano
Marietta Petkova piano
Wladislav Warenberg cello
Format
2 CD
Cat. number
6981
EAN code
5029365698122
Release
April 2006
About this release
This is a selection from the repertoire of one of the most romantic composers ever. His second piano concerto is probably his best-known work. Being a pianist himself Rachmaninoff knew very well how to write virtuoso music for this instrument.

This release consists of mainly of piano music, both solo and with orchestra. Fine performances by the National Symphony of the Ukraine and State Academy Symphony Orchestra of Russia.

Pianists are among others Nikolai Lugansky, Hélène Grimaud and Marietta Petkova. Also included is the Vocalise with Wladislav Warenberg on the cello.
Track list
Disk 1
Piano Concerto No. 2 In C Minor Op. 18 : Moderato

Piano Concerto No. 2 In C Minor Op. 18 : Adagio Sostenuto

Piano Concerto No. 2 In C Minor Op. 18 : Allegro Scherzando

Piano Concerto No. 3 In D Minor Op. 30 : Allegro Ma Non Tanto

Piano Concerto No. 3 In D Minor Op. 30 : Intermezzo

Piano Concerto No. 3 In D Minor Op. 30 : Finale, Alla Breve
Disk 2
Piano Sonata No. 2 In B Flat Minor Op. 36 : Allegro Agitato

Piano Sonata No. 2 In B Flat Minor Op. 36 : Non Allegro

Piano Sonata No. 2 In B Flat Minor Op. 36 : L'Istesso Tempo-Allegro Molto

Études-tableaux Op. 33 : No. 1 In F Minor

Études-tableaux Op. 33 : No. 2 In C Major

Études-tableaux Op. 33 : No. 3 In C Minor

Études-tableaux Op. 33 : No. 5 In D Minor

Études-tableaux Op. 33 : No. 6 In E Flat Minor

Études-tableaux Op. 33 : No. 7 In E Flat Major

Études-tableaux Op. 33 : No. 8 In G Minor

Études-tableaux Op. 33 : No. 9 In C Sharp Minor

Prélude In B Flat Minor Op. 32 No. 2

Prélude In G Sharp Minor Op. 32 No. 12

Vocalise

Élégie In E Flat Minor Op. 3 No. 1

Prélude In D Major Op. 23 No. 4

Prélude In C Sharp Minor Op. 3 No. 2