The Court of Bayreuth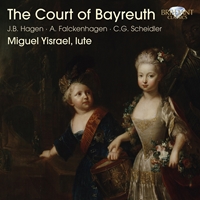 | | |
| --- | --- |
| Composer | Adam Falckenhagen, Joachim Bernhard Hagen |
| Artist | Miguel Yisrael lute |
| Format | 1 CD |
| Cat. number | 94026 |
| EAN code | 5028421940267 |
| Release | February 2010 |
About this release
Frederick the Great's court in Potsdam was a recreation in Germany of Versailles – Frederick loved all things French. He also imported the baroque lute, an instrument that had been created in France. Frederick was a gifted flautist, and employed Johann Joseph Quantz as his court composer and teacher. Meanwhile, Princess Wilhemine, Frederick's sister, was a gifted lutenist and pupil of the great Silvius Weiss. She and she and her husband the Margrave of Bayreuth, established a small scale Versaille of their own in the small north Baverian town. They built a delightful opera house in the town that still exists. Wilhelmina employed both Adam Falckhagen(1697-1754) and Joachim Bernhard Hagen (1720-87), the latter being the pupil of the former.

Other information
- Recorded in 2009.
- Fascinating and little known repertoire from one of Germany's 18th century cultural powerhouses.
- Scholarly booklet notes included.
- The second Brilliant Classics recording by Miguel Yisrael.
Track list
Disk 1
Sonata in F Minor: I. Largo

Sonata in F Minor: II. Allegro

Sonata in F Minor: III. Gustoso

Sonata in G Minor: I. Largo

Sonata in G Minor: II. Allegro un poco

Sonata in G Minor: III. A tempo giusto

Variations in F on a theme from Mozart's Don Giovanni: Allegro

Sonata in E-Flat: I. Largo

Sonata in E-Flat: II. Allegro un poco

Sonata in E-Flat: III. vivace

Sonata in B-Flat: I. Andante

Sonata in B-Flat: II. Allegro ma non troppo

Sonata in B-Flat: III. Allegretto