Vaet: Sacred Music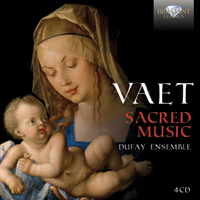 Download booklet
Composer
Jacobus Vaet
Artist
Dufay Ensemble
Eckehard Kiem artistic direction
Format
4 CD
Cat. number
95365
EAN code
5028421953656
Release
June 2016
About this release
What we know about Jakobus Vaet – Flemish composer of the latter half of the 16th century – is sadly lacking. Unsure of his exact year of birth, we first come across him as a 13-year-old, when he entered his local choir; clearly he was a precocious talent, as the church kept him on until his voice broke four years later. By the time Vaet remerged in 1550, he held the prestigious post of tenor in the chapel choir of Charles V, Emperor of the Holy Roman Empire. His royal connections were set to continue, as he moved to Vienna some years later to serve as Kapellmeister to the Archduke Maximilian of Austria, soon to become emperor himself. Vaet spent the next fifteen years until his untimely death at the age of 37 composing a great deal; what
remains of his works fills several volumes, including the sacred music featured on this 4CD set.

Vaet's sacred music is characterised by the use of melodies and material from other composers, including Christian Hollander and Clemens non Papa. However, his reworking of other works is stylistically unique, as he reduces polyphonic textures of composers such as Gombert to a far more transparent sound, creating breathing space – literal and expressive – unusual for its time. Most of all, Vaet's music, while transcendent in content, is regularly rooted in the politics of its day: the Biblical text of Ascendetis post filium, for example, works to praise Maximilian for assuming power from his father Ferdinand, just as Solomon did from Saul. Vaet was clearly not only a skilled composer but also a masterful diplomat.

The works are sung with utmost care by the all-male vocal group Dufay Ensemble, conducted by Eckehard Kiem, who also sings bass. The ensemble – formed of just seven singers – may be small but it thinks big, having recorded music by Josquin Desprez, Orlando di Lasso and Palestrina. When released separately, CDs 2 and 3 of this set were previously highly praised, winning the coveted Diapason découverte and Diapason 5 respectively.

A 4CD with sacred vocal music by a master of the Flemish School of Polyphonists, Jakobus Vaet (1529-1567).
Little is known about Vaet's early years. We find him as Kapellmeister of the Hapsburg emperor Maximilian II in Vienna, where he was in high regard.
Vaet may be considered the link between Josquin Desprez and Palestrina. His polyphony, influenced by Clemens non Papa and Orlando di Lasso, is highly cultivated, and allows some daring dissonances. This substantial collection contains Masses, Motets, a Magnificat and a Requiem.
Excellent performances by the Dufay Ensemble, conducted by Eckehard Kiem, previously issued on the Ars Musici label, and awarded with several international prizes, among which a Diapason d'Or.
The booklet contains extensive liner notes and the original texts.
Recorded between 2002 and 2007.
Track list
Disk 1
Requiem: I. Filiae Jerusalem

Requiem: II. A solis ortus cardine

Requiem: III. Iste est Joannes

Requiem: IV. Ave maris stella

Requiem: V. O quam gloriosum

Requiem: VI. Continuo lacrimas

Missa pro defunctis: I. Requiem aeternam

Missa pro defunctis: II. Te decet hymnus

Missa pro defunctis: III. Kyrie – Christe – Kyrie

Missa pro defunctis: IV. Tractus

Missa pro defunctis: V. Offertorium

Missa pro defunctis: VI. Hostias

Missa pro defunctis: VII. Sanctus – Pleni sunt coeli

Missa pro defunctis: VIII. Benedictus

Missa pro defunctis: IX. Agnus dei

Missa pro defunctis: X. Communio. Lux aeterna

Missa pro defunctis: XI. Requiem aeternam dona eis

Missa pro defunctis: XII. Ne recorderis
Disk 2
Te deum: I. Prima pars

Te deum: II. Secunda pars

Te deum: III. Tertia pars

Quoties diem

Ut queant laxis – Nuntius celso

Ille promissi – Ventris obstruso

In tenebris

Magnificat secundi toni: I. Magnificat – Et exultavit

Magnificat secundi toni: II. Euia respexit – Quia fecit

Magnificat secundi toni: III. Et misericordia – Fecit potentiam

Magnificat secundi toni: IV. Deposuit potentes – Esurientes

Magnificat secundi toni: V. Suscepit Israel – Sicut locutus

Magnificat secundi toni: VI. Gloria Patri – Sicut erat

Missa quodlibetica: I. Kyrie. Kyrie I

Missa quodlibetica: I. Kyrie. Christe

Missa quodlibetica: I. Kyrie. Kyrie II

Missa quodlibetica: II. Gloria. Gloria

Missa quodlibetica: II. Gloria. Qui tollis

Missa quodlibetica: II. Gloria. Credo

Missa quodlibetica: II. Gloria. Crucifixus

Missa quodlibetica: II. Gloria. Et in spiritum

Missa quodlibetica: III. Sanctus. Sanctus

Missa quodlibetica: III. Sanctus. Pleni sunt coeli

Missa quodlibetica: III. Sanctus. Hosanna I

Missa quodlibetica: III. Sanctus. Benedictus

Missa quodlibetica: III. Sanctus. Hosanna II

Missa quodlibetica: IV. Agnus dei
Disk 3
Angelus ad pastores ait

Ascendetis post filium: I. Prima pars

Ascendetis post filium: II. Secunda pars

Qui gerit Augusti

Currite felices: I. Prima pars

Currite felices: II. Secunda pars

Currite felices: III. Tertia pars

Aurea luce: I. Aurea luce – Janitor caeli

Aurea luce: II. Jam, bone pastor Petre – Doctor egregie

Aurea luce: III. Olivae binae – Sit trinitati

Beata es et venerabilis: I. Prima pars

Beata es et venerabilis: II. Secunda pars

Mater digna dei: I. Prima pars

Mater digna dei: II. Secunda pars

Salve Regina: I. Salve Regina – Vita, dulcedo

Salve Regina: II. Ad te clamamus – Ad te suspiramus

Salve Regina: III. Eia ergo – Et Jesum

Salve Regina: IV. O clemens – O pia – O dulcis – Virgo Maria

Vitam quae faciunt
Disk 4
Magnificat sexti toni: I. Magnificat – Et exultavit

Magnificat sexti toni: II. Quia respexit – Quia fecit

Magnificat sexti toni: III. Et misericordia – Fecit potentiam

Magnificat sexti toni: IV. Deposuit – Esurientes

Magnificat sexti toni: V. Suscepit Israel – Sicut locutus est

Magnificat sexti toni: VI. Gloria Patri – Sicut erat in principio

Dum steteritis: I. Prima pars

Dum steteritis: II. Secunda pars

Assumens Jesus Petrum

Discubuit Jesus: I. Prima pars

Discubuit Jesus: Secunda pars

Quid Christum captive: I. Prima pars

Quid Christum captive: Secunda pars

Dixerunt impii: I. Prima pars

Dixerunt impii: II. Secunda pars

Spiritus domini: I. Prima pars

Spiritus domini: II. Secunda pars

Deus tuorum militum: I. Deus tuorum – Hic nempe mundi

Deus tuorum militum: II. Poenas cucurrit – Ob hoc precatu

Crimina laxa

Ferdnande imperio: I. Prima pars

Ferdnande imperio: II. Secunda pars