Verdi: Messa da Requiem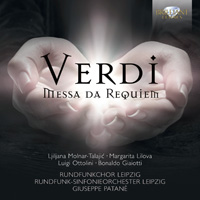 Composer
Giuseppe Verdi
Artist
Rundfunkchor Leipzig
Rundfunk-Sinfonieorchester Leipzig
Giuseppe Patanè conductor
Format
2 CD
Cat. number
94948
EAN code
5028421949482
Release
September 2015
About this release
Though most classical music fans will be more than familiar with Verdi's status as a masterful opera composer, they may be less aware of his political involvements. A member both of Italy's first parliament and later of the Italian Senate, his Messa da Requiem was partly motivated by political and patriotic concerns. A section of the composition ('Libera me') was initially composed on the occasion of the death of one of Verdi's (and Italy's) musical heroes, Gioachino Rossini, and the piece was later completed following the death of nationally revered writer Alessandro Manzoni. Verdi felt that these great figures deserved a fittingly grand commemoration. His initial attempt to produce such a performance floundered, yet his determination eventually won through with a full performance in 1874. The piece was an instant triumph in all respects.

And yet the Requiem itself combines multifaceted musical aspects and influences, as well as containing great spiritual depth. Dramatic in parts, sublimely simple in others, tending towards opera in some ways and yet with echoes of sacred polyphony and plainsong, it is a composition of exhilarating variety. At the same time, it succeeds in grappling with big questions of human existence, both in this life and beyond.

This classic recording features the excellent Rundfunkchor Leipzig conducted by Giuseppe Patanè, as well as soloists including celebrated Italian bass Bonaldo Giaiotti.

Verdi's Requiem is (along with Mozart's Requiem) the most famous "Mass for the Death" ever written. Far exceeding its liturgical function the work is a human statement of all emotions connected with death: from the utter terror of the Dies Irae (Day of Wrath), the anguish of the Libera Me to triumph, consolation and resignation.
This classic recording is conducted by the Italian Maestro Giuseppe Patanè, an opera veteran, who offers a profound and moving performance of this "Sacred Opera", along with a superb cast of Italian vocalists.
Liner notes and sung texts included in the booklet.
Recorded in 1975, captured in sumptuous, excellent analogue sound.

Booklet contains English and German notes on the music.
Booklet also contains sung texts.
Track list
Disk 1
Messa da Requiem: I. Requiem

Messa da Requiem: II. Kyrie

Messa da Requiem: I. Dies irae

Messa da Requiem: II. Tuba mirum

Messa da Requiem: III. Mors stupebit

Messa da Requiem: IV. Liber scriptus

Messa da Requiem: V. Quid sum miser

Messa da Requiem: VI. Rex tremendae

Messa da Requiem: VII. Recordare

Messa da Requiem: VIII. Ingemisco

Messa da Requiem: IX. Confutatis

Messa da Requiem: X. Dies irae

Messa da Requiem: XI. Lacrymosa
Disk 2
Messa da Requiem: III. Domine Jesu Christe

Messa da Requiem: IV. Hostias

Messa da Requiem: IV. Sanctus

Messa da Requiem: V. Agnus Die

Messa da Requiem: VI. Lux aeterna

Messa da Requiem: I. Libera me

Messa da Requiem: II. Dies irae

Messa da Requiem: III. Requiem aeternam

Messa da Requiem: IV. Libera me