Von Bingen: O Orzchis Ecclesia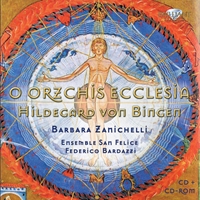 Composer
Hildegard Von Bingen
Artist
Barbara Zanichelli soprano
Ensemble San Felice
Federico Bardazzi conductor
Format
1 CD, CD-ROM
Cat. number
94273
EAN code
5028421942735
Release
August 2011
About this release
- The beginning of the cult for the music of Hildegard von Bingen started with a CD of the British label Hyperion in the 80-ties and ever since it enjoys a huge popularity: the Mystic from the Middle Ages wrote heavenly music, which till today holds its spell over every audience, whether laymen or connoisseur. The magic is unexplainable, one has to experience the power and beauty in solitude.
- Wonderful performance by the beautiful voices of Ensemble San Felice, accompanied by gothic harp, viol and organ.
- Full original texts of the music included.

The religious Hildegard von Bingen was known as 'The Sybil of the Rhine' on account of her visions, translated into music with prophetic charisma. This disc presents two sides of Hildegard, an instrument and a mirror, reflecting her divine revelations, through the sound of her words both spoken and sung.
The performances are from a specialised early-music ensemble, based in Florence, who have undertaken study of the original manuscripts and (perhaps more unusually) performed the music in public before making this testament to the art of one of music's most singular women, who is still perhaps more famed for her life than her music.

OTHER INFORMATION:
- Hildegard still pulls in a wide and diverse listenership, from early-music specialists to general listeners looking for 'spiritual' relaxing music.
- Excellent and detailed booklet notes by the director of the disc, exploring Hildegard's life, world and music.
- CD-ROM includes sung texts and translations.
Track list
Disk 1
ANTIPHONA: O Orzchis Ecclesia 67, In dedicatione Ecclesiae (IV): PSALMUS 94 AD INVITATORIUM: Venite, exultemus Domino

I ANTIPHONA: O coruscans lux 68 (IV): PSALMUS 10: In Domino confido

II ANTIPHONA: O pulchrae facies 38 De virginibus (IV): PSALMUS 1: Beatus vir

III ANTIPHONA: Nunc Gaudeant 57, In dedicatione Ecclesiae (VI): PSALMUS 86: Fundamenta ejus in montibus sanctis

VERSICULUM: Diffusa est gratia in labiis tuis

BENEDICTIO I, LECTIO I: De Libro divinorum operum

RESPONSORIUM I: Nobilissima viriditas 39 Item de virginibus (VI)

BENEDICTIO II, LECTIO II: De Libro divinorum operum

RESPONSORIUM II: O vos imitatores excelsae personae (VI)

BENEDICTIO III, LECTIO III: De Libro divinorum operum

RESPONSORIUM III: O felix anima 64 (III)

ORATIO: Deus, qui beatam Hildegardem Virginem tuam