Wagner: Complete Overtures and Orchestral Music from the Operas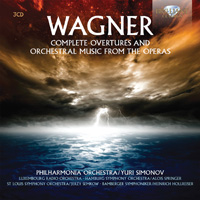 Composer
Richard Wagner
Artist
The Philharmonia
Yuri Simonov conductor
Luxembourg Radio Orchestra
Hamburg Symphony Orchestra
Alois Springer conductor
St Louis Symphony Orchestra
Jerzy Semkov conductor
Bamberger Symphoniker
Heinrich Hollreiser conductor
Format
3 CD
Cat. number
94937
EAN code
5028421949376
Release
February 2016
About this release
Wagner's operas are stunning not only for their rich and dramatic vocal lines but also for containing some of the most sublime orchestral music of the 19th century. This release boasts excerpts from Wagner's best known dramatic works, including Parsifal, Tristan und Isolde and Der Ring des Nibelungen, but also less performed operas Rienzi and Die Feen, which both feature splendid overtures. The selection also showcases one of Wagner's most popular ensemble works; the superb Siegfried Idyll, written as a birthday present to his second wife and performed on Christmas Day 1870. A highly personal piece, Wagner later incorporated some of the material into his opera Siegfried. The first two CDs are performed by the Philharmonia Orchestra, established in London in 1945. A world-class orchestra with thousands of recordings to its name, the ensemble is directed here by Russian conductor Yuri Simonov, best known for becoming the youngest ever chief conductor of the Bolshoi Theatre when he was appointed at the age of just 29. The final CD brings together some of the finest orchestras from across Europe, as well as the prestigious St Louis Symphony Orchestra, in historical recordings that have certainly stood the test of time.

This 3CD set contains the complete Overtures as well as the orchestral interludes from Wagner's operas.
This music spans Wagner's whole lifetime, from the early overture Die Feen, in the German Romantic style of Carl Maria von Weber, to the great love music from Tristan & Isolde, in which Wagner perfected his concept of the Gesamtkunstwerk, in which music, words and visual drama becomes one experience.
Excellent performances, of red-hot intensity, from the Philharmonia Orchestra conducted by Yuri Simonov.

Contains liner notes by Philip Borg-Wheeler.
Track list
Disk 1
Parsifal, WWV 111, Prelude to Act 1

Der Ring des Nibelungen, WWV 86: II. Die Walküre, WWV 86B

Der Ring des Nibelungen, WWV 86: III. Siegfried, WWV 86C

Der Ring des Nibelungen, WWV 86: IV. Götterdämmerung, WWV 86D. Siegfried's Rhine Journey

Der Ring des Nibelungen, WWV 86: IV. Götterdämmerung, WWV 86D. Siegfried's Funeral Music

Tristan und Isolde, WWV 90: Prelude and Liebestod
Disk 2
Rienzi, WWV 49: Overture

Der fliegende Holländer, WWV 63: Overture

Tannhäuser, WWV 70: Overture

Lohengrin, WWV 75: Prelude to Act 1

Lohengrin, WWV 75: Prelude to Act 3

Die Meistersinger von Nürnberg, WWV 96: Prelude
Disk 3
Das Liebesverbot, WWV 38: Overture

Die Feen, WWV 32: Overture

Parsifal, WWV 111: Good Friday Music

Siegfried Idyll, WWV 103