W.F. Bach: Harpsichord Concertos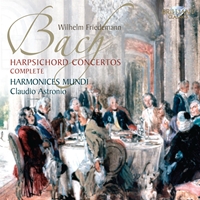 Composer
Wilhelm Friedemann Bach
Artist
Harmonices Mundi
Claudio Astronio concert master & harpsichord
Marco Facchin harpsichord
Format
2 CD
Cat. number
94057
EAN code
5028421940571
Release
May 2010
About this release
It must have been daunting for J.S Bach's musical sons to work with his huge shadow. The fact that four of his children succeeded in becoming important and influential composers is both remarkable and proof of how extraordinary these men were.

C.P.E and J.C Bach are perhaps the most famous of them, and of the other two, J.C.F and W.F, it is Wilhelm Friedemann (1710-84) who perhaps came closest to his father as a composer. His compositions display the same structural density, and in particular the concerto in E flat for 2 harpsichords where many of his father's influences can be detected, together with W.F's use of strange dissonances and harmonic shifts. Although he resisted the avant-garde styles of his brothers, his compositions can be appreciated as a continuation of his father's legacy – something his brothers spent their lives fighting, whereas W.F appeared comfortable developing J.S's methods and his own rich harmonic palette and strong melodic style.

W.F's personality was his own worst enemy. He was aloof, and unable to appreciate the views of others. He was also a terrible custodian of his father's manuscripts – many vanished under his stewardship, and in his final years he was reduced to living in poverty and passing off some of his compositions as those of his father, leaving his wife and daughter in destitute. He was a highly gifted composer and a deeply flawed man.

Other information:
- Rare repertoire from an enigmatic composer.
Track list
Disk 1
Concerto in D DUR F 41, Allegro

Concerto in D DUR F 41, Andante

Concerto in D DUR F 41, Presto

Concerto in a moll F 45, -

Concerto in a moll F 45, Larghetto

Concerto in a moll F 45, Allegro ma non tanto

Concerto in F Dur for 2 harpsichords F 10, Allegro Moderato

Concerto in F Dur for 2 harpsichords F 10, Andante

Concerto in F Dur for 2 harpsichords F 10, Presto

Concerto in Es Dur for 2 harpsichords F 46 , Un poco allegro

Concerto in Es Dur for 2 harpsichords F 46 , Cantabile

Concerto in Es Dur for 2 harpsichords F 46 , vivace
Disk 2
Concerto in f moll, Allegro di molto

Concerto in f moll, Andante

Concerto in f moll, Prestissimo

Concerto in F DUR F 44, Allegro ma non tanto

Concerto in F DUR F 44, Molto adagio

Concerto in F DUR F 44, Presto

Concerto in e moll F 43, Allegrtto

Concerto in e moll F 43, Adagio

Concerto in e moll F 43, Allegro assai