With More than a Hundred Pipes: Music for Pan Flute & Organ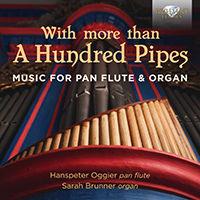 Artist
Hanspeter Oggier pan flute
Sarah Brunner organ
Format
1 CD
Cat. number
96026
EAN code
5028421960265
Release
September 2020
About this release
Baroque favourites and Romanian folk melodies arranged for the novel and haunting sonority of pan-pipes and organ.

Two previous albums of pan-flute arrangements on Brilliant Classics have served to showcase the technical brilliance and musical sensitivity of the Swiss pan-pipe virtuoso Hanspeter Oggier, and accordingly been met with critical acclaim. In partnership with the Swiss organist Sarah Brunner he now presents an original combination of folk tunes from the home of the pan-pipe with slow arias and quick dances by masters of the Baroque.

Panpipes are difficult to tame, but have an incredibly rich palette of timbres. Hanspeter Oggier plays on a pair of soprano and tenor panpipes built by his father Christoph. Having been fascinated by traditional Romanian music since childhood, Oggier grew up with the records of the Romanian panflutist Gheorghe Zamfir, and he studied with the Romanian panflutist Simion Stanciu, alias Syrinx, for ten years in Geneva. Thus he is familiar with the uniquely irregular rhythms of Romanian folk music. The album opens with Cântec vechi bucovinean, a melancholy-laden song from Bukovina. The round-dance Hora Niculinei makes a lively contrast before the Doina din Transilvania, a rhapsodic love song.

Such contrasting expressions also infuse the juxtapositions of Handel's sublime lament Lascia Ch'io Pianga from Semele with one of Vivaldi's most typically brilliant concertos originally written for flautino and with a merry dance by Purcell. Not all the Romanian pieces have folk origins, however: Lume, lume (in English: Earth, Earth) was written by the Romanian singer Maria Tanase, known as the 'Piaf of the East' who died in 1963. The song is full of sorrow for the passing of life and its drifting qualities are ideally suited to the mysterious, airy sounds of the pan-pipes.

'These may be historical performances, yet neither Oggier nor Ensemble Fratres sound in any way stiff or scholarly. The performers are virtuosic in the animation of their playing and, in essence, create a good deal of fun, which no doubt Vivaldi intended.' Classical Candor on Vivaldi concertos (95078)

'A completely novel experience for the senses.' CDClassico.com

'Oggier and Ensemble Fratres plead their cause for playing Telemann this way with conviction… interpretations charged with a verve and intensity belonging to a gypsy band.' La Liberté on Telemann concertos (95147)

The combination of the Pan Flute and the Organ makes perfect sense, given that the organ is in fact a giant pan flute in the production of the tone. How well the two instruments fit together and how beautifully they can grow to form one large instrument is demonstrated on the present recording.
The organ is a 1722 Matthäus Carlen organ in Valais Switzerland, and the musicians have chosen repertoire from this period, in juxtaposition with traditional Rumanian music in which the pan flute already for centuries plays an essential role: works by Vivaldi, Froberger, Purcell, Handel, Bach and Muffat are set against folk music from Bukovina and Romania.
Hanspeter Oggier is one of the foremost Pan Flutists of today, a true advocate and pioneer for the instrument. By demonstrating the wide possibilities in terms of timbre, colour, articulation and dynamics he has put the pan flute on the map as a serious classical instrument. Sarah Brunner is a versatile musicians based in Valais, Switzerland, enjoying an active career as organist and ensemble player.
Hanspeter Oggier's previous recordings for Brilliant Classics (concertos by Vivaldi and Telemann) have been met with enthusiastic critical acclaim by the press.
Listening
Track list
Disk 1
Traditional: Cântec vechi bucovinean

Traditional: Ungurica argeseana

Traditional: Hora niculinei

Traditional: Geamparalele ca la nunta

Antonio Vivaldi: Flute Concerto in C Major, RV 443: I. Allegro

Antonio Vivaldi: Flute Concerto in C Major, RV 443: II. Largo

Antonio Vivaldi: Flute Concerto in C Major, RV 443: III. Allegro molto

Johann Jacob Froberger: Toccata VI - da sonarsi alla leuatione for organ solo

Michel Lambert: Goûtons un doux repos

Henry Purcell: Let Us Dance, Let Us Sing

Georg Frideric Handel: Rinaldo, HWV 7b, Act II: I. Lascia ch'io pianga

Maria Tanase: Lume, lume

Johann Sebastian Bach: Sonata in E Minor, BWV 1034: I. Adagio ma non tanto

Johann Sebastian Bach: Sonata in E Minor, BWV 1034: II. Allegro

Johann Sebastian Bach: Sonata in E Minor, BWV 1034: III. Andante

Johann Sebastian Bach: Sonata in E Minor, BWV 1034: IV. Allegro

Georg Muffat: Toccata duodecima et ultima in B-Flat Major

Traditional: Doina din Transilvania

Traditional: Rustemul de la listeava

Traditional: Brâu oltenesc