Yiddish Baroque Music by Rabbi Elkhanan Kirchen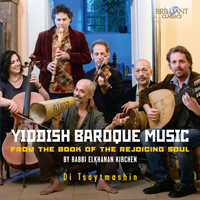 | | |
| --- | --- |
| Composer | Rabbi Elkhanan Kirchen |
| Artist | Di Tsaytmashin |
| Format | 1 CD |
| Cat. number | 95338 |
| EAN code | 5028421953380 |
| Release | September 2016 |
About this release
The Book of the Rejoicing Soul is an Ashkenazi songbook, credited to Rabbi Elkhanan Kirchen and published in Bavaria towards the beginning of the 18th century. It contains songs of morality for the Jewish home. The songs describe in witty rhymes the diversity of customs for the Jewish holidays, the refined moods resultant of following the Jewish tradition, and the joy of believing in God.

Thus there are songs to celebrate the Sabbath, to accompany daily and weekly rituals of preparation and purification; to celebrate times of mourning and fasting but also days of celebration, for drinking and marriage. There is even a song which doubles as a recipe for Passover bread, describing in detail how the matzo flour must not be exposed to excess humidity. The language of the songs is an antique version of Yiddish. The scoring is economical, but strongly hints at a unique musical pastiche, spanning pure Baroque counteproint to typically spicy Jewish and European folk tunes. Rabbi Kirchen probably came up with the songs and melodies, and the publication itself was the work of another, more musically sophisticated mind, but one unfamiliar with the nuances of Jewish culture.

Thus the Book of the Rejoicing Soul requires considerable editing and arrangement to make it performable; this has been undertaken by Avishai Fisz, who also contributes a historical and contextual booklet note. He founded the Di Tsaytmashin (Yiddish for "time machine") Ensemble in 2012 in order to perform this singular text; its members are Jewish Classical musicians from Europe and North America. Fisz himself is singer and cantor; he is backed by a Baroque ensemble of theorbo, recorders and strings, as well as other guests including more strings and a guitar.

A very special first recording: Yiddish music from the Baroque era!
"the Book of the Rejoicing Soul" is an ancient Ashkenazi songbook, written by Rabbi Elkhanan Kirchen and published in the beginning of the 18th century in Bavaria. It contains songs of morality for the Jewish home, describing in witty rhymes the customs of Jewish holidays, the Jewish traditions and the joy of believing in God.
The music notation is sparse and diverse, spanning from pure Baroque polyphony to spicy Jewish folk tunes. On this new recording we hear arrangements by the band leader Avishai Fisz, who created an irresistible instrumental ensemble of violin, theorbo, cello, harp, recorder, krummhorn, guitar, double-bass and percussion instruments, Avishai Fisz himself singing the solo voice. A fascinating evocation of rich Jewish life and culture, played and sung with obvious zest and enjoyment by the Isareli group Di Tsaytmashin. Excellent liner notes and a description of each song are included in the booklet.
Listening
Track list
Disk 1
Rabbi Elkhanan Kirchen: Dash Lid un' Gzang iz gmakht: tzu zingin Fraytig tzu Nakht

Rabbi Elkhanan Kirchen: Zing dash Gzang: an Shabbes tzu ous Gang

Rabbi Elkhanan Kirchen: Zing dash Gzang um Rosh-Khoudesh: den er iz ouch Koudesh

Rabbi Elkhanan Kirchen: Zing dash Gzang mit Kavone: um Yom Kipper veRosh Hashone

Rabbi Elkhanan Kirchen: Zing dash Gzang mit Kavone: hob far nimt Moure an Sukkes un' Simkhes Toure

Rabbi Elkhanan Kirchen: Zing dash Gzang mit an Dakht: di Khanuke Teg Akht

Rabbi Elkhanan Kirchen: Loz dir an Glegin zayn dash Gzang am Purim: ven shoun megn zayn Shikurim

Rabbi Elkhanan Kirchen: In Peysekh zing dash Gzang: zu der kennin Gotsh Vunder zu Yisroel vun on Fang

Rabbi Elkhanan Kirchen: Zing dash Gzang um Shvues: drinnen gfinshtdu guti Shmues

Rabbi Elkhanan Kirchen: Dash Min Khutspe Lider zol lozn bleybin, khevresh Gzang zu Khasune un Bris Mile ton on shreybin

Rabbi Elkhanan Kirchen: Dash Gzang bzing di Kale mit on dekhtin: zu vor ous ven man Sie tuet flekhtin

Rabbi Elkhanan Kirchen: Alli Tog tue dash Gzang zingin: denn Gotsh Dinsht guet vor alli Dingin