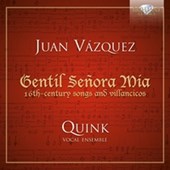 The villancico often appears in concert programmes and on discs devoted to Spanish music of the renaissance and baroque periods. It is a typical Spanish form which has a mostly spiritual content, but whose musical character is strongly rooted in popular music. The compositions by Juan Vázquez which are presented here are rather different. They belong to the early stages in the development of the villancico. Apart from villancicos we hear madrigals and canciones. They are different in form, but are similar in content. 
  
Juan Vázquez was born in Badajoz; his name appears for the first time in the records of the Cathedral of Plasencia in 1511 where he sang as a contralto. Later on he worked as a singer in Badajoz Cathedral where he also acted as teacher of plainchant. In 1539 he was a singer in Palencia Cathedral and two years later moved to Madrid where he entered the service of the Archbishop of Toledo. In 1545 he returned to Badajoz as maestro de capilla and in 1551 he moved to Seville in the service of a nobleman. Here he remained until his death. 
  
Only one sacred composition from his pen has been preserved. All the others fall into the category of secular music: villancicos and canciones. These are mostly settings of poems by some of the leading Spanish poets of his time. They were quite popular as the large numbers of intabulations for the vihuela show. Many of them were also arranged for solo voice and vihuela. One of the features of the villancico is the repetition of lines. Vázquez reduces repetitions to refrains whereas in other places he opts for rhythmic and melodic variety. 
  
Spanish music like this is often associated with lively rhythms and performances with instruments, including percussion. Don't expect anything of this kind here. In content and character these pieces are more like the Italian madrigals of the early 16th century. They are strictly polyphonic, and although there are passages where the text is depicted in the music the connection between the two is mostly rather loose. ¡A, hermosa, Abrime, cara de rosa! has the character of a dialogue, but there are no real 'roles' - only some lines are for a solo voice. The texts are all secular, but at least the words ofHermoniosíssima María which opens the disc could probably also be interpreted as a song for the Virgin Mary. 
  
I can't remember ever having heard these pieces - or others from Vázquez' pen - before, and the introduction to this repertoire by Quink is a most pleasant one. The music is really beautiful and well worth being explored. It is regrettable that the playing time is so short. I wouldn't mind listening for another ten or twenty minutes. That is also due to the fine singing of the ensemble. Every voice is perfectly suited to this music, and they blend wonderfully. The lines are beautifully shaped and thanks to the great transparency of sound every one of them can be heard. Add to that a perfect intonation and delivery and one can conclude that this disc is a little gem. I can't think of a better case for Vázquez' oeuvre. 
  
view the reviewed album 
here

Musicweb Feb 2014 review by Johan van Veen