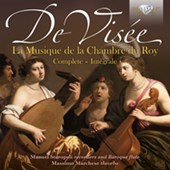 Robert de VISÉE (1655-1733)
La Musique de la Chambre du Roy
Manuel Staropoli (recorders and baroque flute)
Lorenzo Cavasanti (recorders)
Massimo Marchese (theorbo)
Cristiano Contadin (viola da Gamba)
Rosita Ippolito (viola da Gamba)
Manuel Tomadin (harpsichord)
rec. 2010-14, Ancell della Carità, Rome; Casa Cavasanti, Genova, Italy
BRILLIANT CLASSICS 95595 [4 CDs: 228:25]
I first came to the music of the French composer through the Suites de guitare performed by Rafael Andia on Harmonia Mundi (HMA 1951186), a very enjoyable and engaging disc. A trawl through the catalogues and popular online sites point to guitar and theorbo music being the only aspect of De Visée's available, in fact the only chamber music available is included as disc one of this set.
Not much is known about de Visée; he was the lutenist, guitarist, theorbist and viol player to the French kings Louis XIV and Louis XV, although details of his place and date of birth are unknown. He was the guitar teacher to Louis XV and is said to have played the guitar as the king prepared to go to bed and composed music for the king to perform. He composed two books of music for guitar containing a number of suites, in 1682 and 1686, making him arguably the most important French baroque composer of guitar music, he also composed a collection of suites for theorbo in 1716. It is these suites, along with some standalone pieces that are recorded here with Manuel Staropoli and Massimo Marchese making a good argument in their booklet notes for the choice of instrumentation used, stating that de Visée does not state which instrument should be used for the dessus part in his manuscripts. The result is the use of instruments that look at odds with the description of the piece, such as the G minor Suite from the 1682 collection of Livre de Guittarre dedie Au Roy, which here is performed on a harpsichord and not a guitar.
The performance of these pieces as true chamber music is attractive, sometimes more appealing than the original, the sound of the baroque flute and recorder sounds authentic in this music, and shows that these arrangements are both sympathetic and historically informed. I find the music on the third and fourth discs to be more varied and engaging, although this is not a set to listen to from beginning to end in one sitting, though the music is wonderfully performed, and deserves to be listened to one disc at a time. The arrangements bring new life and colour to this music. I am not usually one for music being tampered with, but just listen to the Suite for theorbo and lute in C minor (1716) on disc 3, which is here performed on two recorders, and you believe that it was composed for these instruments.
The performers are excellent throughout, with the tone and instrumentation being sympathetic to the original, and the players bringing the best out of these arrangements, with each of the instrumentalists playing a significant part in the success of this set. The booklet nots, though short, are informative and give good details behind the arrangements, whilst the recorded sound is very good, making this a most desirable set.
Stuart Sillitoe
www.http://www.musicweb-international.com/classrev/2018/May/Visee_chamber_95595.htm