Bartók: Violin Concertos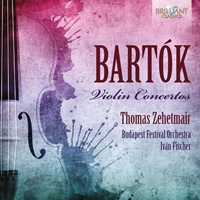 Composer
Béla Bartók
Artist
Thomas Zehetmair violin
Budapest Festival Orchestra
Ivan Fischer conductor
Format
1 CD
Cat. number
9436
EAN code
5029365943628
Release
May 2013
About this release
The composition dates of the two violin concertos by Hungarian composer, pianist and ethnomusicologist Béla Bartók are separated by thirty years and provide a snapshot of his creative process at vastly different points in his life.

The first concerto (1907–8) had a rare emotional relevance: it was dedicated to the violinist Stefi Geyer, the object of Bartók's affections, and showcases different aspects of her personality. This two-movement work is reminiscent of the works of Strauss and Liszt. The lamenting theme of the first movement represents Bartók's unrequited love for Stefi, whose theme is repeated with tonal variation. This is followed by a lively second movement, with brilliant sections of arpeggios and scales, as well as whimsical leaps.

The second concerto (1937) is from a time in the composer's life when folk music had become a firm characteristic of his works, and explores more adventurous harmonies than the first. One of the great Classical and Romantic works, the neo-Classical concerto also contains elements of Baroque and Renaissance music, giving it an historical dimension. Highlights are the beautiful canon of the second-movement theme and the reappearance in the third movement of the theme from the first, this time in a rousing triple-time dance.

Internationally acclaimed violinist Thomas Zehetmair has enjoyed a remarkable career, performing and recording all over the world. He has also become equally sought-after as a conductor and is currently Musical Director of the Northern Sinfonia (UK).

Other information:
- Recorded in July 1995 at the Italian Institute, Budapest.
- Bartók's two violin concertos span an entire lifetime: the first one a work from his youth, with late romantic roots (Liszt, Richard Strauss) and the mature second concerto, a 20th century masterpiece in the genre, showing all facets of the genius of Bartok, his advanced and highly personal harmonics, the complicated rhythms and the never-far-away influence of the folklore music of his country Hungary.
- Thomas Zehetmair, one of the most imaginative and sincere violinists of his generation is seconded by the Budapest Festival Orchestra conducted by Iván Fischer, nowadays considered to be one of the best orchestras in the world, second to none in this repertoire.
- Contains liner notes on the pieces.
Track list
Disk 1
Violin Concerto No. 1, BB 48a: I. Andante sostenuto

Violin Concerto No. 1, BB 48a: II. Allegro giocoso

Violin Concerto No. 2, BB 117: I. Allegro non troppo

Violin Concerto No. 2, BB 117: II. Andante tranquillo

Violin Concerto No. 2, BB 117: III. Allegro molto