Messiaen: Mélodies Complete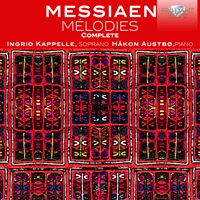 Composer
Olivier Messiaen
Artist
Ingrid Kappelle soprano
Håkon Austbø piano
Format
2 CD
Cat. number
7448
EAN code
5029365744829
Release
April 2006
About this release
Olivier Messiaen is considered one of the most important and influential composers of the twentieth century. He is probably best-known for his Turangalîla symphony and for making use of birdsong in his music. This CD features every song and melody that Messiaen wrote for soprano and piano.

During a relatively short period rather early in his career Messiaen wrote about 30 songs. Some of them belong to sets and some are single songs. They are mainly based on his own and his mother's (Cécile Sauvage) texts. His personal style and idiosyncrasies are already evident in these songs as is his religious tendency in the last set, Harawi, a "song of love and of death".

The songs for soprano and accompaniment have never before been recorded by a single singer. These brand-new recordings were made for Brilliant Classics by Dutch singer Ingrid Kappelle and internationally recognised Messiaen performer Hakon Austbö. This pianist has worked intimately with the composer himself in the past and has made highly acclaimed recordings of his works for piano solo.
Track list
Disk 1
Trois Mélodies: Pourquoi

Trois Mélodies: Le sourire

Trois Mélodies: La fiancée perdue

Vocalise étude

Poèmes pour Mi: I -er Livre: Action de grâces

Poèmes pour Mi: I -er Livre: Paysage

Poèmes pour Mi: I -er Livre: La maison

Poèmes pour Mi: I -er Livre: Épouvante

Poèmes pour Mi: II-em Livre: L'Épouse

Poèmes pour Mi: II-em Livre: Ta voix

Poèmes pour Mi: II-em Livre: Les deux guerriers

Poèmes pour Mi: II-em Livre: Le collier

Poèmes pour Mi: II-em Livre: Prière exaucée

Chants de terre et de ciel: Bail avec Mi (pour ma Femme)

Chants de terre et de ciel: Antienne du silence (pour le jour des Anges gardiens)

Chants de terre et de ciel: Danse du bébé Pilule (pour mon petit Pascal)

Chants de terre et de ciel: Arc-en-ciel d'innocence (pour mon petit Pascal)

Chants de terre et de ciel: Minuit pile et face (pour la Mort)

Chants de terre et de ciel: Résurrection (pour le jour de Pâques)
Disk 2
Haraw I: La ville qui dormait

Haraw I: Bonjour toi, colombe verte

Haraw I: Montagnes

Haraw I: Doundou tchil

Haraw I: L'amour de Piroutcha

Haraw I: Répétition planétaire

Haraw I: Adieu

Haraw I: Syllabes

Haraw I: L'escalier redit, gestes du soleil

Haraw I: Amour oiseau d'étoile

Haraw I: Katchikatchi les étoiles

Haraw I: Dans le noir