Saint-Saëns: Chamber Music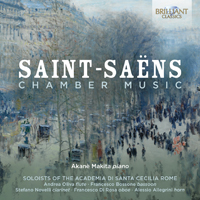 Composer
Camille Saint-Saëns
Artist
Soloists of the Accademia di Santa Cecilia Rome
Akanè Makita piano
Andrea Oliva flute
Francesco Bossone bassoon
Stefano Novelli clarinet
Francesco Di Rosa oboe
Alessio Allegrini horn
Format
1 CD
Cat. number
95165
EAN code
5028421951652
Release
July 2015
About this release
The wind instrumentalists here are members of Rome's main orchestra, attached to the Accademia nazionale di Santa Cecilia, and their previous disc on Brilliant Classics with Akanè Makita, of chamber music by Henri Dutilleux (BC94738) won recognition both for the original combination of repertoire and the stylish performances: 'Francesco Bossone and Akanè Makita do the work proud, playing with real character and in excellent balance with each other' (Musicweb International).

Here they turn to the instant charms of the chamber music by Camille Saint-Saëns, centred around the three sonatas for oboe, clarinet and bassoon. All written within the year 1921, they are the work of a composer who was born 10 years after the death of Beethoven and whose lifetime overlapped with the dawn of jazz in Europe. Little wonder, then, that such pieces embody a remarkable synthesis of styles, to the extent that they hardly seem to be by the same composer as the highly embellished chamber music for strings or the grand statements of the symphonies. They do, however, retain a sense of dramatic dialogue that runs through the composer's output, for Saint-Saëns was always a theatrical composer even when not writing for the stage. The constant stream of melodies speak of a master of refined simplicity and unfailingly elegant lightness of spirit.

The two Romances for horn and piano date from much earlier in the composer's prolific career (1874 and 1885); they proceed not in the compressed version of sonata-form belonging to the later works, but in narrative sections which range from sweetly nostalgic to the turbulent or heroic. Rounding off this irresistible collection is the Op.79 Caprice on Russian and Danish Airs for flute, oboe, clarinet and piano: here is the cheerful Saint-Saëns of the Carnival of the Animals, running through folk tunes and their transformations with balletic grace and fluidity, underpinned by a brilliant, impetuous piano part that shows what a virtuoso this multi-talented composer was in his own right.

This new recording contains the sonatas that Saint-Saëns wrote for wind instrument and piano: the clarinet, oboe, horn, flute and bassoon!
Saint-Saëns' music may not be deep and soul-searching, but it is pure music of the highest order, featuring exquisite melodies, warm romantic harmonies and an infective vitality and instrumental brilliance.
Included are the Clarinet Sonata, Bassoon Sonata, Oboe Sonata and two Romances for Horn and Flute, highly appealing music of beauty and charm. As a bonus is included the Caprice on Danish and Russian Airs for clarinet, oboe, flute and piano, big fun!
Excellent and dedicated performances by soloists of the famous Italian Accademia di Santa Cecilia Roma, brilliantly accompanied by pianist Akanè Makita.
Track list
Disk 1
Bassoon Sonata in G Major, Op. 168: I. Allegretto moderato

Bassoon Sonata in G Major, Op. 168: II. Allegro scherzando

Bassoon Sonata in G Major, Op. 168: III. Molto adagio - Allegro moderato

Romance, Op. 67: Adagio

Oboe Sonata in D Major, Op. 166: I. Andantino

Oboe Sonata in D Major, Op. 166: II. Allegretto

Oboe Sonata in D Major, Op. 166: III. Molto allegro

Romance, Op. 37: I. Moderato assai

Clarinet Sonata in E-Flat Major, Op. 167: I. Allegretto

Clarinet Sonata in E-Flat Major, Op. 167: II. Allegro animato

Clarinet Sonata in E-Flat Major, Op. 167: III. Lento

Clarinet Sonata in E-Flat Major, Op. 167: IV. Molto allegro – Allegretto

Caprice sur des airs danois et Russes, Op. 79: I. Poco allegro