A Guitar for Segovia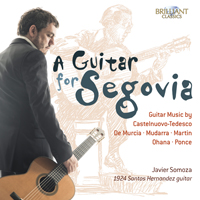 | | |
| --- | --- |
| Composer | Mario Castelnuovo-Tedesco |
| Artist | Javier Somoza guitar |
| Format | 1 CD |
| Cat. number | 95487 |
| EAN code | 5028421954875 |
| Release | July 2017 |
About this release
There are two themes to this recording: the time-honoured genre of the folía, and an instrument made for and played by the greatest guitarist of the 20th century, Andres Segovia. With his determination to expand the repertoire of guitar music and extend the instrument beyond its associations with his native Spain, Segovia commissioned three works played here by Javier Somoza: the Variations à travers les siècles by Mario Castelnuovo-Tedesco, Variaciones y Fuga sobre la Folía de España by Ponce and a set of Four Short Pieces by Frank Martin. Segovia eventually decided that Martin's idiom was too dissonant for his taste and so never played them, but the pieces have since become classics of the mid-20th-century repertoire alongside works by Britten and Henze.

As their titles suggest, however, the other two works have a conscious relationship with the history of the guitar and its repertoire, developed from the lute and vihuela of previous centuries. Ponce only partially fulfilled Segovia's request for 'a series of brilliant variations on the Folías de España theme […] in the Classical Italian style of the 18th century.' What resulted was a monumental, thoroughly eclectic work definitely not in 18th-century style. Segovia, again, decided to adapt the piece for his own ends but Somoza has returned to the original. Meanwhile Castelnuovo-Tedesco, in his first work for the guitar, also consciously embraced eclecticism in a series of different idioms: a stylized chaconne reminiscent of early music; a free variation, a waltz, and a foxtrot.

There is one more modern work on the album – the dazzling Tiento by Maurice Ohana that also looks back to 18th-century Spanish idiom – which functions as a pivot between the ages. Two examples of the folía theme-and-variation form by Santiago de Murcia date from roughly 1730; and to open, Somoza travels back in time to the tientos of 16th-century Spain with three brief works by Alonso Mudarra. 'A Guitar for Segovia' is both an absorbing journey through the history of guitar music and an important record of a Segovia instrument: a significant addition to the expansive library of guitar music on Brilliant Classics.

The concept of this CD is inspired by two sources: the works are based on the harmonic pattern of "La Follia", a characteristic Spanish Dance, and, secondly, the guitar that belonged to Andrés Segovia and was built in 1924 by the famous luthier Santos Hernández, and donated by the maestro to the Victor Espinos Music Library in Madrid. Segovia is known to have played the instrument extensively, on several world tours.
The music on this CD spans 4 centuries, and features works by Alonso Mudarra, Santiago de Murcia, Maurice Ohana, Mario Castelnuovo-Tedesco, Manuel Ponce and Frank Martin, a kaleidoscopic repertoire fully exploring the rich possibilities of this magnificent instrument.
Javier Somoza is one of the foremost guitarist of Spain. After winning several international guitar competitions he embarked on a brilliant solo career. Next to that he is Professor at the Real Conservatorio Superior de Musica in Madrid and Honorary member of the Segovia Guitar Academy.
Listening
Track list
Disk 1
Alonso Mudarra: Tres libros de música en cifra para vihuela: I. Pavana

Alonso Mudarra: Tres libros de música en cifra para vihuela: II. Tiento del séptimo tono - Glosa sobre el "cum sancto spiritu" de la misa de "Beata Virgine", de Josqui

Alonso Mudarra: Tres libros de música en cifra para vihuela: III. Tiento del octavo tono - Fantasía que contrahaze la harpa en la manera de Ludovico

Santiago de Murcia: Del códice saldivar No. 4: I. Folías italianas despacio

Santiago de Murcia: Del códice saldivar No. 4: II. Folías españolas

Maurice Ohana: Tiento

Mario Castelnuovo-Tedesco: Variations à travers les siècles: Chaconne. Var. 1 preludio. Var. 2 Walzer I. Var. 3 Walzer II. Var. 4 Tempo del Walzer I. Var. 5 Fox-Trot

Manuel María Ponce: Variaciones sobre la folía de España y…

Manuel María Ponce: …Fuga

Frank Martin: Quatre pièces brèves: I. Prélude

Frank Martin: Quatre pièces brèves: II. Air

Frank Martin: Quatre pièces brèves: III. Plainte

Frank Martin: Quatre pièces brèves: IV. Comme une gigue