A. Scarlatti: Cantatas & Recorder Concertos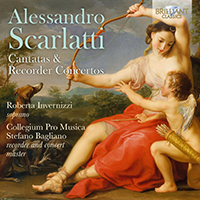 Download booklet
Composer
Alessandro Scarlatti
Artist
Roberta Invernizzi soprano
Collegium Pro Musica
Stefano Bagliano recorder and concertmaster
Format
1 CD
Cat. number
95721
EAN code
5028421957210
Release
September 2019
About this release
A new album from one of the outstanding voices of Baroque music in modern times.

Having worked with countless luminaries of early-music performance over the last three decades, Roberta Invernizzi has become renowned for a crystalline soprano and an unfailing dramatic sense in Baroque and pre-Baroque music, especially from her native Italy.

Here she lends distinction to a unique collection of three cantatas and two concertos by the jewel in the crown of Baroque-era music from Naples, Alessandro Scarlatti. Bella dama di nome Santa and Ardo è ver per te d'amore are particularly brilliant examples of the cantatas written for solo voice and obbligato instrument – in this case the recorder. The violin is the instrument assigned to duet with Invernizzi in the intensely expressive Quella pace gradita, which in this case does not vie with the soprano – as it does with the recorder in the previous two Cantatas – but rather accompanies the voice.

Like the cantatas, the two concertos here date from the turn of the 17th to the 18th centuries: four-movement works of scintillating virtuosity, fully the equal of Vivaldi's better-known examples, but laid out like a brief sonata with a brief introduction to a well-worked fugue, followed by a songful slow movement and brilliant finale.

Under the direction of its founder, Stefano Bagliano, the Collegium Pro Musica has assembled a distinguished discography on Brilliant Classics which has attracted international praise. Their album of Quantz concertos (BC95386) was reviewed in Fanfare as 'very fine – technically accomplished, and both lively and characterful, without turning mannered.' Of their collection of chamber concertos by Vivaldi (BC94332), Musica dei donum commented: 'imaginative and lively, dramatic when needed, but also have intimacy, whenever the music asks for it… The virtuosic solo passages are perfectly executed.'

Alessandro Scarlatti (1660-1725) is one of the most important composers of the Italian Baroque and the founder of the Neapolitan School. His immense output includes instrumental music but above all an enormous amount of vocal music, both sacred and profane. After a long period of neglect in favour of his son Domenico, Alessandro Scarlatti is widely recognized today as an important Baroque master, a composer of highly skillful and deeply moving music.
This new recording presents three Cantatas, on secular texts for soprano, recorder and b.c. In these works Scarlatti achieves an intense musical expression of the text, which relates to love, in both its blissful and harmful guise. Between the Cantatas Stefano Bagliano plays two brilliant recorder concertos.
The cantatas are sung by Roberta Invernizzi, one of the leading sopranos in Early Music. She collaborated with Nikolaus Harnoncourt, Alan Curtis, Ottavio Dantone, Ton Koopman, Fabio Biondi, and many more. Stefano Bagliano is one of the leading recorder players of today, he recorded for Brilliant Classics works by Vivaldi, Telemann, C.P.E. Bach and others.
Listening
Track list
Disk 1
Alessandro Scarlatti: Cantata "bella dama di nome santa", H.743: I. Introduzione adagio

Alessandro Scarlatti: Cantata "bella dama di nome santa", H.743: II. Lento alla francese

Alessandro Scarlatti: Cantata "bella dama di nome santa", H.743: III. Recitativo

Alessandro Scarlatti: Cantata "bella dama di nome santa", H.743: IV. Aria andante

Alessandro Scarlatti: Cantata "bella dama di nome santa", H.743: V. Recitativo

Alessandro Scarlatti: Cantata "bella dama di nome santa", H.743: VI. Aria vivace

Alessandro Scarlatti: Recorder Concerto No. 22 in A Major: I. Allegro

Alessandro Scarlatti: Recorder Concerto No. 22 in A Major: II. Fuga

Alessandro Scarlatti: Recorder Concerto No. 22 in A Major: III. Adagio

Alessandro Scarlatti: Recorder Concerto No. 22 in A Major: IV. Andante – Allegro

Alessandro Scarlatti: Cantata "ardo è ver per te d'amore", H.62: I. Recitativo

Alessandro Scarlatti: Cantata "ardo è ver per te d'amore", H.62: II. Aria

Alessandro Scarlatti: Cantata "ardo è ver per te d'amore", H.62: III. Recitativo

Alessandro Scarlatti: Cantata "ardo è ver per te d'amore", H.62: IV. Aria

Alessandro Scarlatti: Cantata "quella pace gradita": I. Andante

Alessandro Scarlatti: Cantata "quella pace gradita": II. Recitativo

Alessandro Scarlatti: Cantata "quella pace gradita": III. Aria adagio

Alessandro Scarlatti: Cantata "quella pace gradita": IV. Recitativo

Alessandro Scarlatti: Cantata "quella pace gradita": V. Aria andante

Alessandro Scarlatti: Cantata "quella pace gradita": VI. Recitativo

Alessandro Scarlatti: Cantata "quella pace gradita": VII. Aria adagio

Alessandro Scarlatti: Concerto No. 23 in C Major: I. Adagio

Alessandro Scarlatti: Concerto No. 23 in C Major: II. Fuga

Alessandro Scarlatti: Concerto No. 23 in C Major: III. Largo

Alessandro Scarlatti: Concerto No. 23 in C Major: IV. Allegro