A Tribute to Teresa de Rogatis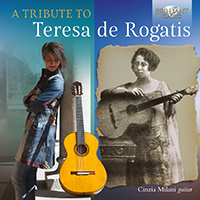 Download booklet
| | |
| --- | --- |
| Composer | Teresa de Rogatis |
| Artist | Cinzia Milani guitar |
| Format | 1 CD |
| Cat. number | 95627 |
| EAN code | 5028421956275 |
| Release | January 2019 |
About this release
Born in Naples in 1893, Teresa de Rogatis was a child prodigy who gave her first recital at the age of seven. She studied piano, composition, counterpoint, harmony, conducting and voice at the Conservatorio San Pietro in Naples. While in Egypt on a concert tour, she met and soon married a Swiss man of means living in Cairo, Paolo Feninger. Settling there in the 1920s, Rogatis helped to found the National Conservatory of Egypt, where she also taught piano and guitar for over 40 years. Her husband's death prompted her retirement in 1963 back to Naples, where she lived quietly until her death in 1979.

Her career as a teacher allowed little time for composition, but de Rogatis took a selfless attitude to her own work. 'If teaching hundreds of young people about the poetry and beauty of music, instead of composing works and symphonies, means giving one's life up, then that's what I've done. But if some of these young people, who are now adults, can understand a Beethoven symphony or sonata and find in it solace and a guide for their own lives, then I will live in their memories just as I would have done in my works, and my life will have been equally useful.'

Her relatively slender output – 60 acknowledged works – is dominated by piano music, but de Rogatis also wrote instrumental songs and dances for the guitar, and a four-movement Sonatina of no less ready melodic appeal, all presented here by her modern-day counterpart, the Italian guitarist Cinzia Milani. In a personal introduction to the scholarly booklet note, Milani observes how de Rogatis 'reconciled brilliant virtuoso flair with an elegantly feminine touch, even when the overall tone is jocular or ironic.' Milani's decision to record this music on on a distinctly modern instrument is part of 'an imaginary dialogue between different periods and the changes they heralded: like glancing backwards while walking towards the future.'

Italian guitarist Cinzia Milano continues her series of Tributes to female guitarists with a beautiful program of guitar works by Teresa de Rogatis.
Teresa de Rogatis (1893-1979) was born in Naples. A child prodigy, she gave her first recital at the age of 7. She studied piano, composition, counterpoint, voice and conducting in her home town. While in Egypt on a concert tour she married and settled in Cairo, where she helped founding the National Conservatory in the late 50ties. In 1963 she returned to Italy where she continued to compose and
teach. She left over 60 works, for both for piano and the guitar.
Cinzia Milani, one of the foremost female guitarists of today, has already issued a Tribute to Ida Presti, issued on Brilliant Classics BC95528.
Listening
Track list
Disk 1
Teresa de Rogatis: Soirée madrilène

Teresa de Rogatis: Divertimento

Teresa de Rogatis: L' oasi incantata

Teresa de Rogatis: Fuochi fatui

Teresa de Rogatis: Mormorio della foresta

Teresa de Rogatis: Tarantella diabolica

Teresa de Rogatis: Balletto

Teresa de Rogatis: Fantasia araba

Teresa de Rogatis: Studio per la mano sinistra 1'34

Teresa de Rogatis: Alba sul mare

Teresa de Rogatis: Recuerdos de España

Teresa de Rogatis: Bagdad

Teresa de Rogatis: Studio sul tremolo

Teresa de Rogatis: Sonatina: I. Andantino

Teresa de Rogatis: Sonatina: II. Largo

Teresa de Rogatis: Sonatina: III. Tempo di minuetto

Teresa de Rogatis: Sonatina: IV. A capriccio